I can't believe it's November already, this year is going by too quickly for me. Before I know it it'll be January and not only will it be my birthday, but my blog will be a year old! It's so amazing but so creepy at the same time how quickly it's flown by. Anyway, on with the favourites for the month!
Lush Happy Blooming Bath Melt.
When this was first announced to come out into Lush stores I waited for MONTHS in anticipation for it, but when I found out it was £3.00 something I resisted to pay the price. However I had a sniff and fell in love, buying one of them to try and I of course fell in love with it. Due to the price I made it last a good year, only finally finishing it on Halloween this year. It smells of cherries and you get three individual pieces to break up and use in the bath, however I turned these three into six. Sadly I think this has been discontinued now, which I'm really sad about as even though it is expensive, it's amazing for my skin.
Illamasqua Lipstick in Magnetism.
I bought this lipstick over a month ago and I'm in love with it. If I'm not wearing my Mac – Rebel lipstick I'm wearing this one. Only times I don't wear either of these are at work due to how dark they are. This lipstick is amazing, it's not matte like the majority of Illamasqua's lipsticks but rather like a glossy lipstick which I like. It's a dark raspberry colour, perfect for winter! If you want to see some great swatches of this check out Temptalia's post about it over on her blog.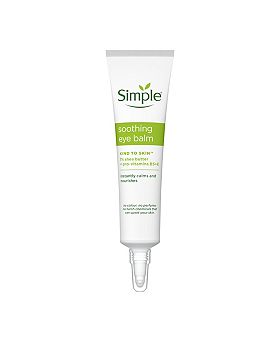 Simple Soothing Eye Balm.
I've been using eye balms a couple of years now, this was the first eye balm I bought and it did and does an amazing job of cooling your eyes down in the morning and during the warm summer months. It also brightens your eyes slightly due to cooling them down, but nothing major. I ran out of  my last tube of eye gel and as they had discontinued the previous one I was using I decided to go back to this old favourite. I love how it feels on my eyes and how easy and quick it is to apply. I always recommend this to people when they're after something for their eyes, those roll on things are so stupid. Always go with a balm or a gel!

Original Source Shower Gel in Orange & Cinnamon.
I was in need of some new shower gel and Asda had ALL of Original Source's shower gels for a £1 so I decided to pick one up and noticed this one was the most appealing. I love winter smells, especially orange and cinnamon so I thought for a quid I would give it a go. It is AMAZING! It's so warming for these cold autumn mornings and lathers up really well too, best of all IT IS BRIGHT ORANGE! I'm going to be sad when this has all gone but for a quid I can soon pick up another bottle!
Paul Smith Rose EDP.
I've owned this perfume quite a while but as it started to run out I stopped using it until I could afford to buy a new bottle. I found a shop that sells the huge 100ml bottles for £25 lately so I've started to use this again. It smells so warm and amazing, great for autumn and winter, as well as all this it reminds me of my best friend so win win. I have this in  my little Travello bottle too so it's always with me of late on nights out and when I go out for drinks and dinner.
Original Source Hand Wash in Shea Butter & Honey.
I noticed when buying my shower gel that in Asda they also have the hand wash on offer for a £1 too and as I needed some I decided to get this one. I suffer with really dry hands and in the cold months I get really bad eczema and it's always nice to have something soothing for  my hands as at home I tend to over was them. This is lovely and soothing and smells great too!
Those are my favourites for the month, sorry there weren't as many as there could have been but I've been quite busy this month with work and such so I haven't really been using too much.
What did you like this month  just gone? Let me know in the comments!