Legit didn't sing that title as I typed it out… If you don't know where it's from, kindly check out the video linked below…
But that isn't the point of this post this morning. It is officially Hallowe'en next Saturday and I'm pretty damn excited for it! I always get excited for Hallowe'en and I'm one of these people who as soon as October stars, I class the month as Hallowe'en month until the start of November.
Although I love Hallowe'en, I haven't actually "celebrated" it and gone out dressed up for years now. Reason? There is no reason to be honest. I guess I've just been too busy being an adult, with a job, and a relationship. This year has changed mind and both me and my boyfriend have said we'll be going out this year, and going all out at that!
We've debated and planned for months about what we could dress up as for Hallowe'en and finally we came up with an idea that wouldn't just look cool, but would work alongside each other too.
So, who have we gone for?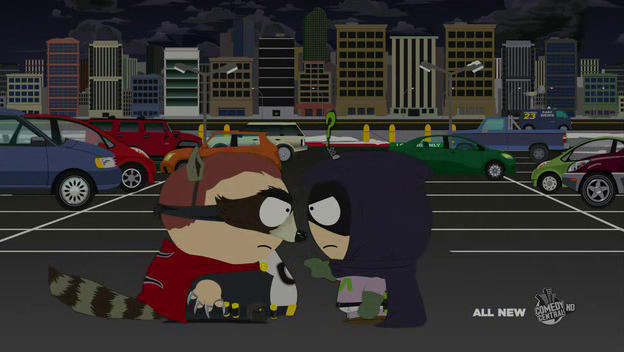 Image taken from South Park Wikia
Of course it was going to be South Park related! I'll be dressing up as Cartman's The Coon, whilst my boyfriend will be Kenny's Mysterion.
I'm not going to lie when I admit that I thought making the costumes would be super easy… It hasn't been but that being said, it hasn't been really hard either.
We spent all weekend working on the costumes and I'm over halfway there with mine now. My mask, ears and tail are all done, which took all weekend to get done. I also have the claws halfway done, as well as the t-shirt which I have nearly finished sewing the C onto. All I need to do is sort the cape out, with both the length, the C on the back, and the gold/yellow buttons, and of course finish off what I have started already.
However my boyfriend's hasn't been as straight forward as mine (damn you Kenny!) but we're getting there! His t-shirt and leggings have been dyed a lilac purple, and a green M is ready to sew onto the t-shirt now. As well as that he has some white Y fronts to wear, and he needs to have his hooded cape made up, his balaclava face mask, and his gloves. The only thing we have managed to complete for his costume so far is the green ? for his head, and even then it needs a little more work.
It was really nice being able to sit and work on our costumes together the way we were, it was just somewhat relaxing and gave us some creative bonding time together, which I always like. I'm pretty sure we'll be continuing with these next week, in time for Hallowe'en. We're not even sure what we'll be doing for it yet! But depending on how the night out goes, we're hoping to wear these as cosplay in the future at conventions.
We love South Park, so to be able to try and show our love through Hallowe'en is such a great thing. I'm pretty sure we will get plenty of pictures when these are complete, which I'll make sure to show you guys as soon as possible!
What are you dressing up as for Hallowe'en? Let me know in the comments!
Until next time, take care all and I hope everyone had a great weekend.