This is a random idea I came up with during a shift at work earlier this week. I was bored and looking for things to do and ended up coming up with this idea and thinking about all sorts of TV shows I could talk about throughout a post. It's been four days since then and I've only just thought of five shows that I can watch over and over and now I want to marathon them all!
Sex and The City
This is by far one of my favourite shows and before writing this post I started watching it again… It's probably the tenth time I've watched it now. I don't have an addiction, I have a massive passion and love for this show! I remember asking for it for Christmas/birthday one year and when my brother gave it me I was so damn happy. Before being given it I had watched the odd episode here and there, either online or on TV. It was just nice to be able to watch the show from start to finish. I laughed, I cried and I definitely related to all of the characters at least once. My favourite character is definitely Samantha. She's just like me, honest, to the point and doesn't give a fuck. The only characteristic I wish I could share is how confident she is. If you have NEVER seen the TV show and you're a woman, then get on it RIGHT NOW! Oh and if you've watched the movies but not the TV show then WHAT IS WRONG WITH YOU?! The TV show is so much better!!!
Jackass
Aside from Sex and The City this is definitely my favourite show. It's one of the first of its type that I got into and one that grew on me faster than a rash. I fell in love with all the cast, especially Ryan Dunn. He was always my favourite and when the first film came out and he had the best stunt, I was so damn happy! Of course I was heartbroken when it came out that he had died and it still sucks to this day. I just love how far all the Jackass guys have come throughout the years, including Ryan Dunn before he died. I of course love what Johnny Knoxville has done with Bad Grandpa, and Steve-O with giving up the alcohol and drugs.
Teachers
I'm sad that I couldn't find a gif from the show to add to this post. It would have been good! Teachers is one of my favourite shows to come from Channel 4 back in the day! Not a lot of people have heard of it, so when I first met Dane and found out he loved it too I was so happy! It's basically as the title suggests, about a bunch of Teachers. Andrew Lincoln's character Simon is the main character for half of the series and I love him so much. I just want to slap him and tell him to sort his life out! My favourite character is Brian, a P.E. and Geography teacher who is crap with women but fucking adorable! If you like good British humour about work then give this a watch.
South Park
How could this NOT go on this list?! Between 2015 to 2016 me and Dane watched South Park from start to current (well was to season 19, although season 20 was on recently) and it's one of those shows where you could watch it over and over again and never get bored of it. I can't say I have a favourite season in particular but I do have the odd favourite episode or two. This being said I will always hold the first season close to my heart. Purely because it's the season that begun my love of South Park. My favourite character is Kenny, followed by Cartman, Butters and Towlie.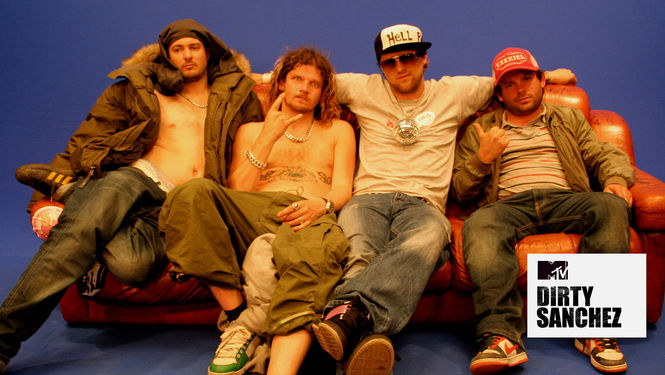 Dirty Sanchez
Finally we finish this post by talking about Dirty Sanchez and like Teachers I couldn't get a gif for it. When I WAS searching for one I was really nervous as to what I may have found… I was lucky and nothing came up. 😛 ANYWAY! Like Jackass I got into this when it first came out but only ever got to watch the odd episode on MTV late at night or during the day when I was skipping school… Oh what a rebel I was! 😛 When I was sixteen during the 6 weeks between the end of secondary school and starting college I found series 1 and 2 for sale in HMV and decided to buy them. I only noticed as I got to the till that they were rated 18 and of course I was only 16 at the time so I panicked that I may get ID'd but luckily it never happened and I watched the two series when I got home. Series 2 is my favourite by far as I found it had the funniest moments in. The show is just so real feeling to me and although Jackass is similar they're both a hell of a lot different in their own ways. Dainton is my favourite by far, hands down!
SO those were five of my favourite TV shows that I can watch over and over again without getting bored! One TV show I didn't mention was Stranger Things, even though I was close to. Why I hear you scream? Well because I've only recently watched season one… I haven't given it enough time to even watch it again! Maybe in the future though. 😛
What TV shows can you watch again and again and again and never get bored? Make sure to let me know in the comments!
Until next time all take care and have a lovely weekend.