This has been a blog post I've been pretty excited to write and share with you considering it contains Animal Crossing related goodies!
If you don't know by now I LOVE Animal Crossing and with the release Animal Crossing: New Horizons back in March I have been even more obsessed than usual.
I've also rediscovered my love of Black Milk Clothing in 2020 thanks to the Pokemon collection that came out in the summer. You can read about all the goodies I picked up from that collection here.
October 5th and less than a month after my Pokemon goodies arrived, Black Milk Clothing announced they were releasing an Animal Crossing collection and it would be released just over a week later on 13th October! I was all over it and watching my Instagram page daily for sneak peaks and reveals of what the pieces looked like that were going to be part of the collection.
I'm not going to sugar coat it… I was incredibly disappointed by the Animal Crossing collection and I know I'm not the only one either. Some of my friends and people on social media gathered to express their disappointment. It just felt like Animal Crossing was cheated, as the Pokemon collection was amazing.
At the same time though I was kind of pleased due to how much money I'd already spent on the Pokemon collection, as well as one piece I picked up from the Halloween collection as well.
I won't moan too much about the pieces I didn't like, but I want to be honest, which I know you guys appreciate!
The one piece that everyone commented on is the Pocket Skater Skirt that is literally the box art for New Horizons. This was in very poor taste and felt kind of… Lazy. They could have done so much more than just slapping the box art on the skirt. It reminds me of something you would buy from a knock off of Black Milk Clothing from Wish or AliExpress.
Another complaint myself and others said on social media is how the fossil stand alone design was missing from this collection, as well as constellation designs for Celeste. The latter would have been gorgeous as a skater skirt and or skater dress design. I just felt like a lot of the collection was the same prints wise and the styles they were put against was strange. One in particular being the Villagers Tie The Knot Jumpsuit. It's just… Ugly and random and just a big ball of no from me.
I decided on three pieces I was going to buy from the collection and was super nervous when it came to the time to put my orders in. As we all know, the Pokemon collection sold out stupidly quick the first time and even the restocks sold out after a while. I prepared myself for this collection to sell out… But I didn't need to at all. The collection is still in really good stock with only two pieces being sold out at the time of writing this post (12/12/2020).
I ordered my pieces and waited for them to arrive. I think it took a little longer for my goods to be sent out to me (and others) due to a printer breaking. I was offered a 10% discount code, which I used to buy the Sporty Stripes Hosiery 2.0. These are amazing, but I won't be showing them off in this post.
After I ordered my pieces, I'd heard about some issues with a piece from the Halloween collection, that was similar to one of the Animal Crossing pieces I'd bought. I'll go into that a little more later, but let's put it this way… I was gutted to find out that one of my pieces would arrive and after being worn would have issues with it… >.<
My pieces FINALLY arrived on the 27th November and I couldn't wait to try them on and feel a little like an Animal Crossing character! 😀
As I stated on the Pokemon post the tracking was really good! I was able to keep up with where my parcel was and more. It did give an estimated arrival, but my goods arrived a little earlier than what was suggested, which was good!
Like when I bought from the Pokemon collection, I don't know why I wasn't charged customs. I don't know if it's due to Royal Mail delivering my parcel or what. I was very lucky and I'm grateful I wasn't stung. I find it odd though when I spent less money on my Halloween piece I was stung for £20 customs and I only bought one piece! :S
I didn't take any photos, but the pieces I ordered arrived in perfect condition! All the pieces I bought were made in Australia and arrived in a special bag you can throw away in your compost bin and it'll decompose. I love this idea and more brands need to do this.
Finally the time has come to share with you the pieces I picked up… But if you were aware of the collection and all the pieces that released with it, you may have realised by now just which pieces I picked up… Seeing as I posted a photo of them all together at the start of this post! xD
I just want to add here by the way that all the pieces I bought are not sold out, but may be limited in sizes OR may have sold out by the time this post goes live. As far as I'm aware the pieces I bought, once they do sell out, they aren't making a return. There are some pieces under the Pokemon collection that WILL return (which you can see here), so make sure to sign up for restock alerts if items that aren't LIMITED. 🙂
Sadly there are no pictures of me in the dresses as at the time of writing this post I've actually really badly pulled my shoulder and if I'm not in a world of pain, I'm smothered in deep heat to try and help the pain go away. I have tried my best to show off the pieces. Not going to lie, the photos aren't the best. 😦
K.K. Long Sleeve Oversized BFT (link)
I've never owned a BFT (boyfriend tee) from Black Milk Clothing and I'm not going to lie, you can definitely size down for these as they're oversized (as it states in the name). I bought an L, which is my go to size to order from Black Milk Clothing. It's really big but at the same time I like how baggy it is. I could get away with wearing this with leggings and tucked into mom jeans with no worries.
It's a black tee with a massive image of K.K. Slider on the back, on his stool and with his guitar, ready to jam on a Saturday night. On the right sleeve there are yellow musical notes and on the left it says, "Animal Crossing: New Horizons". I do wonder if they could have instead of putting the name of the game, maybe some of the pictures of the songs in the game by K.K Slider? Then on the front on the left hand side there is another image of K.K. Slider.
I do love the BFT and I know I'll wear it loads, especially whilst working from home. The quality feels great and I know this will be loved throughout the autumn and winter and chillier days in spring and summer.
  Nook Gingham Evil Skater Dress (link)
I love skater dresses from Black Milk Clothing and the Nook gingham one is no exception! The only thing I don't like about it, is it doesn't have pockets like my Eeveelution dress. The skater dresses from Black Milk Clothing are my favourite thing to buy from them. I can wear them all the time, later them up if need be and more! I can already see me wearing this dress on Christmas Eve/Day because it's just shouting Christmassy colours to me.
As you can see the skater dress is red gingham with images of Tom, Timmy and Tommy Nook all over, as well as money bags and DIY recipe cards. I do love this, it's such a simple but perfect design. If you know about Animal Crossing and who these characters and items are, of course you would get this straight away. However, if people don't happen to know about Animal Crossing, it can just look like some cute raccoon/tanuki animals. I also feel like this dress would be a conversation starter for nerds alike!
Not going to lie… I'm wondering if I can get away with wearing this dress to work when I'm eventually back in the office again. I feel it would look lovely with a cream t-shirt underneath or a cream jumper over the top for colder days. I know I really want to get a new black/navy/cream boyfriend cardigan to wear with my Black Milk Clothing pieces.
There are quite a few pieces in the collection with this pattern, including short overalls and cuffed pants. I would love the latter to wear with geeky t-shirts but I don't know if they would suit me… At the same time, I would love to grab some cuffed pants in different designs to mix up my Black Milk Collection a little too.
Isabelle Gingham Apron Dress (link)
This is the final piece I picked up from the Animal Crossing collection and it's one I want to talk about in a lot more detail than the other two pieces. You know I mentioned earlier in the post that one of the pieces might come with issues? It's this piece…
So let me get the issue out of the way first. So the material the apron dresses are made out of are rubbish. If anything catches onto them, it can make a mar on he pieces and make them look frizzy/fuzzy. I've heard people report that wearing a seat belt causes issues, wearing a bag with a chain strap, but with the strap adjusters on the apron dresses that causes issues too, which is what has already happened to mine. I was expecting it, so I'm not too gutted, but I am at the same time too. I just really wanted a dress with this design on it. The Isabelle tartan design is my favourite from the whole collection. They did release a Pilgrim Dress and some Cuffed Shorts but I didn't really want either (eventually I do want the cuffed shorts…). I could have cancelled my order and reordered but… Why should I?
The main issue here is that the material used for the apron dresses is a problem and Sharkies (name for Black Milk Clothing fans) have been raising it for a while now. Not only are the apron dresses affected but I know I heard of someone who faced issues with the Rainbow Garden Long Sleeve Scoop Skater Dress from the Animal Crossing collection, which is a massive shame! I thought about buying this dress as it has some of my favourite villagers on (including Cookie!) but I'm glad I didn't know. I can deal with buying one dodgy piece, but not two.
I've not raised this issue with Black Milk Clothing yet, but I fully intend to soon. I wanted to raise it on my blog post because word needs to get out. There is a material that is SHITE and you should avoid it if you can. I could have cancelled my Black Milk Clothing order and just not bought the dress, but I wanted it. Why shouldn't I have something I want because of some dodgy material?
Anyhoo, I'm FINALLY going to talk more about the dress, because it's gorgeous and it needs to be spoken about highly too like it deserves.
I've never owned one of the apron dresses before and they're… Interesting. I don't know if it's because I'm not used to them or what, but I've found it a tad awkward to wear. I have big boobs and a big bum, so trying to balance both of those factors with this dress is tricky. Plus I didn't want to keep playing with the strap adjusters in case it damaged the dress anymore than it already has. The chest doesn't feel covered enough for me, but then my bum won't feel covered enough. When I eventually wear this properly I think I'm going to wear a long sleeved top underneath, or maybe even a shirt or jumper and instead of tights, I'd wear leggings due to the length of the dress.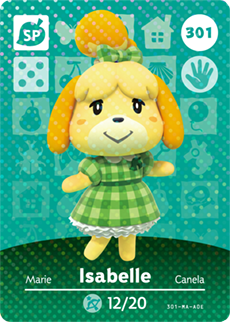 The design on the dress is gorgeous and as I've already said, my favourite from the collection! It's a green gingham with images of Isabelle, a white daisy (cosmos in Animal Crossing) and the classic Animal Crossing leaf. It's just so perfect! In Animal Crossing: New Leaf Isabelle would wear a green gingham dress (as shown above) so this is perfect in every way, shape and form! If anything I wish they'd brought out a skater dress with this design on it! One thing I love is that this has pockets too! Pockets on dresses is definitely a way forward.
I feel like I won't properly wear this dress until a special occasion. I could wear it New Years Eve around the house, my birthday in January or maybe anniversary in June. It's a dress I'll be cautious about wearing… But I won't NOT wear it. Otherwise it's a waste. I get why people have stopped buying the material in question that is having issues and I don't know if I'll buy it again.
So, those are all the pieces I picked up from the Animal Crossing collection! Although pieces are mostly limited, there are some limited and permanent pieces that I would love to pick up in the future, including – Isabelle Gingham Cuffed Shorts and Collectibles Cuffed Shorts. I'd love to wear these with sweaters and thick tights!
Overall I am really happy with the pieces I picked up from the Animal Crossing collection I do wish they'd been a bit more creative in regards to the pieces they released.
It's a real shame to have seen the Pokemon collection do so well (it's not on it's SECOND restock!) and the Animal Crossing collection do so poor… It just goes to show the designs really didn't do as well as they could have.
What do you guys think of Black Milk Clothing? Do you own any pieces by them? Are there any pieces you like the look of? In the New Year I might do a massive post showing off all of my Black Milk Clothing pieces! Make sure to let me know in the comments down below.
Until next time, stay safe, take care and enjoy the rest of the weekend!