Image taken from Pokemon Center UK
UK fans, it's finally here, the moment we have all been waiting for, a Pokemon Center in the UK! Back in 2019 a Pokemon Center opened in London for a brief period of time to promote Pokemon Sword and Shield coming out. I for one was super excited for it and went with Dane, which you can read all about here.
The hype around that Pokemon Center brought people from all over the UK to queue for hours just to go in and buy limited edition and regular merchandise. I think even people from Europe travelled for it too! Due to the hype around it, a lot of Pokemon fans cried out for an official Pokemon Center to be opened in the UK, or at least an online store.
In November 2020 Canada got an online Pokemon Center and I remember UK and Europe fans being annoyed about the fact. Little did we know, just over a year later the UK would get an online site of our own!
It came very suddenly last week and I was so excited about it. I saw my friend Emily mention it on Instagram and I quickly headed to Google to search for the website. I'm honestly surprised I didn't order stuff there and then. It took nearly a week for me to create and place an order.
As a massive Pokemon fan, it would have been wrong of me NOT to talk about the Pokemon Center coming to the UK (as well as make a cheeky order…). I know I stated before I wanted to purely have December for Christmas content, but let's be honest here, the Pokemon Center getting a UK store is kind of like Christmas Day to me and many other Pokemon fans. 😛
This won't be a terribly long post, as I'll be mostly sharing my experience of ordering from Pokemon Center UK, sharing what items are on my wish list, as well as sharing items I hope come from the Pokemon Center US website! Grab yourself a hot drink in your best mug (Pokemon preferred… :P) on this chilly day and have a good read!
First of all I have popped the link to the Pokemon Center UK website above at the start of the post, but I'm going to pop it here for you too.
If you've ever ventured onto the US website, you'll see that the UK version is practically the same, so the website is fairly recognisable and easy to navigate around. At the time of writing this post (Thursday evening), the website is currently in beta, so due to this some bugs can be found at times. Some examples of this being you might go onto a page and get a Pikachu telling you the page hasn't been found. A simple refresh of the page soon fixes this however.
Something I've found daily from refreshing the website is they seem to be updating and adding new products daily, sometimes in the morning and sometimes in the afternoon. They do state on the website that they're trying to add new products often, which is showing and is good!
If you want to place orders items can only be delivered to addresses in the UK and have a flat rate of £5. Expensive yes, but worth it for how quickly items arrive. I'll go into this a little more later. Overall the website is really good to navigate around so far, which is always good!
As mentioned, the range of products on the website is changing daily with lots of new items being added, for example lots of Pokemon Fit/Sitting Cuties plushies are popping up daily. We're yet to see some more home items added, but it is early days.
Finally one more thing I want to add is you CAN pay by PayPal! I know for myself and others this is important when shopping online, it's my go for payment method. Alas, Pokemon Center UK has it which made me really happy!
Oh and apologies in advance, the photos aren't the best for todays blog post but this is mainly due to being short on time this weekend to take proper photos. I'll do this another time and do a mini Christmas photoshoot with Dane. 😛
Enough of the "boring" bits about the website, how did my first order go? Well, really good to be honest with you! I decided to stop eyeing up the item I was after and instead just take the plunge to order it, which is the Eevee Holiday Lights Knit Sweater. A perfect sweater for Christmas and not going to lie, all year around if I really want to!
I was unsure what size to order, a lot of people online had said they'd ordered a size up so it could be nice and baggy. The size chart is good and I should have really gone off of that. I wear a lot of Gildan sweaters and usually go for a unisex L which fits perfect with lots of bagginess. Due to the recommendation of sizing up, I went for an XL with my Eevee sweater. I semi regret this.
I placed my order on Tuesday morning and just 48 hours later I received an email from Royal Mail Thursday telling me it would arrive that morning. I was really surprised but happy all the same. I can only assume this is why the shipping is so high, but I won't complain with that kind of turn around! I wasn't expecting my sweater to arrive until at least the weekend, maybe even a week later, but since it arrived in good time I started to plan all the days I could wear it in the run up to Christmas Day!
Back to the sizing. Ordering the XL was a bit of a regret as when I tried it on the sizing was HUGE and the sweater fast turned into a jumper/sweater dress. The sleeves are really long, as is the body. This being said, it's incredibly soft and snuggly and I'm already planning on rocking my Eevee sweater with a nice pair of leggings and my checkerboard Vans trainers.
So, size wise I would order the size you usually would for a sweater or hoodie (Gildan is popular so go by them if you own any of their stuff!), or just measure yourself if you're unsure.
The quality of the Eevee sweater is really good! Not stupidly thick but thick enough for me that I know it will keep me toasty warm. I think it being oversized makes it feel a bit thicker, if that makes sense? The inside is lovely and soft, the kind of sweater where it feels like you're wearing a big hug or a marshmallow. I was gutted to take it off to put it into the washing machine to be honest with you! 😛
Can we talk about the print though and how bloody cute it is?! As you can see it's an Eevee holding some fairy lights, which are wrapped all around it. One thing I didn't realise/notice from the images on the website is how on the back of the sweater, the fairy lights are trailing along the back too! I love this little detailing so much! The fairy lights themselves and the cable they're attached to is a sparkly yarn which really stands out when you see the sweater in person, which again is something I didn't notice when looking at the sweater on the website.
Overall the sweaters colour scheme is typical Christmas with the red, green and white, which I always adore. I especially love the festive patterns along the top and bottom with the Pokeball against them. Everyone knows how much I love Pokemon so this Christmas themed sweater has been a long time coming! I have a Deadpool one too from a few years ago that I'm sure I'll wear soon, but this Eevee one has definitely stolen my heart!
I could have ordered so much more, but with Christmas looming I thought I'd be good and just get one item. Not going to lie though, the Pokemon Center opening a UK store is seriously going to be the death of me… 😛
However, I wanted to show you guys what's on my wish list and why, just in case it shows you some stuff you'd like too. 🙂 There's only a couple of items, but I hope you guys like to see regardless.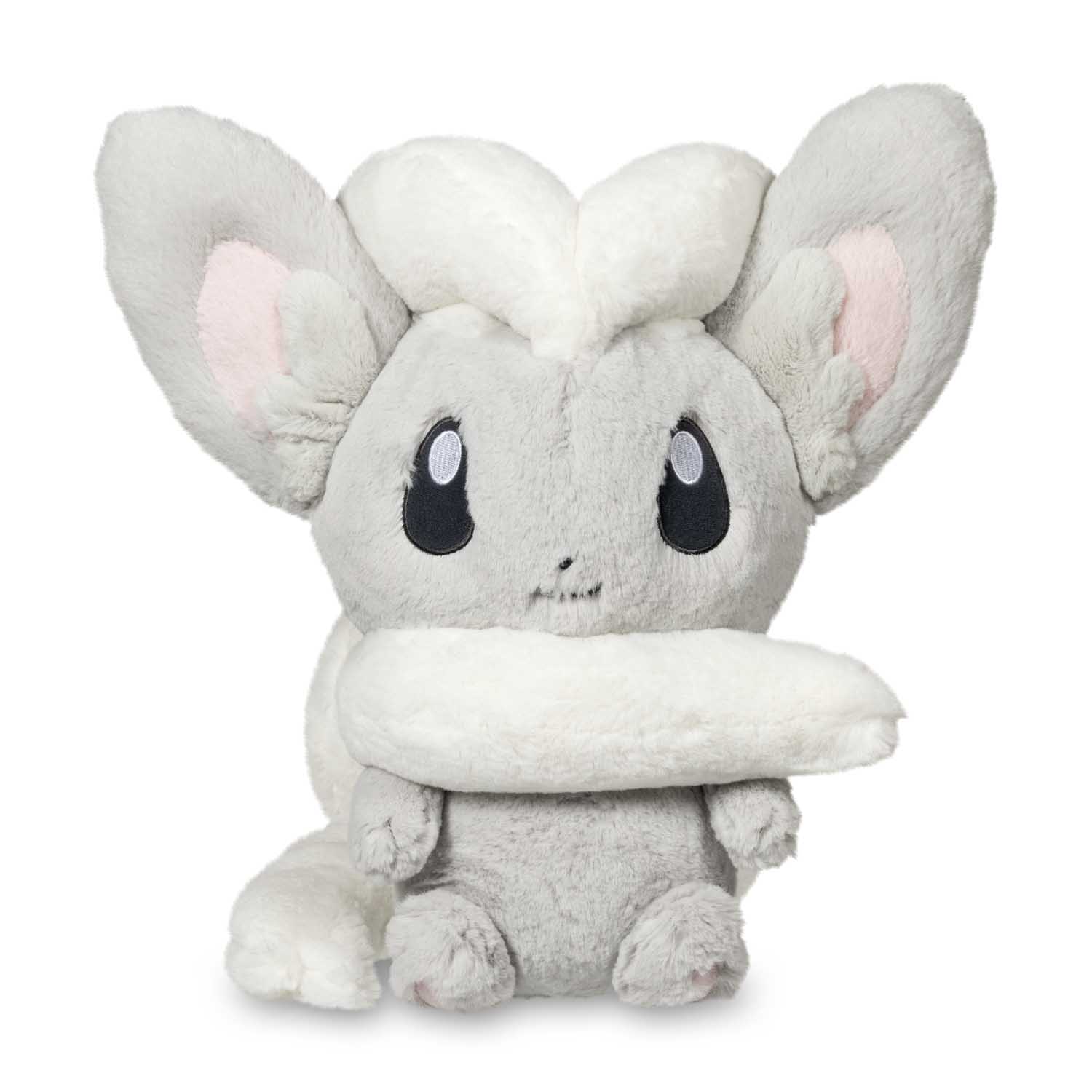 Image taken from Pokemon Centre UK
Cinccino Comfy Friends Plush – £30.99 (link)
I've had my eyes on this fluffy Cinccino plush since it first released in Japan a couple of months ago. I contemplated ordering one but left it as I wanted to save money. Now it's available on the UK store, this is more affordable than ever! I was tempted to buy one of these when I ordered my sweater but left it. I don't actually know what this cutie would go due to how busy my plushie cabinet is! This being said, I'd soon find it a home if I decided to take the plunge and order. 😛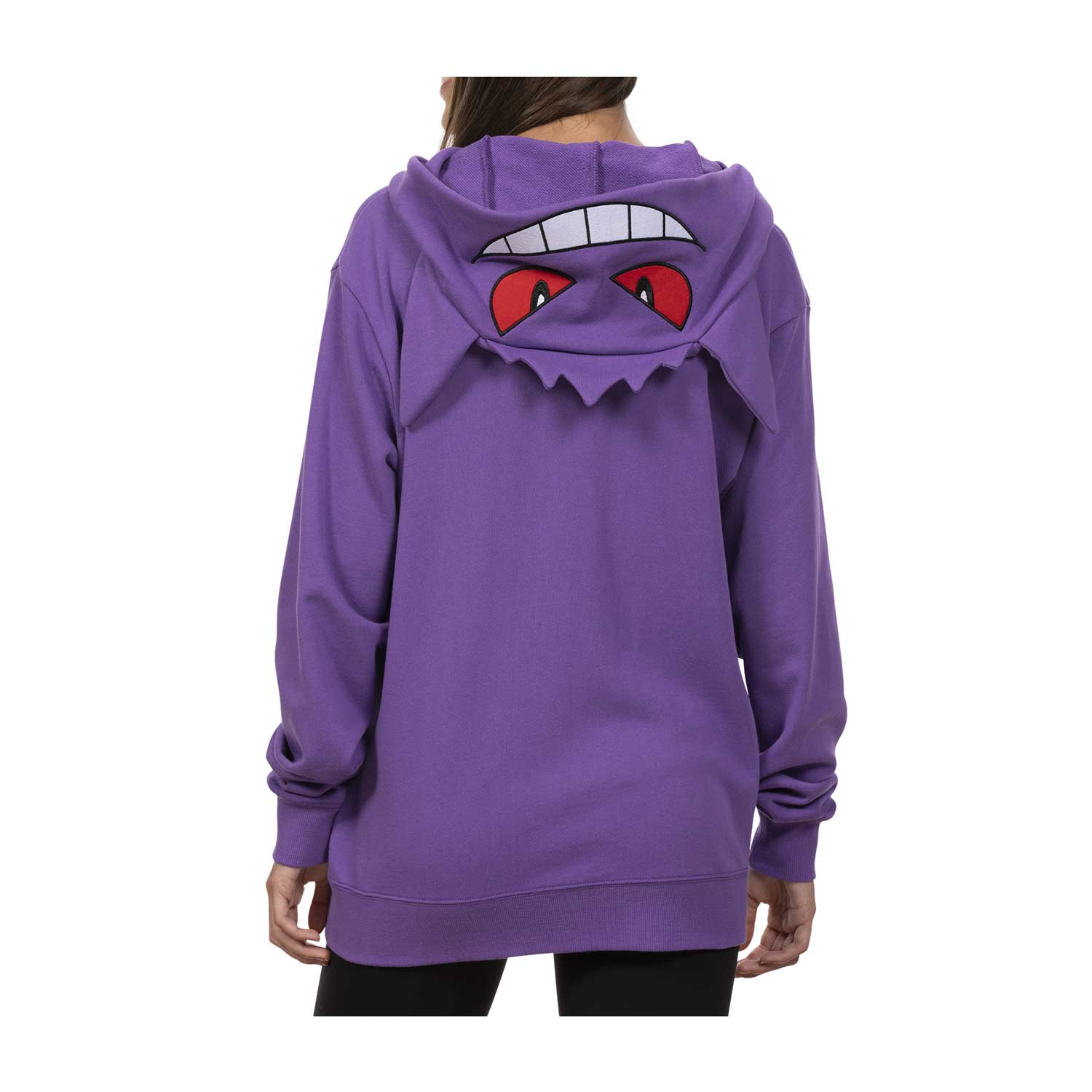 Image taken from Pokemon Centre UK
Gengar Themed French Terry Zip-Up Hoodie – £49.99 (link)
I also have a hoodie on my wish list. The first thing I checked out when the UK website opened was the clothes side of it. I'm always happy to buy new Pokemon garments, especially now they're easier to come by more than ever. I love my Pokemon Center London hoodie I bought in 2019 and have lived it most of the past 2 years since buying it, especially during lockdown and working from home. I'd love to pick up another one and so far the Gengar themed hoodie is one I like. I honestly can't see myself buying this, as I would like to see an Eeveelution themed one come up eventually, maybe even Dragonite!
Now I've shown you my wish list from the UK store, I want to show you items I'd love to see come from the US store to UK! 😀 I won't go into too much detail on each, but I'll pop a collage below! All links next to item names will link to the US website.
Phanpy Sitting Cuties Plush – (link)
Believe it or not, Phanpy is one of my favourite Pokemon from gen 2! I remember seeing the little elephant inspired Pokemon and falling in love with it! I kept one and refused to let it evolve due to that fact! I did look to buy one when I went to Japan in 2020 but when I looked I could never see one, which was a shame. Eventually I'd love to pick one up to add to my plushie shelf.
Sleeping Umbreon Poké Plush – (link)
I regret not ordering one of the sleeping Eeveelution plushies when they came out years ago! They weren't too badly priced at the time but I didn't really have the money to splurge and I didn't think I had room either. Fast forward and I regret not snagging one now… They're hard to get and when you DO find the Umbreon one, it goes for hundreds! I recently saw one for sale over £200… Ouch! Currently on the UK store they have Jolteon, Flareon and Glaceon for sale and for under £40 too.
Pokémon Center × RockLove: Pikachu & Mew Admiration Pendant Necklace – (link)
If there's one thing I've always wanted, it's Pokemon jewellery. The RockLove Pokemon pieces are so gorgeous and I'd love so many of them. However, they are just based in the US right now, with the option of shipping to the UK direct from their website. Of course, if RockLove did hit the Pokemon Center UK, I'd snag something pretty for myself and it would definitely be something Mew or Eevee themed.
Furret Poké Plush – (link)
Finally we have a long boi and one I would seriously purchase! This Furret plush is a massive 71 inches long and as the picture shows, he biiig! I know loads of people on Twitter who would love one of these too and have been tweeting Pokemon about it. If they don't bring these back AND to the UK then they'll be missing out on some serious orders, if you ask me. 😛 I'd have this guy in the bed to cuddle up to when Dane doesn't wish to. 😛
So, there we have it guys… It's official we now have a Pokemon Center in the UK and just before Christmas too! I'm already excited for what other Pokemon goods we have to look forward to seeing on the website in the future.
Have you already placed an order, or hoping to in the future? Let me know in the comments. Also, don't forget to let me know what you hope to see in the future too!
Until next time guys, take care and have a lovely weekend!