I honestly can't believe it's going to be June in just a few days time… It's really crazy how quickly 2021 is flying by and I don't know how I feel about it. 😛
The start of June is going to be hella busy with me, with both mine and Dane's eight year anniversary, as well as our five year anniversary in our home too! Alongside that my best friend is getting married, which is really exciting! I honestly can't wait for it.
Aside from that I'm not 100% sure what else June is going to bring… Hopefully some better weather to be honest! I'm always a spring and autumn girl for the cooler weather, but it would be nice to have some decent weather so both me and Dane can go into the garden to do it up, have a BBQ and more. Plus, I have some pretty dresses that need to be worn and right now it's too miserable and cold to do that. 😛
June is also the month that I need to go on a serious spending ban as I've spent quite a lot of money lately and yeah… I bought myself some cool accessories for my desk, as well as LOADS of Pokemon Nendoroid figures too! I would share some of these later on in this post but I'm contemplating having a post for it because… Why not! 😀 My new desk accessories are too kawaii not to share on their own.
Hint – they're Razer x Sanrio themed… 😉
May I finally add how gutted I am that I won't be seeing My Chemical Romance in June… It's been postponed until May 2022 now… I'm happy to wait but, I am gutted. 😦
Anyhoo on a lighter note – let's get on with this months favourites!
Beauty.
SBC Propolis Shampoo – (link).
This is a shampoo I started using a good couple of weeks ago now and I LOVE it! It's one my mom gave to me as she bought one too many and as we're both fans of SBC, she thought I'd love it. Well, she wasn't wrong. 😛 This shampoo smells like honey, both in the bottle, whilst using and after drying your hair too. It lathers up really nice and a little bit goes a long way, which is always good for my hair considering how much there is of it. It leaves my hair feeling soft to the touch, thick and without any frizz. It's honestly been a bit of a gamechanger to my hair care and after it's finished, I think I'll buy it again! It's actually a shampoo for scalp care and personally I have found my scalp isn't as dry as it has been in the past, which is always good!
So… Now it's time to talk about the miscellaneous favourites of the month! If there isn't anything I've done I'm not going to mention.
Image taken from GIPHY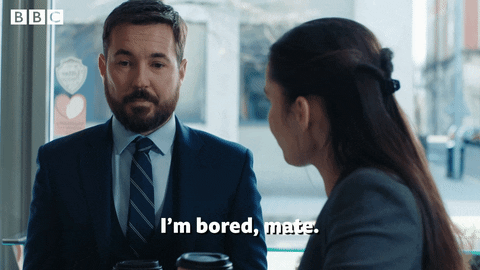 Image taken from GIPHY
Favourite TV Shows – Taskmaster and Line of Duty.
This month instead of a movie AND a TV show, I'll be talking about two TV shows, as quite frankly me and Dane have been addicted to both of these in May and I know we'll be obsessed about them in June too! We've been binge watching both of these TV shows recently and have fallen in love with them! Not going to lie, Line of Duty hasn't been continued recently as we've been binge watching Taskmaster.
Line of Duty finished it's sixth series recently and I decided that I wanted to watch the show from the beginning. I know loads of people who watch and love it and as I had nothing to watch I thought, why not? Dane started watching it with me too and we've both become hooked on the show. We're currently on series four and DAMN so much has happened leading up to the episode and series we're currently on. The show is about AC 12, a group of anti-corruption police with Steve, Kate and their boss Superintendent Hastings being the main characters. We follow them as they investigate "bent coppers" and sit on the edge of our seats as they do so. The show is amazing and I've been recommending everyone I know to watch it. As I said, we do need to continue watching it. You can watch for free on BBC iPlayer.
As I mentioned before, we've also been binge watching Taskmaster. I remember being told years ago when it first started to watch it and how funny it was. At the time it didn't appeal to me and I thought it sounded crap, oh how wrong I was. We're currently on series five of the show and hoping to get through the rest of the series before my free two week All 4+ subscription runs out. 😛 It's such a good show to put on whilst we're chilling out together, especially whilst eating dinner, doing work in the office, in the morning before work, etc. I highly recommend Taskmaster if you want something new to watch and want a laugh at the same time. A funny story to share, we went for a food shop over the weekend and we both occasionally commented on items used in challenges and how we would use them and such. Such geeks, right? 😛
Favourite Music – Tremonti – "Take You with Me" and Boston Manor – "Liquid".

These two songs have popped up on my YouTube Music playlist this month and you know when you hear a song again and you forgot just how much you loved it? Yep, that. 😛 I have quite a few Tremonti and Boston Manor songs on my playlist and I often love hearing them come on and have a good sing, especially if they come on whilst I'm driving. I don't really know what to say about these, aside from check them out and see what you think! Tremonti are heavy metal and Boston Manor are rock.
Image taken from Nintendo UK
Favourite Game – Miitopia.
Miitopia is a game that came out back in 2017 on the 3DS and it's one both me and Dane owned and played to death! Now we play our Switch's, we don't touch our 2DS handhelds anymore, so when Nintendo announced that Miitopia would be coming out on the Switch I decided to order a copy for both me and Dane so we could play it all over again! The Switch version has some additional features, including better customisation for characters, as well as being able to have a horse in your party, which is pretty cool. I've been playing it none stop the past week as it's such an easy and laid back game to play. To describe the game – a bad guy turns up and starts stealing people's faces. You need to travel the land, fighting the creatures who have people's faces. It's a laid back and fun game and it's one I thoroughly enjoy. There is a demo of this you can get from the Nintendo eShop but I highly recommend if you're in the UK and want to purchase a copy, get it from Gamersheek! They have the best prices around. 🙂
Quite a few of my favourite things…
Animal Crossing and friends!
If there is one thing I have loved doing in May, it's travelling to my friends islands on Animal Crossing to have island tours, meeting their villagers and exchange goodies! I especially love that my friend Sarah (Raiin Monkey) has finally got her own island to decorate and make her own. I went on a long tour recently and we took so many cute pictures, including the one above! This photo with her favourite villager Lily is PERFECT and I just had to show it off to you guys! If you love Animal Crossing content then make sure to go and check out my friend Sarah, she has an Animal Crossing Instagram account – acnh_kireishima.
Cross stitch.
If there is one thing I recently rediscovered it's cross stitch. My mom got me into it from a young age and on and off over the years it's a hobby I've done. I feel though since COVID I've done more cross stitching more than ever, especially the past month. I'd finished my Cookie cross stitch kit last month and had decided to buy some more in April/May, these being Lucky and Bones. Bones is almost finished and as soon as he's finished, I'll be working on Lucky. Then when Lucky is finished I'll be ordering Cherry, Goldie and Shep. These Animal Crossing cross stitch kits are from DIY Crossing, who creates and makes some AMAZING Animal Crossing goods. Make sure to go and check them out if you're interested. 🙂
Commissions.
If there is one thing I like getting, it's commissions. Not only do you support a small artist/business owner but you're getting something unique and hella cute out of it! I commissioned quite a lot of of people in May and I have ZERO REGRETS!
First commission – Claire Likes To Doodle. Claire recently opened up for people to commission her to draw her original character design Bernard to be cosplaying/dressed up as whatever you want! I decided to go for a Bernard dressed as an Eevee and holding a sign advertising my Twitch channel! It's so cute and adorable. I have it on my Twitch, as well as on the right hand side of my blog, which you may have already seen as you read this post. 😛 I've spoken about Claire and her amazing store on my blog in the past which you can read here and here.
Second commission – mellencrossing. I'd noticed Mel's work around Instagram and fell in love. The style of her work was so cute and the variety was even cuter! Mel does various styles including full body and a plushie villager, full body and two plushie villagers and two full bodies which is what I went for! The turn around was super quick and Mel was really easy to work with. I told her I wanted me and Cookie playing Switch's together and for Cookie to be wearing the dreamy sweater. I also sent a photo of me wearing my Bee and Puppycat dress. Mel sent me the commission once it was finished and asked if I wanted to make any changes. I altered Cookie's mouth from the usual smile to a massive smile. I love the commission so much and plan to print it off to pop above my desk. I'm planning on getting another one or two commissions from her in the future, but instead full body of me with two plushies instead. The one thing I want to mention is how fair Mel's prices are for how amazing her work is. 🙂
Third commission – lunaquete. Finally I'll be talking about Leony and her ADORABLE Animal Crossing designs. Leony is quite well known in the Animal Crossing community for her Pantone x Animal Crossing artwork and it's also how I discovered her. I decided to commission her to draw me a Twitter header with my blog name on, as well as some of my favourite villagers including, Lucky, Marshal, Cookie, Eunice and Bones. It's such a pretty commission and like Mel's commission, I'm planning on printing this off to pop on the wall above my desk! I highly recommend checking out Leony's work if you love Animal Crossing. If/when I hit affiliate on Twitch, I'm contemplating commissioning her to draw me some emoticons. 🙂
Cookie amigurumi.
I HAVE BEEN SO EXCITED TO SHARE THIS CUTIE!!! Back at the start of 2021 I discovered cotswoldscrochet through Instagram and when I found out she was going to open her commission slots for amigurumi, I was ON IT as soon as I could! As Cookie is my favourite villager, I decided to get a huge Cookie amigurumi made to display with my Pokemon plushies. Harriet was amazing when it came down to making Cookie, she asked me loads of questions of what I wanted and how I wanted her to be, showed me the colour of the wool before starting her and more. Harriet faced a few issues when it came to creating Cookie's head as this was her first dog villager and more. I was happy to wait though for Harriet to work on Cookie a little more to get her perfect for me. Harriet was amazing and finally a couple of weeks ago Cookie arrived and she's now comfortably at home with my Pokemon plushies. 🙂 I'll be writing a HUGE review about cotswoldscrochet in June, so make sure to keep eyes peeled for that! Harriet's commissions are closed but you can check out her Etsy store.
Homemade enamel pin hoops.
I need to add here in case anyone asks – NONE OF THE PINS ON MY ENAMEL HOOPS ARE FOR SALE. IF YOU ASK YOUR COMMENT WILL BE DELETED.
I decided in May that I was going to make my own enamel pin hoops. I'd wanted to buy some for a while but to be honest, the prices people charge for them on Etsy are a JOKE. I saw someone asking £10+ for one that was smaller than the ones I made. For two twelve inch hoops and two different types of fabric I spent £16. The amount of fabric I bought could make 8 twelve inch hoops too… Anyhoo! I decided to make my own as it seemed reasonable (price wise) and fun to do. I picked up the pin hoops and fabric from Hobbycraft whilst going bridesmaid shopping with my best friend and her bridesmaids. Making these was pretty simple and it took me max about an hour to do including popping the fabric into the hoops, cutting down to size and using a glue gun to stick the stray fabric to the hoop itself… I hope this makes sense. 😛
I decided to have one enamel pin hoop dedicated to all the Quirkory enamel pins I own currently. As and when I get more they'll be added to the hoop. I would happily buy another hoop to create a second Quirkory hoop too! If you like the look of Quirkory's designs, make sure to use my unique discount code on their Etsy store to snag yourself 10% off your order – "TMBQUIRKORY". Also make sure to check our their currently Kickstarter campaign about Souls Of Nature. I've backed for some enamel pins and one of the deskmats.
I also decided to have a pin flag dedicated to all my Pokemon enamel pins. Aside from Quirkory, Pokemon designs take up the majority of my collection, with Animal Crossing and Ghibli hardly having any, which surprised me! I have more Pokemon enamel pins coming in the future after I backed Nyanzilla's Eeveelution Kickstarter… I'll be showing those off when they arrive. 😛 If you're wondering who any of the enamel pins are by on this hoop, please ask.
Razer x Sanrio Characters mouse and keyboard.
Finally I want to show off something that arrived for bank holiday weekend! I recently ordered the Razer x Sanrio Characters mouse and keyboard from YY Kawaii and I HAVE NO REGRETS. As regular readers will know, back in March/April Dane decided to buy me my own desk for both working from home, as well as for my streaming on Twitch, playing games and working on my blog work. I wanted to have my desk be as cute as possible, so I decided to order the Razer x Sanrio goodies. You cannot get any cuter than this! Over the bank holiday
I've been using the mouse mostly (using at the moment!) which is perfect! It also came with the mouse mat seen in the photo which is adorable. It makes me so happy to look at. The design on the mouse is so sweet and not too OTT which is always good. I've also been using the keyboard on and off but I'll be honest, it's so fucking loud. I knew it would be due to the type of switches inside but yeah… I didn't think it would be THAT loud. I've bought some stuff to try and help quieten the noise down a little. Aside from that, the keyboard is just as cute as the mouse and I cannot wait to use it more in the future for writing blog posts and maybe for work too.
What do you guys think of this months favourites? May has honestly flown by and I seriously can't believe it's June already. I know the first couple of weeks of June are going to fly by, which saddens me.
I'm just excited for June. I feel like I'm starting to sort of get back to normal. We've visited some friends, sat in the house with my parents to have a roast dinner, planning to go the cinema and planning to go for food and drinks. I can't wait for the world to get more and more back to "normal" as the year goes on.
What were your favourites from May? Make sure to let me know in the comments. 🙂
Until next time all, I hope you enjoy the rest of your bank holiday as well as the gorgeous weather!