Happy New Year guys! I hope you all have a great New Years, even if it involved you staying it. Not going to lie, some of my best New Year celebrations have been in my own, or someone else's home.
At the time of writing this we are three days into 2021 and so far so good. I'm back at work tomorrow (4th January) and I feel rested after doing next to sod all the past eleven days and whilst I'd like some more time off, I do feel like being back at work will start to give me stuff to do again during the day.
As well as heading back to work, my birthday is also looming (6th January) and I'm going to be turning 31… I wasn't arsed about turning 30 last year, but for some reason adding one more year to that has kind of deflated me a little. 😛
2021 is going to be a year where I start to experiment and "live" a little more. I want to do more with my resin making hobby, including starting to create pieces to sell! I'm also toying with starting to do gaming/chat streams over on Twitch… We shall see as this is a big step.
I've not set any resolutions for 2021 but I have said I'd like to read more manga, as well as continue with doing my Beatsaber VR workouts. My mom also bought me a bread maker for Christmas so I'll be making more bread in 2021 too!
I'm not going to do the whole, "things will be better in 2021!" because I'm happy to take it as it comes. If it's similar to 2020 with the way COVID has been… Then so be it. As long as I can be safe in my home with Dane and talk to my friends and family via Facetime, Whatsapp and Facebook Messenger, then so be it!
As it is my birthday in a few days I wanted the first post of 2021 to be a wish list post, with goodies I'd like to pick up/receive for my birthday… Mostly goodies I'd buy myself, especially considering two of the items are this list are things I've either pre-ordered or ordered. 😛
So, I hope you're ready to see lots of kawaii goodies! 😀
I verrry much doubt I'll get this for my birthday or with my own money. I've spent so much money before Christmas panic buying from American independent artists and with a 6 week wait until payday, I'm kinda poor this month. 😛 However, I really love this hooded cardigan by Her Universe that I had to mention it this month! I live in cardigans, especially when I'm actually working in the office so I'm always on the hunt for new ones that express who I am, whilst being acceptable to wear. I don't know if this one would be, but it's gorgeous. I'd wear it with my tartan trousers, as well as skater skirts and leggings. I've never ordered from Hot Topic before, has anyone in the UK before? Please share your experience for the future! However, I may do a big Her Universe order in the future… 😉
I'm a MASSIVE fan of The Sad Ghost Club and view it daily on my Instagram account. The Sad Ghost Club is described as "a club for anyone who's ever felt sad or lost. It's the club for those who don't feel like they're part of any other club." and for years it really has helped me when my anxiety and depression are bad and I need to feel less alone. I've even sent the page to friends to follow to see if it helps them to feel less alone too. It was announced back in October 2020 and I pre-ordered it as soon as I saw it landed on Amazon. I haven't read much in 2020 and plan to change that in 2021. I want to spend more time away from technology and with my head in a good manga/novel/comic, including this one. 🙂
If there is one plushie I wish I could have picked up last year (as if it's been a year guys…) when I was in Japan, it's the Dragonite fit plushie from the Pokemon Center. It wasn't available to buy whilst we were there and I was gutted. Dragonite is one of my favourite Pokemon and I always have one in my party in the games. I currently have a level 100 Dragonite on Pokemon Shield. 😛 Anyway, I finally bit the bullet and reached out to YY Kawaii about ordering on with her. It should arrive in January and I can't wait to add it to my collection! I'm planning to keep it on the top of my plushie shelf alongside the plushies I bought in Japan.
I just want to get this out there that the link I've attached (Double Boxed Toys) has sold out of this figure…BUT I haven't found it elsewhere for sale in the UK yet… Anyway, I REALLY need this funko pop in my life! Like Dragonite, Mew is one of my favourite Pokemon and whilst I don't own or really want any of the Pokemon funko pops, I really want this one. I think it's a pop I would take out of the box and keep on my plushie shelf alongside all my Japanese goodies. Otherwise, I'd keep it in the box eventually for the day I can have my own desk at home to keep it on. 😛
This is something I keep wanting to pick up… But I keep thinking about money too. As many of my regular readers and friends know, I LOVE Animal Crossing and have done since I first discovered it in 2008 when I played Wild World. With New Horizons releasing, a lot of Animal Crossing merchandise has come out in the UK which is amazing. One of these items includes this amazing Isabelle plush/pillow that I really need in my life! It's not a bad price currently on the website/store I've linked and I do keep umming and ahhing about picking it up. I'm going to wait and see my birthday pass in a couple of days and then toy with whether to order it. It's available at loads of places so it's not like it's going to sell out and then I'll never get it. 😛
Finally we have some enamel pins to talk about. To be honest with you all, I think 2021 is the year where I need to have a declutter of my enamel pins, as well as stop buying so many! I'm actually toying with selling some soon. Let me know in the comments if this is something you'd be interested in seeing. I have quite a few Pokemon themed ones I'm contemplating selling. ANYHOO I've really fallen in love with Stami Studios designs this year and some that she has released of late have given me some nostalgic feels. Whale texts are something I used to send to my friends all the time back ten plus years ago off my HTC phone. I loved it and I'd love to do it again this year for fun. Due to this, this is why I'm so in love with these designs. You can buy all three designs separately or together. If these are still in stock at the end of January when I get paid, I'm buying these for sure!
So there we have it guys, my monthly wish list for January, as well as my *gulp* 31st birthday.
One of my friends asked me before New Year what I was thinking of doing for my birthday and I had no idea. I knew I wanted to do some baking (currently torn between red velvet cupcakes and a Japanese strawberry shortcake) as my mom's birthday is the day after mine. So I would be baking for both of our birthday's really. Alongside that I'm planning to cook some Chinese food for dinner, as well as make some resin goods on Tuesday night that I can continue with on my actual birthday. I'm excited to just have the day with Dane to cook/bake together and do our one hobby together too. 🙂
I'm not gutted about having a lockdown birthday because I don't know what I would have done out and about anyway! If anything it means when everything has calmed down and we start to go back to "normal" I can do something exciting.
Do you guys have much planned during the third lockdown here in the UK? What items do you have on your wish list for January too? I know we're all skint at this time of year, so have you bought any sales items? Let me know everything in the comments! I love reading and replying to your comments. 🙂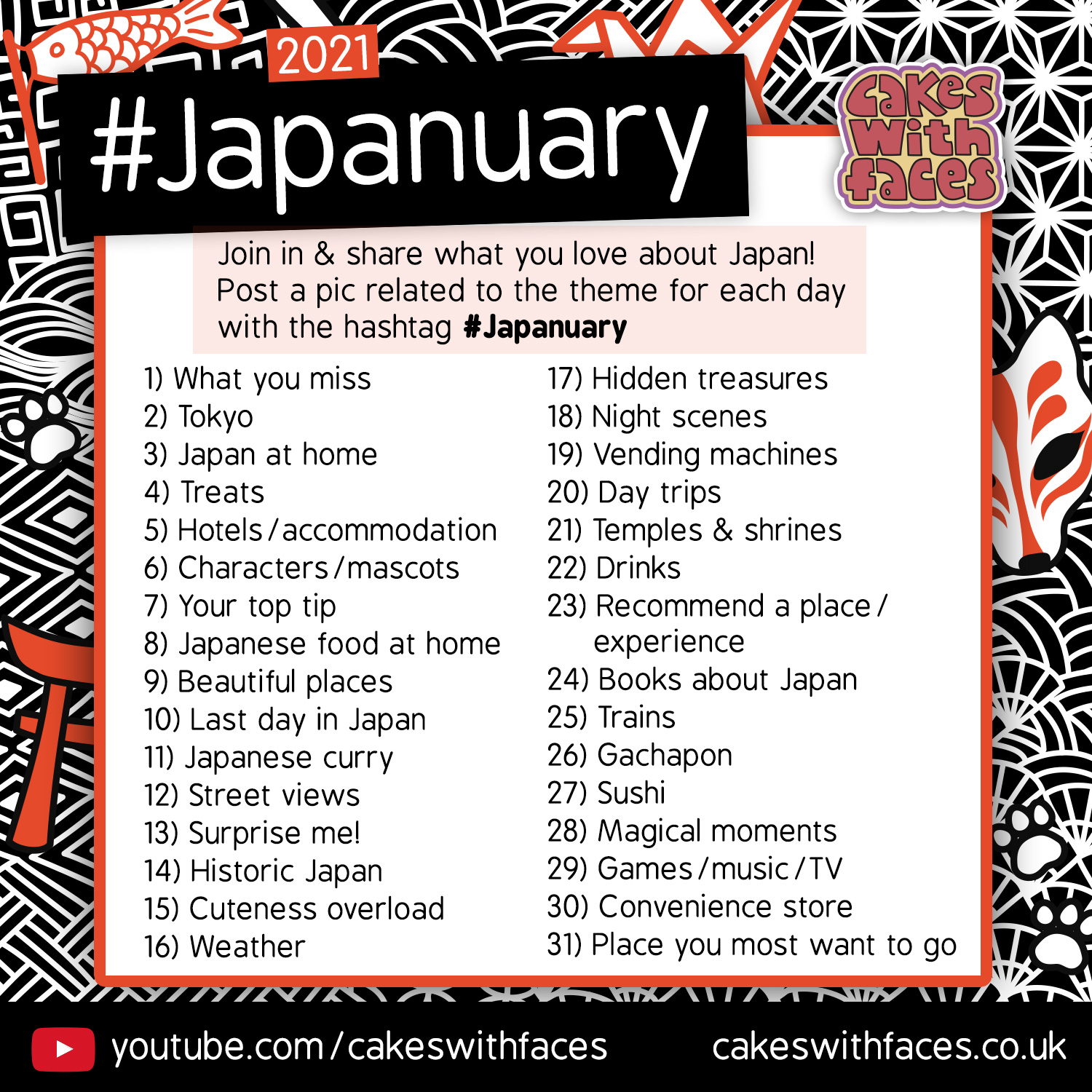 Image taken from Cakes With Faces Twitter page.
One more thing to say before I finish this post, I'm taking part in Japanuary over on Instagram! It was created by Cakes With Faces and all you had to do is share a post daily on your social media platform (Instagram for me) with images and some text in relation to the day. I'm really enjoying this challenge so far and it's keeping my Japan trip alive almost a year on. 🙂
Anyhoo that's all from me today! I hope you're all safe and well and 2021 has treated you nice so far. 🙂
Until next time, take care all and Happy New Year!