It's definitely and rapidly becoming my favourite time of year! It's getting darker earlier now, we get an "extra hour" in bed, Halloween was yesterday, Bonfire Night is over the weekend AND Christmas is going to be here before we know it.
It's a new month, November at that which can only mean one thing, it's time for a new favourites post. It also means Christmas is looming, AHH! 😀
Let's just jump straight into this months favourites.
Hask Monoi Coconut Oil Nourishing Shampoo.
I picked this shampoo up not long after I got back from holiday. I knew I was short of the Liz Earle shampoo I use so went to order some more, only to find out that Boots doesn't appear to be stocking it anymore! I know I can get it elsewhere… But at £10 a bottle I wanted to try and pick something up a little lighter on my monies. This was definitely cheaper and it's amazing for the price too! I've found it's really helped my hair stay cleaner for longer, as well as look and feel soft and healthy. The Liz Earle one did too, but I just felt like it didn't leave my hair feeling as clean as this one does! It also carries a gorgeous coconut scent which reminds me of Fuerteventura.
Dior Miss Dior Blooming Bouquet EDT.
I've owned this perfume quite a while now and when I first bought it I loved it, but after a while I fell out of love with it… I found that whilst it smelt amazing, due to it being a toilette that the scent wouldn't last as long as I wanted it to. This being said it's also really nice to use a light perfume and it's one I wore to work one day and it's just stuck in my handbag since. I'll probably end up switching it up soon, as I always tend to do, but I am trying to use up some of my older perfumes so I can make way for any new ones I wish to try.
Nails Inc Rainbow Wishes Nail Polish.
This is one part of the Unicorn Nail Polish Duo Kit and although I love both shades just as much, I prefer this one out of the two. I love wearing it on my weekends off of work as it looks so pretty without being over the top. I think I'll wear this Bonfire Night alongside the other shade from the duo.
Barry M Matte Me Up Lip Paint in shade Pop Up (review here).
I haven't worn my Barry M lip paints much since buying them, which is a shame as they're actually amazing! My mental health hasn't been too great towards the end of October so to try and cheer myself up I wore this shade quite a lot and I forgot what a gorgeous cherry red it is! I know I'm going to wear the hell out of it throughout the festive period!
Palmolive Gourmet Chocolate Shower Cream.
Ages ago when these shower creams first came out I made sure to stock up on them whilst the were a £1 each and after stocking up on those I bought LOADS of other shower cream/gel. Finally those are all gone and used and I can start using this amazing chocolate shower cream again. These are some of my favourite shower creams to use as they smell and even look like melted milk chocolate. Not only does it smell amazing but it leaves my skin feeling soft and smooth all day long. I really recommend these shower creams in all of the scents!
So now my beauty favourites are done, time to talk about the miscellaneous favourites of the month!
Favourite TV Show – Stranger Things.
As many people will know season 2 of Stranger Things came out under a week ago and everyone has gone crazy for it, including me and Dane! As soon as it went live on Netflix me and Dane started to watch it. We got the new season completed in just 2 days and it is AMAZING! I didn't know what to expect from watching the trailers and I didn't really think much about it. Only when we watched it was I trying to constantly guess what was going on. At one point towards the end of the season I was shouting at the character(s), you know, as you do. 😛 I just enjoyed it so much and I already can't wait for season 3… Which sounds like it's already been announced.
Favourite Film – The Anthem of the Heart (Kokoro ga Sakebitagatterunda).
This was a film Dane had told me about and we watched it one of the days in October. I can safely said I thoroughly enjoyed watching it and would gladly watch again! It's about a girl who loves to talk and talks loads, which ends up getting her into some "trouble". She is cursed after this and whenever she talks after she feels like she needs to be sick. From there she becomes part of a school project which involves music, which also seems to help her find her voice and start to talk again. I won't say anymore as I don't want to give anything away! It's an amazing anime film and one you should watch if you love films such as A Silent Voice or Your Name.
Favourite Book – Erm…
I actually don't know why I have this option on here anymore as I don't seem to read these days! I feel bad for not reading, but I feel like all I do lately is write my blog, watch random films and shows and play games. Reading hasn't really factored into it lately. I really want to start reading manga again however! I have loads of K-ON! that I need to read! November will definitely be the month of starting to read again. 😛
Favourite Song/Album – Saliva – Back Into Your System
This is an album I actually listened to earlier on in the week when driving my car and I always forget how much I love it. It's by far one of my favourite albums and whenever I listen to it it cheers me up so much. I've had a crappy couple of months recently so to listen to this album before and even after some good news it's made me very happy. This is the song that introduced me to Saliva and due to that it's my favourite of theirs, as well as from this album.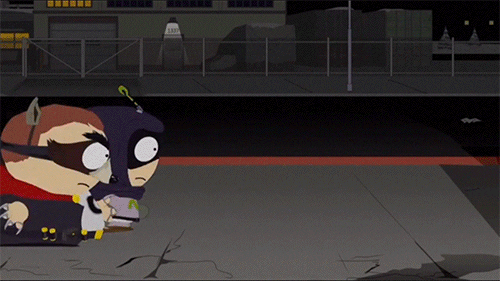 Favourite Game – South Park: The Fractured But Whole.
I can't believe how long I had to wait for this game to come out, but it has definitely been worth it! I'm surprised I haven't finished it yet to be honest but this is due to various reasons, Netflix being the main one. 😛 It's nothing like the first game in my opinion and if anything it's way better! There just feels like there's more to do and it already feels like there's more game play as well which is amazing. I just can't wait to finish it! I intend to play loads Friday when I finish work as well as over the weekend.
So those were my favourites from October! I still can't believe we're into November now, the year is still going by way too quickly and it creeps me out.
Not only is Christmas and New Year next month, but my birthday will be the month after and I can't believe I'll be 28!
I'm excited for all those things to come however! So what were your favourites from October? Make sure to let me know in the comments down below!
Until next time, take care all and I hope you had an awesome Halloween.