Guys I'm back to talk to you about Quirkory, what an amazing independent artist/store they are… As well as some exciting news, which I'll be sharing first because I just can't contain my excitement!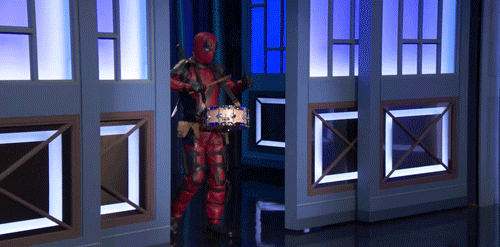 Image taken from GIPHY
Drumroll please… I have become Quirkory's brand ambassador!
Not only has this made me really happy (because we all know how much I love Quirkory as a brand, he couple behind it and of course their kawaii designs!) but I feel honoured too. I'm honoured to be able to become an ambassador for a brand I really do love and especially love talking about on my blog, to people on messages/social media and more!
Quirkory were lovely enough to recognised how much I loved them and offered me to become an ambassador towards the end of 2020, with it all starting to become official on my birthday! If you didn't know, Inari and Mosted are based off of the couple behind Quirkory and are their kawaii mascots for the brand. So, when they suggested me becoming an ambassador a while ago, we also discussed them creating a mascot all of my own to represent me! I gave them an idea and on my birthday they sent over the finished design, which I'm happy to finally show you all!
I went for a raccoon, as they are for sure my spirit animal (as well as one of my favourites alongside foxes, dogs and red pandas), so it seemed right for me. As well as that, I went for a purple bow around their neck, as that's my favourite colour. I loved the idea of having my mascot with food/drink of some sort, especially considering the name of my blog is to do with coffee! We didn't go with coffee however and instead opted for a matcha bubble tea, as this is one of my favourite beverages! The end design is so adorable and I couldn't be happier with it! I'm planning to buy a print of it from Quirkory so I can pop it in a frame and hang it in the house. I'm honestly a mixture of happy and proud to now be more than just a fan/buyer of Quirkory, but now working with them too.
Of course, with being a brand ambassador I do get a special discount code for you guys to use to snag yourself a bargain or two! This code will be "TMBQUIRKORY" and gives you 10% off of Quirkory's Etsy store. Don't worry if you need to quickly grab the code in the future and can't find this post, there's a few ways this discount code will be accessible.
I'll be adding the discount code and image, as well as this post under the "Quirkory" section of my blog, as shown in the image above. As well as that, I will of course have the discount code image on the right hand side of my blog, which will be added after this post is live!
Anyhoo, exciting announcement over, it's time to talk about Quirkory's Mostari Mystery Pack! This is an item Quirkory revealed and launched towards the end of 2020 and it's something I KNEW I had to pick up for myself. It's always nice to pick up a surprise box/bag to see what goodies you get. I know I often talk about Quirkory on my blog and for people who may have never bought anything from Quirkory before and interested, the Mostari pack may be a great way to introduce you to Quirkory!
I'm going to explain what the Mostari pack is all about, as well as prices, what you'll expect as well as what I received in my pack! I have also done an IGTV video about this over on my Instagram account, which I will post here if you're interested in watching that alongside reading this post.
The Mostari box comes in three different sizes, bag, mini box and large box.
Bag (£20.25) – You will receive three different pins or two different random pins and one surprise item.
Mini Box (£27.98) – You will receive three different pins or two different random pins and one surprise item. You will also received one art print and either two jumbo vinyl stickers or one stick pack/sheet.
Large Box (£41.59) – You will receive five different pins or four different random pins and one surprise item. You will also received one art print and either two jumbo vinyl stickers or one stick pack/sheet.
I went for the large box, because why not? 😛 It arrived before Christmas and I was SO HAPPY with all of the goodies I received. Quirkory made sure that I didn't receive any duplicate items and I couldn't thank them enough for this! To be honest, if I had of received some duplicate enamel pins, I would have gifted them to my friends. 🙂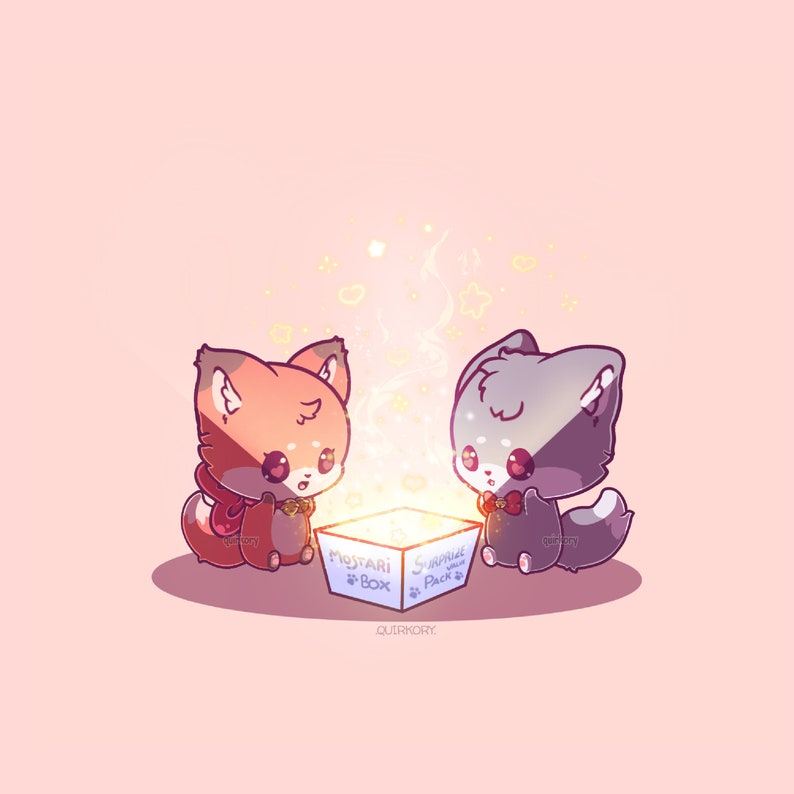 Image taken from Quirkory's Etsy store.
First of all the image that Quirkory designed purely for the Mostari pack is absolutely adorable! It's Inari and Mosted looking inside the Mostari box in front of them, which is full of sparkle! The name Mostari is also a mash up of Inari and Mosted to sound like mystery!
Inside the box it is full of shredded pink and blue tissue paper, as well as the goodies all in their packages and such. I'm going to talk about all the goodies I received, honestly I couldn't be happier with them! There is also a thank you card in there with some cute animal designs on! I'd like to think these are Quirkory's pets…
Every box may contain common, discontinued or new/unreleased items. Due to this each box will have a random different rarity grade:
Common- if containing items with a stock of more than 30 pieces.
Rare – if containing items with a low stock.
Vaulted – if containing items no longer on sale or out of stock.
Surprize – if containing a new item not yet listed for sale/not yet shown to the public.
Sticker Pack – Chillin' Pals Sticker Set (link)
When I saw this in the box, I was so surprised! I've been meaning to buy this sticker pack for the longest time, but just keep leaving it for a rainy day when I fancy a treat. I finally have them and they're so cute! The stickers themselves are matte and not shin. There are four stickers in the pack, all to do with dogs and cats and are original Quirkory designs and even have their own names.
Luci is a black cat and white cat with a blue beanie on and a book in front of them. The book has sparkles and swirls, which I assume are to show Luci getting into the magic of the book.
Doteki is actually my favourite from the bunch and looks to be a shiba who is chilling on Petflix with some film/TV show snacks and even a hot water bottle! Plus, he's got cute little feet pads and a little cross to show his bum… So cute!
Snoozin is a ginger and white cat who is asleep under the blue fluffy blanket. They're dreaming about sleeping in a box in the sunshine. Snoozin also has a cute little red bow around their neck.
Yuki is the final design and is a cute little shiba wrapped up for winter months. I don't know why but this design reminds me of Japan in winter. Yuki is a brown and white suba, with pink earmuffs on, a massive chunky blue tartan scarf and some cute little pink mittens.
Art Print – Happy Togedeer Art Print (link)
I've seen this print before receiving it in my Mostari pack due to being a Patreon and it was actually a design they released as wallpapers for computers, phones and tablets so it was so cute to receive in my pack! It's two deer snuggling together, one is white and one is brown, with a little heart above them both. The pale blue background works really well and it says, "Happy Togedeer" at the top. It's printing on photo paper and feels really lovely. I'm planning to keep either stick this on my plushie cabinet, or keep it somewhere safe for when I eventually get my own desk. 🙂
Rare – Mew enamel pin from the Mythical Rising Star collection (link)
This Mew enamel pin is from Quirkory's first Kickstarter which launched back in March 2019. It's crazy to think that was almost two years ago! I hadn't discovered Quirkory at this point but if I had I know for a fact I would have backed for this enamel pin design. Mew is one of my favourite Pokemon and they really captured how playful and cute the psychic Pokemon is with this design! Mew is sat against a blue stained glass design, with a purple bow design on its tail and some star designs hanging from its tail too. This is a chain design enamel pin so it does have something dangling off of it. With Mew the design is a pink and purple swirl, which I assume is based off of it being psychic Pokemon. It's on a rose gold enamel, is a two back pin for the main body of the design and then another back for the pin for the dangle/chain swirl design too. As well as that on the back of the main design of the piece is Quirkory's logo. There are loads of designs similar to this one including Diancie, Victini, Celebi, Shaymin, Jirachi, Marshadow, Manaphy, Zeraora and Meloetta.
Rare – Flower Eevee enamel pin from the Cute Eeveelutions collection (link)
This series of flower Eeeveelution is from the Kickstarter that helped me to discover Quirkory after buying some of the Greek Eeveelutions designs through it, as well as after (you can read all about the Greek Eeveelution designs here). The first enamel pin I opened from my Mostari box was this design and it made me smile so much! This cute little Eevee is laid back on a white flower, with it's fluffy tail dangling below it, I think it's having a snooze! I love the big green leaves for this flower too, as it compliments the overall colours of Eevee and the flower. This is a gold enamel pin, with two backs and Quirkory etched into the back.
Rare – Flower Flareon enamel pin from the Cute Eeveelutions collection (link)
Again, we have another Eeveelution design from the Kickstarter I backed back in 2019. As you can see I also received the Flareon design which really did make me smile. Back when I discovered Quirkory they thanked me for all their support by sending me the Flareon Greek God design, so it's really nice to get Flareon again! The Flareon, like Eevee is lying on it's back, but Flareon has its paws up to its face, almost like its giggling at something. It is lying on a purple flower, which like the Eevee design compliments the colours of Flareon's orange and yellow so well! Alongside the Eevee and Flareon designs, you can also pick up the other Eeveelutions too – Leafeon, Vaporeon, Sylveon, Espeon, Jolteon, Umbreon and Glaceon.
Rare – Yamper Corgi enamel pin (link)
The Yamper design is adorable and one I've toyed with buying for a while. I actually think the Quirkory design for Yamper is better than the original by Pokemon… 😛 It's not an overly complicated design and the Yamper definitely shouts corgi when you look at it. It also has a little blep going on, which makes it even more adorable, alongside with the way it's sat. This is a gold enamel pin, with two pin backs and Quirkory etched into the back of it.
Vaulted – Bulbakura Enamel Pin (link)
Alongside the Mew enamel pin, this Bulbasaur enamel pin is also from Quirkory's first Kickstarter from March 2019. To me this Bulbasaur design is different to anything Quirkory has done since and because of this I'm glad to finally own it! It's a gold Bulbasaur with a pink cherry blossom on it's back instead of the bulb we all know and recognise the Pokemon for. Due to the Bulbasaur being gold, of course the enamel is gold too and like pretty much all of the pins I received, it has two backs as well as Quirkory etched into the back of the enamel pin. It's quite a thick enamel pin to be honest, which is really nice to hold. I can't wait to display this in the future, the gold makes it lovely and shiny so it'll definitely be a conversation starter in the future.
Surprize – Totodile Patch
This was actually such a surprise and was the first thing I opened when in my Mostari box! I've never seen Quirkory sell patches before so if this is an upcoming project I'm excited for it! This is a patch with Totodile on and he's holding a hose pipe which he's shooting water out of. It took me a while to realise what it was, but coming out of his head is a needle and thread, which looks really cool and unique. I'm not sure what I'm going to put my patch on yet but I'm sure I'll find something soon. 🙂
I also received some other goodies in my pack, but this was more of a thank you from Quirkory for supporting them, plus as I'm a Patreon, it was also a thank you for that too! As always, Quirkory also sent a really lovely thank you note. I'm not going to share it as it feels more personal, and I'm not sure if I've mentioned before on my blog, but all the thank you notes Quirkory have sent me, I've kept. 🙂 They also sent me a special discount code for their store as a thanks for being a Patreon.
Detective Pikachu Sticker (link for sticker pack)
This Detective Pikachu design looks to be from a sticker pack, but I honestly love the design I was sent. Detective Pikachu is holding his little takeaway coffee cup and looks adorable as anything! Why do I feel Quirkory sent me this because it's to do with coffee? 😛 It's a matte sticker by the way. I don't have a clue where I'm going to stick him yet, but I'm sure I'll find something.
Whipped Ghost Sticker (link)
This is another design I've seen floating around Patreon and one that reminds me of autumn/fall in America. It's a pumpkin pie with little candy corns on it, as well as a happy dollop of cream! It's so bloody cute. This is a vinyl sticker. I think Quirkory should definitely do more food themed designs. 😛
Inari & Mosted Christmas and Autumn Stickers (Sorry no link…)

Quirkory sent me some of their mascot stickers and I always smile when they send me some! They're so cute and I actually have quite a lot of the mascot stickers on my iPad case, including the Christmas Inari and Mosted they sent me from last Christmas (2019). Inari has reindeer antlers on, whilst Mosted wears a Christmas hat. These are small stickers and matte. The other two designs they sent me look like they're from autumn. Inari is dressed up a cream squirrel and holding onto an acorn whilst Mosted is dressed as a squirrel too but is a dark brown and is holding onto a toadstool/wild mushroom. These two designs are adorable!
Sadly neither of these designs are available to buy on the store, however here are some Inari and Mosted designs you can check out instead – Halloween Stickers and summer stickers.
So that is the Mostari box! I'm so glad I picked one up before Christmas as it was so exciting to open it up! I don't know if any young Brits from the 90's remember, but there used to be such a thing as a "surprise" bag you could buy from the shop where it was a sealed bag full of exciting goodies to keep you busy! It would have an activity book, some crayons, as well as a toy and sweeties. My mom would buy me one every now and then and I really did love it. I just googled it ad FOUND IT! It was called Dick Turtle Surprise Bag. This is exactly what the Mostari box reminded me of and it definitely brought back some nostalgic memories, which have been lovely.
I'm going to add all of Quirkory's social media pages and especially their store below:
So, do you think you'll pick up your own Mostari box? If so, what size would you opt for and what goodies would you hope to get inside your box? Of course if you are interested in getting a box of your own, you can use my discount code to save yourself some monies as well, which is always good! 😀
Let me know what you think in the comments below and make sure to say hello to Quirkory from me if you find yourself making a purchase, posting on their social media and more. 🙂
Until next time guys, I hope you're all doing well and keeping safe during lockdown with everything going on. Take care all! 🙂