Another month is due to end and with that we of course have our monthly favourites! I can't believe it's June in four days time, the year is just flying by and I'm not liking it… But I am sort of liking it because excited things are coming up at the start of June!
May was a weird month for me, it was full of bank holidays, and annual leave which left me wanting more four day weeks at work. As well as that, last week me and Dane went to see My Chemical Romance and let me tell you it was amazing! I haven't been to a show that big to date. The atmosphere was great and took me back to when I've seen them live twice previously, as well as to how I used to be when I was younger. If it wasn't obvious enough, I was a little emo kid. 😛 I'm going to save more details for later on in my monthly favourites, because it obviously counts!
Aside from that, June is looking to be an exciting month for me and Dane! We have the UK Games Expo coming up with my best friend and her boyfriend and then me and Dane have a week off together for our nine year anniversary, which in itself has flown by! For our anniversary this year we've decided to go to Manchester for a few days, which we're so excited for! Like MCR, I'll talk more about it later in my monthly favourites, as whilst it hasn't happened yet, it's something I'm excited about, so it classes as a favourite… Right?
Me and Dane also finished our first Dungeons & Dragons campaign too, which lasted for three years! We had so much fun playing it and can't wait to start a new campaign in June/July.
On top of all that I'm going to be bloody skint this month, with MCR, UK Games Expo, Manchester AND my car needing to be taxed and serviced… It's a good job I have plenty to keep me busy. 😛
Content wise for June I'm hoping to bring you some kawaii AF stuff, as well as some future posts about our Manchester adventures, especially geeky places to shop, fun things to do and good places to eat. I hope yah'll are excited for it!
Anyhoo, on with the monthly favourites! I really hope you enjoy this months post, I feel like it's going to be full of me being excited about adventures and MCR. 😛
Favourite Beauty Product – Laneige Lip Sleeping Mask in Berry.
I was planning to write a blog post showing off all the goodies I picked up from YesStyle a couple of months ago, but I decided against it as I thought I'd end up showing off the goodies in monthly favourites posts anyway (which I have!). One of the items I picked up is the Laneige lip sleeping mask in berry, which I have wanted to try for as long as I can remember. It's recently started to hit the UK beauty stores, so it's becoming more available to us in the west, however the price for the pot is a bit of a joke… Hence why I turned to YesStyle. From memory I only paid £10 for my lip sleeping mask, whereas here in the UK stores will charge £19 for it. Anyway, I've been using it for almost two months now and it's definitely safe to say I LOVE it! It has definitely made an improvement to my lips, which is great with summer coming around. I don't just use this at night like it's known for, I use it in the morning before I start work (if I'm not wearing a lip tint that is), and I apply it before bedtime too. The mask is said to work best overnight as it "dissolves" all the dead skin on your lips, so you wake up with lovely soft lips. A lot of people claim it does what it says, but others claim it's just Vaseline in a fancy jar, with some colour added to it. As someone who uses Vaseline on a daily basis, this is thicker than Vaseline and really does feel like it's moisturising more, but that may just be me? To add a little bit of this stuff goes a long way, and due to that, I've not really made much of a dent, which is good! To add here, I picked up the Berry scent and it doesn't really smell or taste like berries to me… But that doesn't bother me, it would be a plus but yeah, it's one of them. I'd say if you're thinking of trying the Laneige lip sleeping mask, go for it, especially if you suffer with dry lips and live for lip balms! If you buy from YesStyle you could always get some of the little "sample" pots too to see what you think of it before buying a bigger jar.
Favourite Film – Jackass 4.5.
This is a recent addition to Netflix and one I was super excited to see! As many regular readers and friends will know, I'm a MASSIVE Jackass fan. I mentioned last month how I'd watched Jackass Forever and that I didn't love it as much as the previous films they'd made. Jackass 4.5 really did make up for that, I laughed so much and even had to look away a few times in the fear of feeling (or being) sick! It was amazing, I just enjoyed it so much. The amount of times though that both me and Dane said, "Why didn't they put that in Forever?" was crazy. I need to buy Jackass Forever and 4.5 at some point to add to my collection. If you have Netflix and love Jackass, definitely make sure to check it out! You find out a lot about the new crew members too, which I really liked. I'd love to see them come back and do more now after watching 4.5
Image taken from Empire Online.
Favourite TV Show – Moon Knight.
I've been a mixture of excited and nervous/sad to watch Moon Knight, but me and Dane decided to binge watch it one day over the last bank holiday in May and I can honestly say it's my favourite Marvel TV series to come out to date! There was so much I loved about it, but the thing that made me sad was the fact it's one of Gaspard Ulliel's last acting role before he passed away in January. That being said, the show itself was amazing and I need more! The story of Steven/Mark and their role as the Moon Knight, as well as the dark themes and character build up were just incredible! Everyone did an amazing job and honestly, I loved it. Let me say this without spoilers when I say, Steven must be protected at all costs and he's now up there as one of my favourite Marvel characters alongside Deadpool.
Favourite Music – My Chemical Romance.
Okay, the part of this months favourites I know some of you have been waiting for! At the time of writing this post I am still struggling with some post gig blues and I don't really know when they'll go away? I just crave more after last Thursday's gig and I wish I could go see them again already! First things first, the show was amazing. Gerard dressed up and the band played a lot of popular songs from all their albums to date, including "Helena", "Teenagers", "Welcome to the Black Parade", "Famous Last Words" and of course "I'm Not Okay". We got to the gig shortly after doors opened, got some merchandise, drinks and headed to our seats. Our seats were shit as they were high up and all the way at the back, even with the screens you couldn't see fuck all. This being said, I didn't let it affect my experience of the gig, I was so in my element singing along to the words, watching the screens, the stage and everyone else around me that I was past caring after a while. I almost cried whilst listening to "The Foundations of Decay" due to how proud I am of the band, as well as how happy I am to see them back, as well as almost crying singing "Famous Last Words" and "Welcome to the Black Parade" as they both mean so much to me. MCR are one of the bands that were always there for me when I was struggling with my mental health growing up and especially the day my gran died. I went home to be on my own to grieve and ended up putting on The Black Parade so I had something to occupy my mind. When the song "Disenchanted" came on, I couldn't stop crying and since that day, it always makes me sad to hear. Alongside all this the show was just incredible! Everyone was so friendly to talk to (when we did) and the atmosphere was one I've missed from previously seeing MCR play in 2007 and 2011. I'm just dying to see them again now… Maybe standing tickets next time for shits and giggles or at least closer seats! I was going to write a blog post about the whole day, but I feel like this is enough. 🙂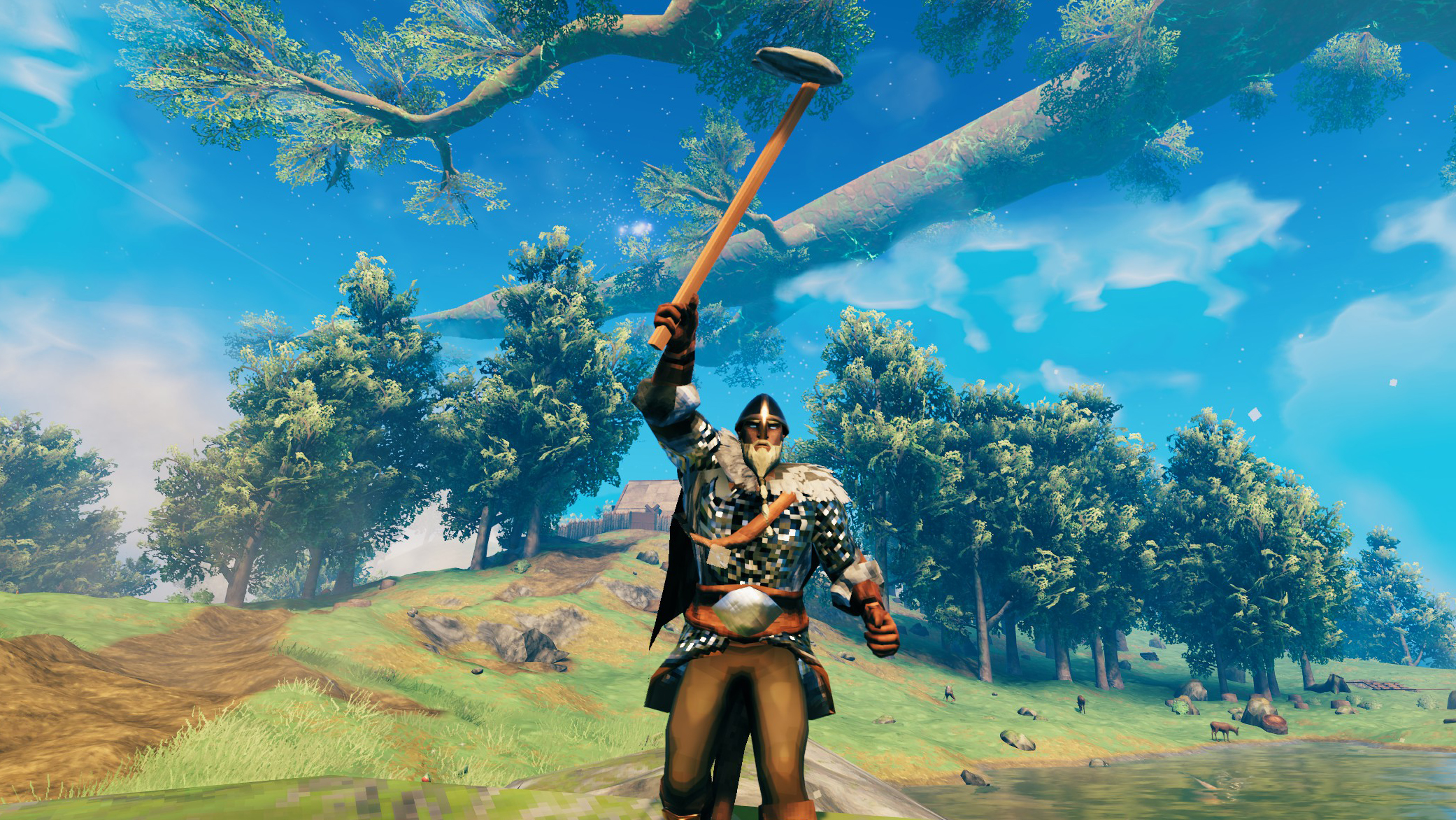 Image taken from PC Gamer.
Favourite Game – Valheim.
This is a game Dane has been pestering me to play with him for as long as I can remember and finally in May I cracked and bought it, which made him so happy! Valheim is a Viking style game where you need to gather resources, build a base, defeat the enemies nearby and ready yourself to defeat even bigger enemies! We spent a weekend playing it together and I soon got my bearings with how the gameplay worked and was. However, tragedy happened when not only did I lose a lot of my stuff in a tomb (and couldn't get back!), but then some boars we had captured and bred were all killed by an enemy! We both rage quitted after the latter and didn't touch it for a week or so… Until one of our friends came to join us one evening to play and since then we've been playing it more. She's really helped us build our base, defeat more/bigger enemies, as well as teach us a lot more about the game as she's been playing it longer than we have. It's such a fun little game to play, more so with people than alone and I highly recommend it!
Just a few of my favourite things…
Picking up old games/game completion goal – Pokemon Mystery Dungeon DX and Persona 5 Royal.
I'm pretty sure I've mentioned on my blog since the start of 2022 how I have started working on completing games I currently own and making note of them on a Twitter thread here. This is something I was inspired to do by my friend Connor, who took part in it last year. I have a lot of games I've bought, played for a few hours and then never picked up again. Some games I could sell, whereas others I can't as I've bought on stores/Steam. I decided to start spending less time sitting online window shopping and more time playing the games I love, but have allowed to gather dust!
The first one I want to talk about is Pokemon Mystery Dungeon DX. This game is a remake of the original Mystery Dungeon games that came out in 2005 on the Game Boy Advance and DS, I still own both of these and loved them to death! The remake DX came out in 2020, just before Animal Crossing: New Horizons so I told myself I would try and complete it before Animal Crossing came out, which didn't happen. However, what did happen is I got stuck on the second boss (Moltres) and no matter what I did, I just couldn't get past them, so I ended up resetting the game and starting again. I grinded for ages to make sure I was ready for that boss battle again and last weekend I felt ready to take the boss on! I turned to Dane prior and said, "If I don't beat this fucking thing, I'm selling the game." Thankfully it wouldn't come to that as I beat Moltres, as well as the boss after that too (Articuno), so I look like I'm going to be fine from there! I'm so glad I've picked this game up again, it's making me feel so nostalgic to between 2009-2010 when I picked up both of the original games to play.
Alongside playing Pokemon Mystery Dungeon DX, I've also started playing Persona 5 Royal again, which is something I also picked up in March 2020! I hardly played it due to Animal Crossing: New Horizons and only played the first palace and some of the second. I decided to play it over a bank holiday weekend and haven't looked back since. I genuinely forgot how much I love Persona 5 and the characters behind it, it really means a lot to me as the original game helped me through some dark days. So far I've completed the second palace and I'm probably near to beginning the third one from memory. I always recommend Persona 5 to people to play, but these days I often suggest people playing Persona 5 Royal, just because it has more to the story than the original. I'm probably going to focus on completing Pokemon Mystery Dungeon DX first and then on Persona 5 Royal, depends on my mood I guess. Currently my PS4 is in the living room, which I'd love to move temporarily to my desk in our office so I can play it with Dane in the background as company, but we shall see!
Image taken from UK Games Expo.
June adventures – UK Games Expo and Manchester.
As I mentioned at the start of this post I have lots of exciting things booked in and planned with Dane and some friends at the start of June, which I'm really looking forward to!
First we have UK Games Expo the first weekend of June, which is a board game convention in Birmingham. Me and Dane went in 2019 and spent WAY too much money (which you can read about here), but we had an amazing time and always said we'd go again, but of course Covid happened… That being said we've finally plucked up the courage to go again this year. Due to my anxiety of Covid still, I do still wear masks in shops, as well as around the office at work, so I'm not 100% sure if I'll wear my mask or not at the convention yet… I'm worried it'll be really warm and I could maybe die from the heat haha! We'll see how it goes though! There's going to be some amazing vendors there from years before that I'm excited to purchase from and support again, plus I'm hopeful we can all play lots of board games and have fun! I'm so happy my best friend recently got into board games, because it means we can all venture to cafes and play games more! Me and Dane got into board games before Covid and then Covid happened… And we couldn't play board games with many people. 😦
Then as I mentioned before, for our nine year anniversary we decided to go to Manchester as we've booked to go to Point Blank Shooting with a voucher I was gifted for my 30th. Point Blank Shooting is a simulation shooting range and bar, offering food and drinks whilst you play on the shooting simulation games! We plan to go and have a day of shopping in Manchester and then head to Point Blank Shooting, finishing up at some themed bars on the way to our hotel. The next day we plan to have some breakfast, more shopping, a big lunch and then heading to Bury for The Arcade Club! My friend Daysei is always telling me how much fun it is there and after showing Dane how many floors of arcade games they are, we booked it in to do! I'm honestly so excited for our gaming and shopping days away for our anniversary, it's going to be so much fun.
I'm hoping to write Manchester guides and reviews of places we go to, so keep eyes peeled for those!
My Chemical Romance merchandise.
I mentioned earlier about how I went to see MCR last Thursday, well of course I had to grab some merchandise as well and man I bagged a few bits, one which has been semi sought after since. I want to state now, none of these are for sale. xD I also want to state, I apologise for how shit the photo is!
I decided to grab both the tour t-shirts, as well as the Boy Zone t-shirt as well. I couldn't decide which tour t-shirt I wanted as they were both cool in their own ways. I'm so glad I picked up both after trying them on as they're so comfortable! All of the t-shirts are in a men's size large and I could have probably gotten away with a medium, but I like my t-shirts baggy!
The tour t-shirts have the tour dates on the back for their shows between 16th May until 18th June which is always a good t-shirt to have. On the front of the short sleeved is an updated version of the bloody bride and groom from the Three Cheers for Sweet Revenge album, which I just had to get for that alone! On the front of the long sleeved there are some skulls and bones, as well as "Decay" written backwards. I LOVE the long sleeved t-shirt the most and already can't wait to wear it. I'm really into my long sleeved band t-shirts lately to wear with joggers, skirts and trousers for a relaxed look.
Finally the Boy Zone t-shirt that everyone has gone mad for! I knew I had to pick this up and even though I probably won't wear it out and about, I'll definitely live in it at home on lazy days. It was designed by Kerin Cunningham with support from Gerard Way. It honestly reminds me of my early teens where I would always buy the music magazines that was full of bands, love quizzes and more. I honestly love it so much!
So, there we have it guys, all of my favourites from May! I honestly can't believe we'll be going into June in less than a week now, it's really flown by. The whole year is, Christmas is just 6 months away now… How crazy is that?!
What were your favourites from May? Did you go and see My Chemical Romance in May too? If you did tell me all about your feelings, thoughts, etc! I'm eager to hear everyone's stories and experiences. 🙂
Until next time all, take care and have an amazing weekend!