I feel like I always say stuff like this when it comes to my monthly posts, but seriously… How is it August already?! This year has really flown by, so much so I didn't realise my boiler was due a service because it only felt like yesterday that it had had one! xD
This month feels like it's been… Strange? My mental health hasn't been very good to be perfectly honest but at the same time it actually improved due to dog sitting my best friends dog Eddie. I'll be talking more about him later… 😉
I'm hopeful for August being a better month. I have lots of fun things planned with friends and I can't wait to go on some mini adventures with some of them too.
Beauty.
Dr. Bronner's Pure-Castile Soap in Peppermint.
This is an all purpose soap that my mom recently gave to me in lavender form. She'd treated herself to some of the scents but had found she had too many. As I wasn't using it due to having a lot of my on stuff to use, I gave it back to my mom. When I did however, she offered me another scent that she hardly had any of, the peppermint one. This came at a good time with the heat wave we experienced in the UK. This is a multi purpose soap that can be used as a body wash, shaving and even for cleaning around the home! I'm yet to try it for shaving, but so far both me and Dane have used it on the body. As this is peppermint it leaves a lovely cool feeling behind after rinsing off of the skin, which felt amazing during the heat wave! I don't know if I would go out of my way to buy this soap as I feel for less money I could pick up the Original Source mint shower gel for a lot less money.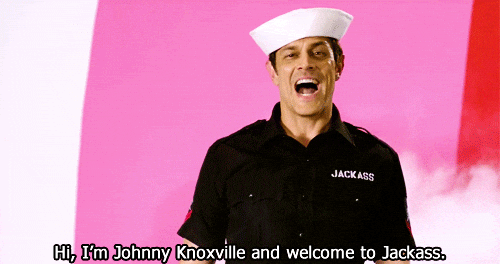 Image taken from GIPHY
Favourite Film – All the Jackass movies!
As some of you may know I am a MASSIVE Jackass fan and earlier last week the trailer for Jackass Forever came out, so I was kind of an excited fan girl… 😛 I was so excited that I decided to binge watch ALL five Jackass films, including Jackass 2.5 and Jackass 3.5. I forgot about some of the scenes from the films so it's always a delight to be reminded of some of them. I can't tell you guys how many times I've watched the Jackass series as well as the films now. Whilst studying my undergraduate degree I remember watching everything over and over again as it helped me whilst I worked on my dissertation. To add here, whilst I'm really excited for Jackass Forever I'm not excited about a few things. 1. The fact Bam Margera and Ryan Dunn won't be there (who are both my favourite Jackass guys) and 2. This is actually going to be Johnny Knoxville's last Jackass film… Gutted! It's obviously the end of an era in a way and the young 11/12 year old Nat probably didn't even realise how much this show would change her life. I'll be writing a post all about Jackass towards the fourth film, which comes to cinemas on 22nd October!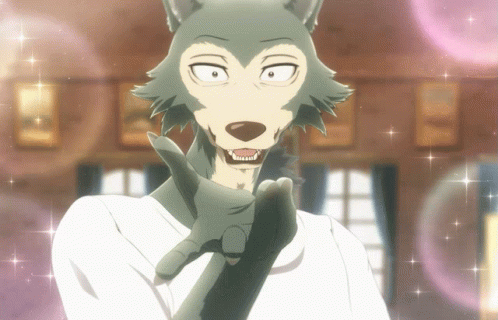 Image taken from Tenor
Favourite TV Show – Beastars season two.
Me and Dane literally binge watched season 2 of Beastars as soon as it came out on Netflix. We watched the first season last year and really enjoyed it! As I haven't read the manga, I didn't expect there to be another season coming out, so when it was announced a while ago I was surprised! This being said, I was intrigued as to what would happen in season two and other questions about Legoshi (wolf) and Haru (rabbit). For those of you who may not know, Beastars is about anthropomorphic animals where carnivores and herbivores are divided. We follow Legoshi during his time as a student where we see how this divide is affecting students, as well as adults outside of the school/college/university. I definitely recommend watching! You can watch it on Netflix, subbed and dubbed.
Favourite Music – Girl Talk – All Day.
All Day is an album my ex actually told me about over 10 years ago and I still listen to it to this day. It's a mash up album with all sorts of genres mashed up to make one amazing piece of work. I love listening to this when I have stuff to do, whether it be doing paperwork, blog work or cleaning around the house, it's the perfect album to put on and listen to. I especially love listening to it whilst driving. There are 372 songs used on this album. Honestly go and give it a listen if you've never heard of it before… I don't think you'll regret it. 😉
Favourite Game – The Greatest Penguin Heist of All Time.
This is a game that Dane introduced me to about three weeks ago now! It's an early access game on Steam and it is fucking hilarious! If you can't gather what it's about from the title then… 😛 Obviously you play as a penguin and you're off on a heist, the greatest of all time! This game can be played alone or in a group of four through private parties and it's one that me and Dane have been really loving playing together, especially on streams. You play various different levels and each time you are set tasks to complete. You complete the tasks successfully, you make big penguin bucks which can be used to buy new areas to play, as well as weapons, clothing and more! As this is an early access game there are bugs and items still in development but this doesn't bother us too much as it's still crazy and fun to play. 🙂 If you fancy watching us play it on stream make sure to drop us a follow so you can watch us play games! We stream this game every Wednesday between 7pm-9pm. Dane's Twitch and my Twitch.
Just a few of my favourite things…
New Black Milk Clothing pieces.
Okay so I found some Black Milk Clothing bargains online in July, but I also picked up the Snorlax Snoozing Snuggle Suit when it was re-released! It originally came out in the second Pokemon collection. I'd been nagging BMC via Twitter for ages to bring it back and it would seem myself and others would get their wishes (and nagging!) come true. I've owned it for a month now and I've worn it loads when the weather was cool enough to. It's really comfortable and I feel adorable as fuck in it too! If there's one thing I realised this year, it's just how much I love BMC's snuggle suits and how I need more. 😛
As I mentioned, I did pick up some bargains, two in fact! The Snorlax Apples Apron Dress originally came out in the second Pokemon collection and I snagged for £10 less than what BMC are selling it for! Although I'm yet to wear it out and about, I have zero regrets about buying it! It's a gorgeous apron piece that I've teamed up with a strawberry t-shirt from TU Sainsburys. Apron pieces are some I've always been unsure of due to the length, but with leggings or a pair of tights with shorts on top, I'm sure it'll be fine! I'm planning to wear this outfit soon, maybe on a day trip with a friend or for a picnic date with Dane! It's the perfect outfit for spring and summer!
The second bargain I picked up is the Mew Sheer Midaxi Dress which came out in the first Pokemon collection. This is a piece I'd always lusted after but… Couldn't justify the monies. I'd bought the Gastly Evolution Handkerchief Dress and felt that was enough for me. However, months later BMC put the Mew dress into the sale and I started to think more about ordering it. I put it off and just as I went to, it had sold out… I was gutted and it was clearly never meant to be. However, one morning whilst scrolling through the internet I found someone was selling the Mew dress on Vinted for a decent price! It was a size M, so a size down from what I usually buy and after some chat with the seller I placed an order. It arrived a few days later and fits perfectly! I'm so happy I bought it and I'm waiting for the right time to wear it… But with the way the weather is now in the UK I may need to wait a while. xD
Lucky art commission from Claire Likes To Doodle.
About a year ago now my amazing friend Claire/Claire Likes To Doodle would stream whilst doing art over on Twitch channel and as she would stream during the day I would join to watch during work for company. I saved enough channel points so I could ask Claire to draw something quick for me! I asked for Lucky from Animal Crossing and she smashed it! Recently I asked her if she still had that initial quick sketch she did for me and she did! I paid for her to finish it for me and paint him. I met Claire for coffee last weekend and was presented with this gorgeous piece. I love how Lucky has a cute little butterfly on his nose, as well as the bees around the flowers too! I'm currently catching loads of bees on Animal Crossing so I can make lots of bee models for my hive!
If you're interested in getting a commission from Claire yourself make sure to check out her Instagram page and drop her a DM. 🙂
New clothing in general… 😛
I seem to have acquired some new clothing pieces over the last week of July and I have my reasons for this! xD I'd seen the Disturbia Strange Oversized Skater Dress making it's way around social media for a while and after a lot of thought, I decided to pick one up! I'd seen and heard in a lot of posts and reviews of this dress that the sizing of it was incredibly generous and as my size(s) had sold out, I had to go for a size I haven't been able to fit into for a VERY long time. Alas a few days passed and the dress arrived. I was so anxious to try it on in case it didn't fit, but alas it did and it was still very oversized. This being said I don't mind it, it feels really comfortable and with a belt around (as shown in the image above) you wouldn't even know how oversized it is! I'm planning to wear this over the weekend.
This sweater literally arrived a few days ago and as you can see it's a Space Jam Lola Bunny sweater from George Asda. To be able to order an item I'd wanted for AGES I had to order something else, so I decided to get this sweater. It claimed to be oversized and it had Lola Bunny on it so… Win win really! 😛 I used to love Lola Bunny growing up, so much so my dad bought me a keyring/chain with her on. I loved it! I remember being so hyped for a female bunny character and Space Jam but when it came down to watching the film, I was left feeling disappointed and a bit freaked out by the aliens. xD I plan on watching it again soon.
Dog sitting a cutie pie! ***WARNING IMAGE HEAVY***
Finally I'm here to show off this little cutie pie, Eddie, my best friend and her husbands dog! He's a Shih Tzu Yorkshire Terrier cross, or a Shorkie for short. Me and Dane love him to death so when our friends were talking about where they could put him (aka a kennel/dog boarding) whilst they go on holiday we offered to look after him! We had him for a week and we loved every minute of it. I wanted to share with you guys some of the memorable and funny moments we had with Eddie during his week holiday at ours! We'll be looking after him again in August and hopefully September which we're really looking forward to!
This is our living room and for some reason a couple of days into his stay with us he got obsessed by our living room light. As you can see it's mirrored and he kept staring at it one day after Dane had come home from visiting his family. Eddie was going crazy after a while, in the sense he was trying to get up to the light, whether it was via my airer or the dining table! We don't 100% know why but we can only assume he saw himself in the mirror and thought it was another dog. We ended up wrapping the light with kitchen roll in the hopes he would forget about it, he didn't. 😛
On his way home one day from work Dane brought Eddie a puppuccino from Starbucks. It's basically just a cup of cream but damn did Starbucks give Dane a big cup! Eddie really enjoyed it but he kept wandering off thinking he was finished, when he wasn't! We might treat him to one in August/September if we get time to. 🙂
Most of the time Eddie would nap, especially during the work day when I was busy and in the evening when me and Dane were chilling or streaming on Twitch. This was taken the day he went back home after his mini holiday with me and Dane. This was typical of Eddie to have a nap next to me on the sofa, or underneath my desk. Look at his cute little face!
The weather was mostly lovely whilst Eddie was staying with us and one afternoon whenever I let him out for a wee or was sorting my washing, he would sit on our decking (I know it's seen better days…) and look out at the garden and take in all the smells! It was really nice to sit with him and relax, especially if I wasn't having a very good mental health day. Taking this photo of Eddie has really added to me want to get a dog to sit and have chill moments with… As well as other reasons of course!
Finally my favourite part of having Eddie stay with us for the week was all the doggy cuddles we got to have… More so me than Dane as Eddie really did get attached to me. Every morning Eddie would come and sit on my lap during my morning meetings and then later on come for snuggles and cuddles on the sofa during lunchtime and then on the bed before me and Dane would sleep. These two photos of him are my favourites as he's given me those perfect puppy dog eyes for fuss. I mean, who can say no to that face?
I know I said finally before, but the day after Eddie went home, I went to my besties for a hot tub party! Typical Eddie came for snuggles with me… 😛 I didn't mind of course. 😛
So there we have it guys, those are my favourites from July, with Eddie being number one of course!
What were your favourites from July guys? Make sure to let me know in the comments.
Until next time all, I hope you're having a great weekend and I hope August is a good and sunny month for us all. 🙂