Guys we are less than two weeks away from September. Can you believe it? It has also nearly been a month since the UK were told to wear face masks in shops. That month has flew by and it only feels like yesterday I was panicking about buying some more face masks.
Well, that mini panic is what inspired today's post, which is all about face masks and which ones I have on my wish list (as well as one I bought). I know a lot of people went into panic over getting face masks before the 24th July, which thankfully wasn't me. I was just panicking about which one to buy! I didn't buy any funky ones, just a couple of black ones for both me and Dane. However, I would still love some funky and fun face masks, hence the wish list. These are also all going to be reusable!
I really hope this list helps people who may want to get some fun masks to wear during (and after) these times we are facing at the moment. Whether you believe in it or not, wear a face mask if you can and keep yourself and others safe.
This is the first cute face mask I found and typical it was after I bought my face masks in July, boooo! This one is sold by Firebox but is by American brand Smoko (who also made my Elodie ramen bowl – which you can read about here) who I love! They have three different designs on the website – Little Bao Dumpling, Tayto Potato and the one I'm mentioning here, Pearl Boba Tea. The little bubble teas are adorable and some have cute smiling faces on them too. They sound and look really good quality and I would love to pick one of these up in the future, especially as I love (and miss) bubble tea. 😛
This is a face mask designer my good blogger friend Sarah (Raiin Monkey) has bought herself and told me about. There are so many face masks to choose from, all with adorable Pokemon themed designs, 21 to be exact! Out of all of them, the ghost Pokemon design jumped out at me and I really would love to pick it up in the future. The design itself has various ghost Pokemon – including Gengar, Misdreavus, Shuppet, Litwick and Phantump. Alongside the Pokemon there are some ghost type moves dotted around, which make for a good print overall!
It wouldn't be a wish list on my post if it didn't contain something Studio Ghibli related! I discovered PaperandPotionsArt years ago at Comic Con and straightaway followed them on Instagram. When I saw they'd created this Soot Sprite mask I knew I had to add it to this list. It's nothing too elaborate and is a rather "simple" design, which I like! It works with it being white too, due to the Soot Sprite's being black. I have some black face masks similar to this style and to be honest, they're not the best due to how thick they are and with how warm you can get whilst wearing one of these, this may get a bit stuffy.
My Instagram friend Emily (Meimi132) shared some face masks stores and designs with me and this is one of them. It's a gorgeous Japanese inspired design that has various Shiba in different poses, Mount Fuji, sakura, geta footwear and dango. The design just screams Japan to me and reminds me of my trip there, as well as my love for the country. This is a face mask I would really love to pick up in the future, especially for any future trips to Japan.
This is another face mask that Emily shared with me and it is so adorable! Celeste is so precious and I've always adored her since Wild World but I feel in New Horizons she's so precious and adorable. Walking around, give you recipes and more to do with the stars. It makes me smile. Aside from the design, one of the things I like about this face mask is how the ear sections have adjustable beads on them, which I think is such a good idea.
Finally we have another Pokemon themed face mask that I would really like to pick up  in the future! It's a gorgeous space themed mask, but with Pokemon! Pikachu and Pichu are in space alongside various Pokemon including Mew, Jirachi, Clefairy, Clefable and various more! Both the Pikachu and Pichu are dressed in little astronaut outfits, which look so adorable! It's just gorgeous, I love it so much.
I thought I would mention below the face mask that Dane bought for both of us as it's amazing and deserves a recommendation!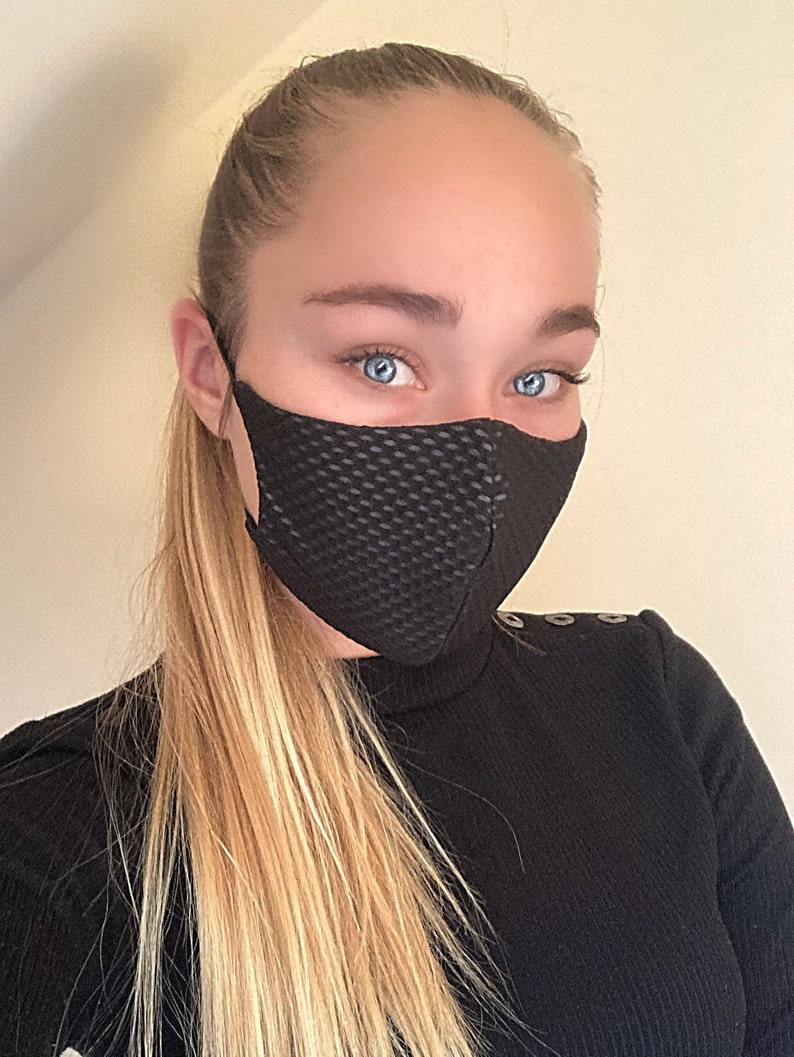 I didn't want to add it onto the wish list but these masks come in various different colours, but we picked up the black one above. We got 2 each to ensure we had enough and we certainly do. You can pop filters inside, but when we've gone to do that it's really awkward, so sadly we haven't bothered. We both wear glasses and personally I haven't had any issues with fogging, but I think Dane has from memory. If you don't want to go for a kawaii design, you can always go for one of these plain black ones. 🙂
So there we have it! My kawaii face mask wish list! I know this weeks blog post isn't anything special, but I thought it was both cute and important considering the planets current situation with COVID.
What do you guys think of the face masks I mentioned? Any you like, or already own? Do you have any face masks you recommend? Make sure to let me know in the comments down below!
Until next time, take care all and keep safe. 🙂