Hello guys! It's been a few weeks now since I last posted something and I do apologise for this. Life sort of got in the way last week, hence no post.
BUT I'M BACK and I'm excited to share a new "store" with you today. I know a few people have asked me to share and talk about this website/store and alongside show you guys what goodies I bought too!
From Japan was introduced to me from my friend Emily (meimi132) a while ago now and it's been a blessing in disguise but also a bit of a curse for my wallet. 😛
From Japan is an auction and shopping proxy service, as the name suggest, for Japanese goods. It's really easy to create an account and even easier to search for items, which I'll go through in more detail.
I've used From Japan mostly for buying Pokemon Center goodies, but I do have some Pompompurin, Persona 5 and Nendoroid related goodies saved in my favourites/wish list too!
Not only did I want to show off what goodies I've had arrive from my second order (first is still on route!) but I wanted to share my experiences of using the website too a I've had a few people ask me.
I haven't been asked to write this post about From Japan. I wanted to share this amazing Japanese proxy service as I know I talk about Japan and kawaii goodies a lot on my blog. So, some of you may benefit from finding out about From Japan if you never had before, and if you HAVE heard about From Japan but don't know anyone who has… Hello! Here I am! 😀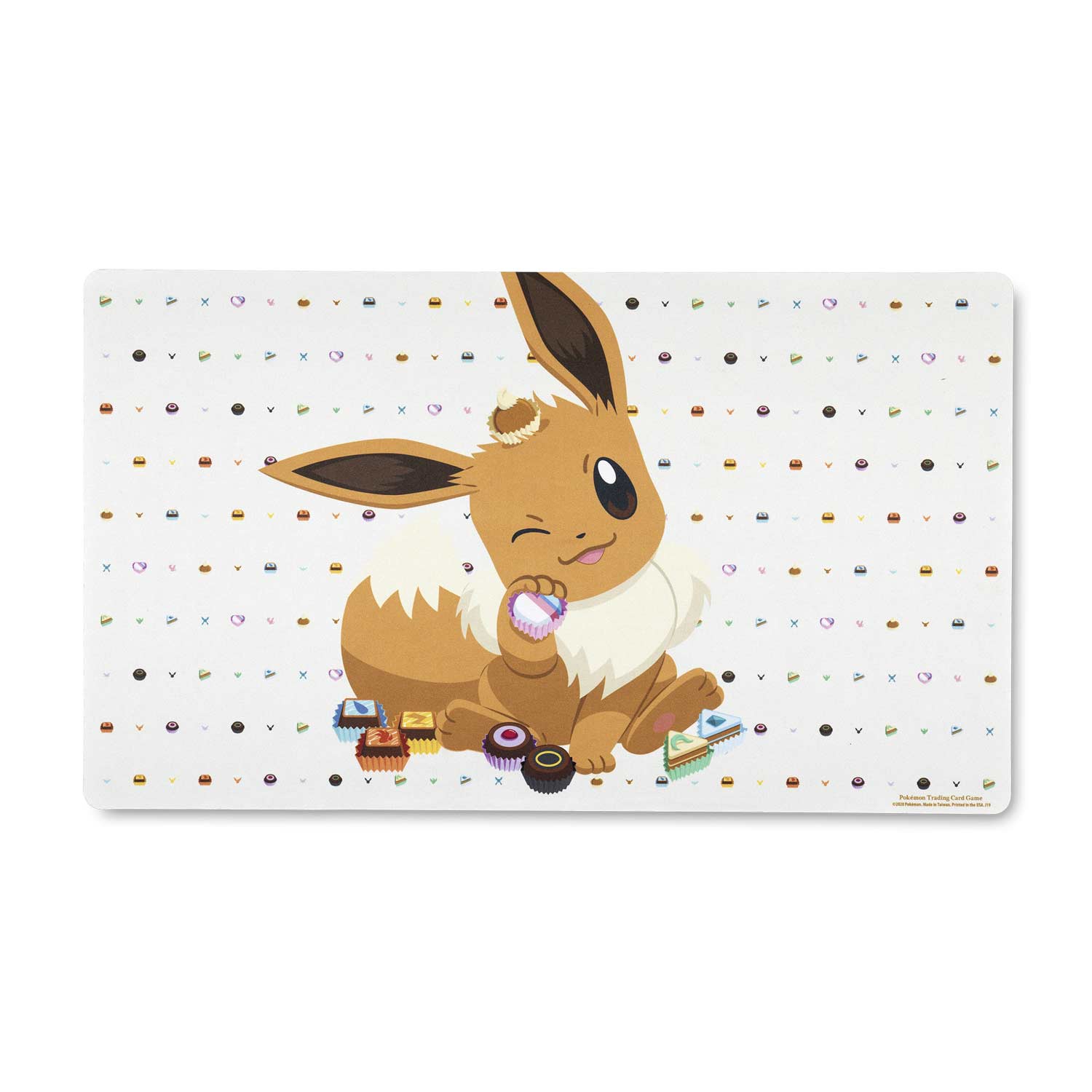 Image taken from Pokemon Center website
My first order is still on route and I regretfully went with surface mail, which can take between one to three months to arrive! It's already been a month and still no sign so… Pray for me. 😛 Aside from the wait on shipping, this order was straight forward to do so I'm just annoyed at myself looking back at picking surface mail considering how long it's taking. This is for the Pokemon TCG playmat from the Eevee Sweet Choices collection. It's so cute and it's actually from me ordering this that I decided to get my own desk in our front room/office. I don't regret it, but I just want it to arrive now. 😛
My second order arrived on Monday and I was so damn happy with everything and how it was packaged! I went for airmail after Emily's advise and it arrived a week after me paying for shipping, which wasn't cheap… I'll get into that little more.
First things first – searching for items on From Japan is really simple! What I tend to do is search for the item in both English, as well as Japanese. This is where something like Google translate can come in handy.
For example – on my third order I was searching for some of the Pokemon dolls. In Japanese this translates roughly to "Pokemon ningyō" or "ポケモン人形". I always end up searching for the latter as it tends to find more results.
I more than often always search with Japanese now, but I do tend to have a look with English just to be safe! It was from searching "Eevee Sweet Choices" that I found the playmat I ordered, so it's always worth using both if you're after a certain item, especially if it's rarer.
Something else to note is the stores that you could be potentially buying your goods from. There are three in total that I've purchased from so far – Yahoo! Japan Auctions, Rakuten and Surugaya. They're all great places to buy from and I've not faced any issues… However, I've found with Yahoo! Japan Auctions and Surugaya that I've had a "hefty" (well, in my eyes!) charge for the privilege of someone either bidding on the items or wrapping items up in store to send to From Japan. Sometimes these charges are fair and it's just one of them things. You do get fair warning prior of these charges, but as I bought so much stuff these charges added up. Please bear this in mind… I was semi gutted at the time but now my items have arrived, I'm not bothered.
When searching for items the search bar will usually cover for all of the shops that are purchasable through the service. If you were only looking to shop through Yahoo! Japan Auctions then you need to make sure to select this store and then search.
Some of the Yahoo! Japan Auctions are buy now, which is really good if you're anxious about missing out on an item! I find items in the auctions are stupidly cheap and probably the best option to go mostly, but again it depends on what you're buying, how many and if you're happy with the charges that come after.
From experience, Rakuten is my favourite! I find their charges aren't high and that's always a bonus to me if I'm after a bargain.
When you're happy with an item you've found you want, add it to your cart and then process with the payment. Make sure to read anything that comes up in red, as these could be charges you may be asked to pay and more. Some listings state that they won't sell to overseas, so make sure to keep your eyes peeled for this too as you could be wasting time trying to buy an item.
You'll be asked to pay "charge 1" – which is simple. Then once this is done, your item will be purchased by From Japan and then the seller will send to From Japan's warehouse. You can keep a box of goodies for up to 45 days and fill this with as many goodies as you want! I did this with my second order to make the shipping worth it.
When you're ready for your goodies to be sent to you, you can make you "charge 2" payment. This is where you pay any charges, as well as shipping. You'll be able to pick and choose which items you'd like to have shipped too and such like that.
Be wary too by the way that some items you may guy may end getting cancelled for various reasons. I've had this happen a few times now and it's a little heart-breaking, but I always have back up items in my wish list if I can in case this happens.
Then you wait for your items to arrive! I didn't receive any customs charges with my parcel that arrived, but that's because I asked From Japan to make my parcel as a gift, which was really handy!
I honestly cannot wait to show you guys all of the goodies I bought. These have been some items I've been after since 2016, with some of these items being from back in 2013/2014!
First thing I want to quickly cover here is that the Japanese are very careful when it comes to items people buy and take a great amount of care and detail to make sure your items are packaged safely for their trip. There was LOTS of bubble wrap and nothing arrived damaged. Even the box has "fragile" stickers on it.
This is something me and Dane noticed when we were in Japan. It's amazing, it's just a shame people in the UK don't do this too… 😛
The first items I want to talk about are Eeveelution capchara figures. YY Kawaii gifted me some to share on my blog and Instagram page almost a year ago (you can read the post about them here) and whilst I was happy with just the Vaporeon and Jolteon she sent me, a part of me still wanted to get a couple more. Recently my friend Sarah (Raiin Monkey) had some extras, so I bought Flareon and Umbreon from here. I decided from there that I needed the rest and went on a bit of a hunt.
This is what sort of… Fuelled me to make a second order with From Japan. I had searched the UK for the remaining Eeveelutions I needed and although I found most of them, they weren't cheap. I found someone selling a set of five (including Pikachu) for the price of one here.
I found Espeon on a single listing for a great price and Eevee, Leafeon, Glaceon and Sylveon on one listing and ordered them! When they arrived they were all brand new in their cellophane wrap and ready to be put together. I really enjoyed myself after work putting them all together and popping them in the office cabinet with mine and Dane's Nendoroid figures. Sylveon however sits on my work desk for now. It's such a precious figure that I just had to! May I just add, this Sylveon capchara goes for a LOT of money, so I was glad to snag it for such a bargain price.
The Pikachu that I had in the set I bought is now sitting on Dane's desk. I thought about selling/giving it, but after looking at it, I thought it would be cute to give him something to have on his desk too. 🙂
The second items I decided to look for and pick up are some plates from the 2018 Pokemon Collection ichiban kuji. I'd wanted these at the time of their release but they were hard to find, especially for a good price so I had to sort of… Grin and bear the fact it didn't look like I was going to get them. I loved the designs on each plate in all honesty, especially Jolteon and Sylveon.
Whilst I was in Japan last year I found three of the plates! Vaporeon, Espeon and Leafeon. I snatched them up so fast and popped them in my basket. I searched for the rest during the remainder of the trip but I had zero luck, I was gutted. I went to eBay when I came back to the UK but was sad to see people selling the plates for a lot of money… I kept them on my watch list.
Thankfully with a lot of hunting I found the remaining Eeveelutions I was after on From Japan and got them ordered! Umbreon and Glaceon appeared to be the rarer ones of the plates I was after. I'd only seen one Umbreon on the website, which I bought and a couple of Glaceon's. The prices ranged for these, but personally they were still really good in my eyes, especially when I'd seen how much they were going for on eBay, both in the UK and US.
The plates I picked up were Eevee, Jolteon, Flareon, Umbreon, Glaceon and Sylveon. I finally had my hands not only on all of the Eeveelution plates, but Jolteon and Sylveon – the two designs I really wanted! I don't think these are
The designs on these plates are all café desserts and cakes themed and I love them! They also have three colour variants of pink, blue and white. I already have the three plates I bought from Japan on display in a living room cabinet on little stands, which I plan to do for the rest of the plates too. I'm not 100% sure where they're going yet however… Dane suggested above my new desk, which may be an option for sure!
Finally we have the items I was SUPER happy about snagging as I've been after them for years. From writing this post, I didn't actually realise how old and technically speaking, rare these items are.
Back when I first bought the house with Dane five years ago is when I really started shopping with YY Kawaii for my cute goodies and it was through her I purchased a Flareon and Vaporeon figure. I loved them both so much and wanted more, sadly she didn't have anymore and wasn't able to get hold of any. I didn't realise at the time it may have been due to how old they were.
The kyun-chara figures came out between 2013 and 2014 for the Eeveelutions, whereas I thought they may have been from around 2015-2016. I've been on the hunt for the remaining Eeveelutions for years, but never been able to find them and when I have they're SHOCKING prices. Now I semi get why.
I found them on From Japan for great prices, not cheap, but great nonetheless for what they are.
These figures have big heads and little bodies and the quality of them is amazing! I snagged Eevee and Jolteon separately and Espeon, Umbreon, Leafeon and Glaceon. At the time Sylveon didn't exist – hence why it isn't part of the collection.
I was shocked to discover that ALL of these figures were brand new in their boxes, still in their plastic wrap and ready to be taken out, heads stuck to bodies and arranged. I haven't yet opened the plastic wrap as I'm not 100% where I want to put them… Again I'm thinking above my desk next to the plates, but not sure at the moment.
I've literally snagged these items that I wanted because I just wanted to. I saw them and had the money to treat myself, so why not?!
So, that was everything I received from my second order From Japan! I have started to order some goodies to make into a third order… Of course they're Eeveelution related. 😛
I remember back in 2017 the Pokemon Center decided to remake their Pokemon Dolls and I'm glad they did, because they're cuter now than the ones from years previous. I bought Flareon at the time as it was the cutest design, Espeon and Umbreon whilst YY Kawaii was in Japan and then Vaporeon second hand from a Facebook group. Now I've ordered Eevee, Leafeon, Glaceon and Sylveon. I'm yet to find Jolteon at all, or for a good price.
Once I have them all, they're going to be rearranged in my plushie cabinet in our bedroom! I'm so excited to just finally get them all. I wish I'd ordered them all back in the day… But I was still quite new to collecting Pokemon plushies then and was a bit anxious and probably skint. 😛
So, what do you guys think of From Japan? Do you think you'll give it a go for ordering some Japanese goodies you're after? Whether they be Pokemon related or something else?
I highly recommend them and can honestly see myself going back over and over again whenever I'm after harder to find items. The prices are amazing, the shipping is great if you go with air mail and to be honest, it's a nice little way of window shopping when you're bored. 😛
Let me know if you'll be checking out From Japan in the future, as well as who your favourite Eeveelution is and why!
Until next time guys, take care and have an amazing weekend!