Can you believe it's November already? October really did go by in the blink of an eye and quite frankly I'm glad. I mentioned back in my September favourites that I'd lost a family member and that grief went through from September to October. I still feel sensitive some days but I'm so busy with work, I'm managing okay.
October was a strange month. I was incredibly busy with work towards the end and I've kind of been a hermit and got on with my own thing. As well as that we all know it was Halloween on Saturday and as depressing as I sound, it didn't go to plan as much or as well as I'd hoped.
We went to a pumpkin patch to pick our own for the first time and it was shit. It rained, we seemed to grab the only decent pumpkins left and it felt very rushed at the farm we went to. I certainly won't go there again next year.
We carved our pumpkins when we got home, ordered takeaway for dinner and watching scary movies. OH and of course I played Animal Crossing! Two days passed and today we've had to throw away the pumpkins as they had started to turn… What a let down. 😦
I can't complain too much though. We got to see family briefly in the afternoon and we spent most of the day together. For next year I may visit another pumpkin patch, but I won't be buying any pumpkins and I especially won't be paying a fee to go in…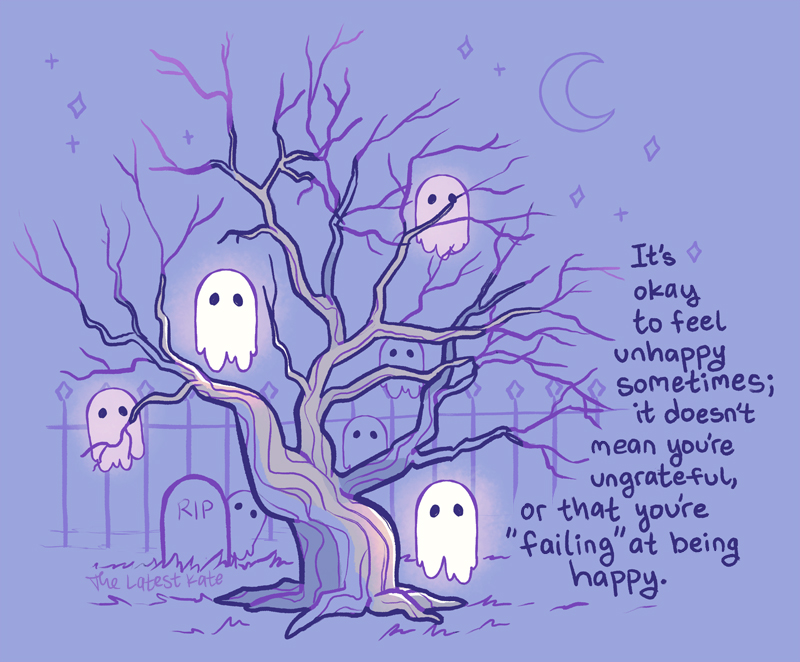 I thought I would share a spooky image this month from The Latest Kate. I love it so much and the little spooky ghosts are so cute!
As you may have noticed (if you're a regular reader) this months favourites is up a day late… SHOCKER! Basically due to being so busy in the week with work I've been shattered and then the weekend I was busy with Halloween and D&D session with friends.
BUT it's here now and it's better now than never 🙂
Happy Melon Sabrina Bubble Bath.
I recently bought myself some goodies from the indie bath brand Happy Melon and I don't regret it! I picked up two bubble baths, but Sabrina is the one I'll be talking about this month. This is a gorgeous purple bubble bath that smells of Lush's famous Snow Fairy shower gel. A little goes a long way with this product and it's been such a pleasure to use in the evenings when I need a good soak after work. The scent lasts for AGES after too which is always good and leaves the bath with a gorgeous purple/pink colour. I highly recommend the bubble baths by Happy Melon and although their stock has sold out on the website at the moment, if you give them a follow on Instagram they post updates on when the store will be stocked up with goodies.
This is a cuticle oil from and by my nail technician, I don't want to mention names to try and keep some privacy my end. I can't not mention this cuticle oil though as it's amazing! The smell reminds me of a yummy shower gel I owned back when I was a student, as well as summer holidays abroad both as a child and as an adult. The pen format is perfect too as it's great to use on the go. When I went to Japan I took one of my previous cuticle oil pens too by my nail technician as it was so handy whilst travelling and out and about. But yes, this is amazing! My nail technician does sell them on her website so if you know me well and would like to get one, DM me and I can link you. 🙂
Tisserand Tea Tree Pure Essential Oil.
I love this essential oil so much! Dane's parents bought it for me a few birthdays back alongside my unicorn diffuser and it's something I find myself using all the time. I especially love using it at night before I'm about to go to sleep, as well as during the day when I'm cleaning and doing housework. Considering how long I've owned it, I'm only halfway through the bottle in question. I honestly recommend their essential oils if you're looking to buy one or two. You can get them on Amazon as well!
Collection Colour Lash All Day Wear Colour Mascara Clear.
This is a definitely an old  beauty favourite of mine and of late I feel like I've needed to use it loads… I don't know why! My eyebrows are just rebelling at the moment and going all over the place. This is actually a clear mascara but I use it on my eyebrows as it costs sod all (just £1.99!) and works really really well for the price. I highly recommend if you want a cheap brow gel, this one is good. Some brands will charge a fortune for a clear brow gel and they probably don't work half as well as this does. 🙂
L'Oreal Paris Hydra Genius Liquid Care (review here).
I thought I would mention this product this month as it's one I use all the time and it's really been good this month. With the temperature change happening so quickly my skin has really suffered this year. I really love this moisturiser as it's so hydrating and I always feel like my skin has had a massive drink. It lasts me ages too as a little bit goes a long way. I use the normal to combination moisturiser and it works perfect for my skin. I've just bought myself a new bottle and my skin is very happy about that. 😛
So now my beauty favourites are done, time to talk about the miscellaneous favourites of the month!
Favourite TV Show – The Haunting of Bly Manor.
This horror series was AMAZING and I already can't wait for potentially another "The Haunting" style show by Mike Flanagan. If you didn't know he also created The Haunting of Hill House. I loved this show so much, you're constantly questioning what is happening and on the edge of your seat. We binge watched this pretty quickly and it had the same amount of suspense and nail biting as The Haunting of Hill House did. We did find that the genre of this show went from one thing to another… I'm not going to say anything as it could spoil and ruin it for people who haven't watched it yet. This is a Netflix exclusive show, so if you haven't seen it already, GET TO IT!
Image taken from GIPHY
Favourite Movie – Brüno.
I'm not lying when I say I've never watched Borat or Brüno… It was only from the new Borat film coming out on Amazon Prime that me and Dane decided to have a Sacha Baron Cohen marathon and basically have me watch everything he's ever done. The only film I have ever watched was Ali G Indahouse and I LOVED that growing up. Out of all the films we watched, Brüno was the best one for sure! I was told by loads of people "How can you not like his work?" and I think it's because I found it dumb at the time. Now I look back, I love Jackass, Viva La Bam and Dirty Sanchez which are REALLY dumb, so how can I not like his work? Brüno is just fucking hilarious, end of.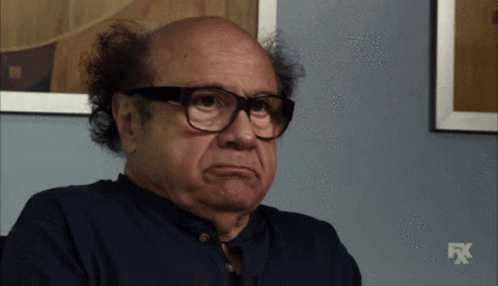 Gif taken from Tenor
Favourite Book – No reading for me again…
Yeah I didn't read. To be honest I didn't have the mental capacity to do any reading and I was so tired from work all I wanted to do was chill out in front of my phone, laptop, TV or switch lite. I'm gutted to be honest as I have so much to read… I will keep trying. I need to spend more evenings reading.
Favourite Music – PVRIS –  Use Me (Deluxe).
I'm mentioning Use Me again this month as quite honestly I've listening to this album more this month and I have proper fallen in love with it. I feel I've listened to it more because I decided to buy the Deluxe version, which came out a couple of weeks back. It's been on repeat whilst I'm working and whilst I'm out and about, both walking and in the car. I felt like I couldn't get into the album at first and I think it's due to some of the tracks being from previously released singles and EPs. Plus due to buying the normal version on iTunes, the tracks from the EPs that I already owned messed up, so I only had half an album! However now I have the fill album, I've found myself listening to it more. All the tracks really compliment one another and everything works so well. The new tracks really do stand out too, with one track in particular which I have fallen in love with, which is "Stay Gold". This track is amazing and I find myself dancing to it quite often whilst I do the simplest of things… Aka make myself a cup of coffee. 😛
Among Us fan art by One In Hundred – make sure to check out her store!
Favourite Game – Among Us.
I have fallen in love with this game! Mine and Dane's friends have played it altogether over a couple of Saturday nights in October and we cannot get enough. It's so much fun, especially with a big group of people. I'm crap at being the imposter and always get caught as soon as I've killed someone. I've only been the imposter twice as well, thankfully! 😛 The thing I love the most is when you discuss with everyone about a body and who the killer might be. We all have our little jokes and quirks with one another and some of us can suss if someone is fibbing. I know straight away half the time if Dane is being honest or not. It's just a fun game and it costs next to nothing to buy! It's free on mobile phones and £3.99 on Steam. I have it on PC and definitely recommend it there, but at least on mobile phones you know you can get it cheaply. 🙂
So there we have it guys, that's my favourites from October! Can you believe it's already November and before we know it we'll be starting to open up advent calendars? It's crazy isn't it?
What were your favourites from October? Make sure to let me know in the comments below!
Until next time guys, I hope you're keeping safe and well during these hard times and please remember… This won't last forever. ❤