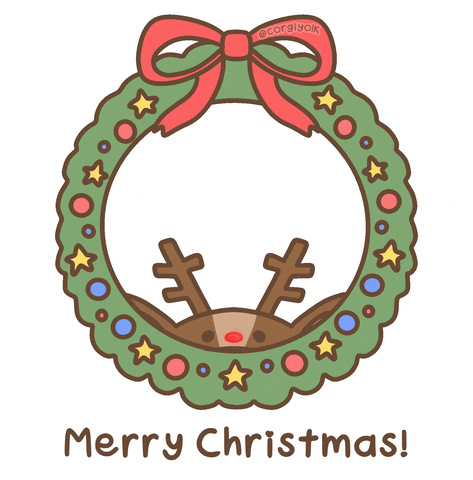 Image taken from Giphy
Merry Christmas everyone! I cannot believe Christmas Day is already upon us and after finishing work this afternoon for the Christmas/New Year break, I've FINALLY gotten into the Christmas spirit!
I wanted to come on today to not only wish everyone a lovely Christmas, but also a reminder that you don't have to be alone this year.
Christmas is painted as a time to spend the day with loved ones, whether it be family, friends and especially those you love the most. However, not everyone has that luxury, before and after COVID came into our lives.
I'm fortunate enough to be with Dane and my family this year, however some may be on their own, whether that be in their own home, on the streets, abroad, you get the idea.
Before me and Dane started our relationship I would spend most of Christmas Day on my own, even though I lived with my family. I'd venture out of my room for a Christmas dinner and then venture back for the rest of the day, maybe coming out again for gifts. This was mostly due to people just wanting to do their own thing or being tired. It wasn't as bad as it could be, but I was pretty lonely. Majority of my friends were busy with their families, so I'd take to Tumblr/Twitter for company or even text my online friends.
If you find you're in this situation where you're feeling lonely and need company or if you're finding yourself in a dark place and need someone to talk or vent to, please remember that my DM's are always open on Twitter (maybeecoffee) and Instagram (theremightbecoffeeblog). Pre warning however, as I'll be a little busy on Christmas Day, I'll always try and reply as quickly as I can. 🙂
For eleven years, Sarah Millican has been taking to Twitter on Christmas Day to spend it with strangers. Sarah wrote an article for iNews about how she hates the idea of people feeling lonely at Christmas, so a decade ago she started #JoinIn, which everyone can join in on who need company on Christmas Day. I think this is such a lovely idea and as a fan of Sarah, it really warms my heart!
You don't have to follow Sarah to take part, all you need to do is make sure to add "#joinin" on your tweets so people can find you and start chatting! You don't have to be lonely this Christmas to join, you could join in just to meet new people and have a good natter! So, please bear this in mind too if you're feeling lonely and would like some company.
Like I said last year, it's really hard for people again this year with COVID. We thought it may have been on the mend and the light at the end of the tunnel was in sight, but it does feel like we're going backwards instead of forwards. A lot of people (myself included) are struggling with this, with some of us being in darker places than others.
Please remember, you are not alone, you are loved and not only will things get better, but we want you here.
I'm going to pop some contacts below for the UK of who you can reach out to this time of year. Please use them if you need to, they're there to help. Again, my DM's are always open.
Samaritans – 116 123 / samaritans.org
NHS Non-Emergency – 111 / 111.nhs.uk
Papyrus – 0800 068 41 41 / papyrus-uk.org
National Domestic Abuse Helpline – 0808 2000 247 / nationaldahelpline.org.uk
Mind – 0300 123 3393 or text 86463 / mind.org.uk
The Mix – www.themix.org.uk/get-support
Alongside all of this, I really hope you all have a lovely Christmas with whoever you're with this year. I hope you get all the gifts you wish for and your loved ones enjoy their gifts too. Try not to feel bad if you feel you haven't gifted enough, or even anything. Money is hard and (as blunt as it sounds) a small gift is better than nothing at all… Especially better than a kick up the arse!
To also add, don't feel guilty about eating yummy food either. It's one day, so enjoy it. Eat that extra piece of chocolate cake, grab some leftover Yorkshire puddings! Fuck it!
Again, I wish you all a Merry Christmas and I'll be back next week to talk to you guys before New Year! I honestly cannot wait to see what my readers receive for Christmas! Make sure to share your days with me over on Instagram and Twitter.
Until next time, again Merry Christmas everyone. 🙂