Well hello June! Both mine and Dane's month of big things, including our 4 year anniversary and also our first year anniversary of buying our house.
May has been nothing but shit to be perfectly honest. The start of the month saw me really poorly and without going into detail work has been crap. This has sadly resulted in my mental health getting worse and me relapsing. I'll have to go into more detail about this in another post though.
BUT June! I'm seeing it as a month for improvement! Getting myself a better job, saving up better for our holiday and getting myself better.
May was the month that I was able to start wearing my lipsticks again WHICH IS AMAZING NEWS! I've never been so happy as to wear my red MAC lipstick. 😛
Of course I have some other favourites so lets get to it!
Boots Extracts Marshmallow and Peppermint Body Scrub.
This is a body scrub I picked up in the sales in the marshmallow and peppermint gift set. I really wanted to get one of these so I was really pleased that I found one on New Years Eve on a trip to town with Dane! I've already used the shower gel and I use the hand cream at work, which is amazing. The body butter it equally as good. The body scrub isn't the best in the world but it certainly does the job! I just wish it was rougher really as whilst I have sensitive skin I still like to feel that something it working and doing the job. Obviously this was limited edition for Christmas so it can't be bought now (well, unless it's on eBay) so yeah… 😛
Palmolive Gourmet Mint Shake Body Butter Shower Cream.
I LOVE these shower creams so damn much, I can't even put into words! Every time me and Dane see these on offer whilst out doing our food shop we pick a couple up. Whilst the chocolate one is my favourite this is a new one me and Dane picked up to try and og my… It was gorgeous! 😀 Sadly I don't have the bottle anymore as we used it all up. We're currently using the vanilla one, which is equally amazing! These are really thick shower creams and a little really does go a long way! This always leaves my skin feel soft and smooth and smelling amazing. The chocolate one is definitely the best but it doesn't hurt to try the others! If you haven't tried these yet PLEASE get some and give it a go. I doubt you'll regret it. 😛
Victoria's Secret Victoria EDP.
Late last year I travelled down to Chichester for work and after I'd finished any shifts I'd done there I was able to go and do whatever I wanted for the rest of the day. Not going to lie, most of the time I ventured to the shops as I was so bored in the hotel room otherwise! I went into the town centre on my last day and ended up going in TK Maxx to do a bit of retail therapy. Among some Korean beauty items I picked up this perfume. Whenever I venture into Victoria's Secret I  have a smell of the perfumes in there to see what they're like. They're nothing special to be honest but they look great because of what they are. You know? This is a 50ml bottle and cost me about £25.99 from memory. It's a great perfume but not as good as I remember… I use it for work really as a body spray more than anything. It's like and not that heavy so it's good if you work around food.
Chanel Rouge Coco Stylo Lipstick in shade Roman.
I've owned this for about a year now and I've probably only used it a  handful of times. It's a very creamy and glossy lipstick and due to that I find it's a bit too sticky and heavy to use during work. This is however the first lipstick I wore since my lips being bad and I actually didn't realise how easy and nice this lipstick is to wear. To get rid of that glossy feeling I blotted it a little and it lasted AGES! It's also a really nice lipstick to wear during warm and muggy weather. It's one I'll be wearing more this year for sure. I miss wearing lipsticks instead of wearing liquid lipsticks all the time. This one is pretty moisturising too.
The Body Shop Peppermint Reviving Pumice Foot Scrub.
I've loved this foot scrub for years and although I've had this new tub since January this year, I've hardly used it to be honest… I don't know why… BUT I've recently started using it once a week to make sure my feet are lovely and soft! To date I haven't found a foot scrub as good as this one. It doesn't work miracles (for £7.50 you can't expect that!) but it does help my feet be soft and smooth for a while! You can't really go wrong and I recommend The Body Shop foot range to everyone. It's definitely the best thing about The Body Shop.
So now my beauty favourites are done, time to talk about the miscellaneous favourites of the month!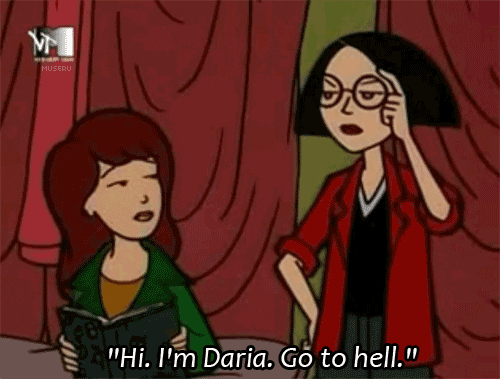 Favourite TV Show – Daria.
Daria has been around for years and whilst I have always known about it, I'd never actually watched it until recently. At the start of May I was really poorly with a stomach bug and for nearly a week was bedridden due to it. So whilst I had to stay in bed I decided to binge watch all of season one and half of season two. I never realised how good it was to be honest as well as  how much I can relate to both Daria and Jane! I love them both so much, I want two besties just like them. 😛 Even though me and my best friend Gabriella are probably like them anyway! xD I really need to continue watching it really and when I have my week off in a few weeks time I think I'll binge watch it from the start with Dane, as I discovered he likes the show too. 😀
Favourite Film – Popstar: Never Stop Stopping.
This film isn't new, in fact it's been out for a year now and it's one me and Dane have watched a couple of times now. It's hilarious to be honest! If you love The Lonely Island then you will love this film as it's the same guys behind the band. It's basically a piss take at Justin Bieber, as well as other pop bands and artists out there. The songs (as usual by The Lonely Island) are catchy and funny as fuck! There's also loads of celebrity appearances including Justin Timberlake as a Japanese sushi chef, who is absolutely hilarious! If you haven't watched this film yet then I recommend it.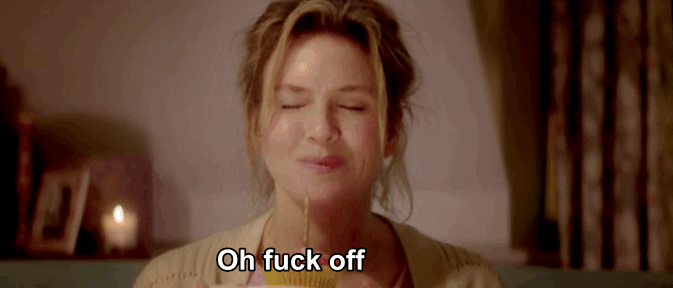 Favourite Book – Bridget Jones's About The Boy.
This is a book I bought back in 2015 after I returned from my holiday in Fuerteventura with my dad. I had read The Edge of Reason and fell in love with Bridget all over again. SO of course I had to pick up the third book! I haven't read loads (I hardly get time to read books… Manga I appear to. :P) but oh my God it is lovely to read about Bridget again! I was inspired to pick it up after watching the third movie Bridget Jones's Baby. Sorry ladies (and gents) of the world who love that film but I thought it was so tacky and just awful. It was so obvious all the way through who the dad would be and it just lacked anything that Bridget would do in my mind. Well most of the time anyway. She would complain constantly about how she's going to be a crap mom, how she can't smoke, how she can't drink, how she's gaining weight. I don't recall any of that happening. I've also ordered the fourth book too, which is Helen Fielding's take on it, which already sounds much better than the film!
Favourite Song – RuPaul "Jealous Of My Boogie" and "Glamazon".
 I'm not going to lie, I've never been a massive fan of the songs from RuPaul… I especially don't like how he uses the show to advertise his new single… Sorry but yeah. This being said there has always been two songs that stand out to me, which are Jealous Of My Boogie (which I've added above) and Glamazon. I just love how catchy and upbeat both songs are. I find myself playing them in the bathroom whilst cleaning! I love the one I've linked about the most. I need to download some music very soon and these two will definitely be downloaded straight away.
Favourite Game – Persona 5.
No word of a lie, I haven't enjoyed a game this much since I discovered Pokemon and Animal Crossing, which are two of my favourite game series. OH and South Park of course! 😛 I haven't been playing this nonstop due to being an adult, but if I could I totally would! I play it a couple of nights a week after work and I can't wait until I play it next. I mean after I've typed up this blog post (and probably another) I might go downstairs and play it (although it's 7.30pm now… I may be too late to go down and play. Sad face.) but we shall see!
I don't know how to explain what the game is about and to be honest I want to review the game itself so I don't want to go into too much detail! It's like Pokemon to be honest but darker. 😛
Yeahhhh so those were my favourites for May! I can't believe we are officially halfway through the year now. 2017 is going way too quickly and whilst I'm glad (kinda…) I'm also feeling like my life is flashing before my eyes and I'm not doing anything with it, which sucks. It'll get better though…
What were your favourites from May? Make sure to let me know in the comments down below!
Until next time take care all!