I am so excited to talk about something a little different on my blog than usual! I don't think I've ever spoken about wax melts on here before, but candles have definitely come up in the past!
I LOVE candles and have especially fallen in love with burning wax melts since I started working from home in 2020 due to Covid. These days I burn wax melts when I'm working from home, or having lazy weekends at home with Dane. I don't own as many candles right now, but they tend to get burnt when I'm too lazy to burn wax. I just love my home smelling gorgeous no matter what time of year! I tend to burn a wax tart both upstairs and downstairs, usually with the same scent burning, but sometimes I do mix it up to make my own unique scents. I recently tried one of the wax melts I'll be talking about today alongside with a scent (by another brand) that smells like Lush's Yog Nog and the house ended up smelling like a lemon meringue! It was so good and I want to do it again!
Today's blog post is all about Little Ivy Rose & Co and her amazing wax tart store! Tasha's candles not only smell gorgeous, but they're definitely aimed at people who love their characters, such as Pokemon, Disney and Harry Potter.
The Pokemon themed wax melts were all kindly gifted to me by Tasha as a thank you for supporting her and her Etsy since it opened towards the end of 2021. This being said, I'm still going to mark this post as gifted, as I did mention to Tasha that I was planning on writing a blog post all about Little Ivy Rose & Co on my blog as soon as the chance came up! Apart from the descriptions of each wax tart scent, all words are my own and items that are gifted will be marked with an *.
Before I really talk about Little Ivy Rose & Co and the gorgeous smelling wax melts I was sent, I want to share a little bit about Tasha and her business first!
Little Ivy Rose & Co began in April 2020 making wreaths, but in December 2021 Tasha began to make candles and wax melts, which is when I discovered her! I discovered Little Ivy Rose & Co around the end of 2021 on Instagram when her sister (PokieMix) was advertising Tasha's candles on her stories. I saw a Snow Fairy dupe (Winter Fairy) and knew I had to check her out! For anyone that isn't aware, I LOVE the smell of Snow Fairy, so whenever I hear of good dupes of it, I'm all over that. I want my house to smell of Snow Fairy all year around. 😛
I really wanted to pick up one of the large Winter Fairy candles but due to spending so much over Christmas and a huge collection of candles and wax melts waiting to be burnt, I had to leave it. Unfortunately due to that, I missed out on snagging this candle. If this is still available when I'm paid next, I may need to order one to burn whilst me and Dane have lazy days together, as he loves Snow Fairy too!
Just before the start of 2022, Tasha announced she would be bringing Pokemon wax melts to her store, which I was super excited about! I've always wanted to try Pokemon themed wax melts before from sellers on Etsy, but just never gone for it. There has always been a few scents I've loved the sound of and a newer one especially, all of them will be spoken about on today's post!
One of the wax melts I'll be talking about wasn't gifted by Tasha originally but was actually bought for me for my birthday in January (thanks Sacha!). I'd always planned to talk about this wax melt in question, but now it'll be down as gifted seeing as I have a brand new one to burn! 😀
Each pack of wax melts comes with six cubes. I found each cube gave me between 8-12 hours worth of burning time, which is pretty good in my opinion! So, overall for one pack you're looking at between 48-72 hours of burning, which is really good in my opinion for the cost of them! Each packet costs £4.00, which either way I think is a decent price too for how much burn time you're getting!
There are a range of scents to choose from and there's definitely something for everyone. There isn't just Pokemon either, as mentioned previously in the blog post, there's also Harry Potter, Disney princesses and none themed wax melts too. I love how there's something for everyone as everyone's taste in scents differs. I much prefer food and sweet smells myself, whereas some cannot get enough of floral scents.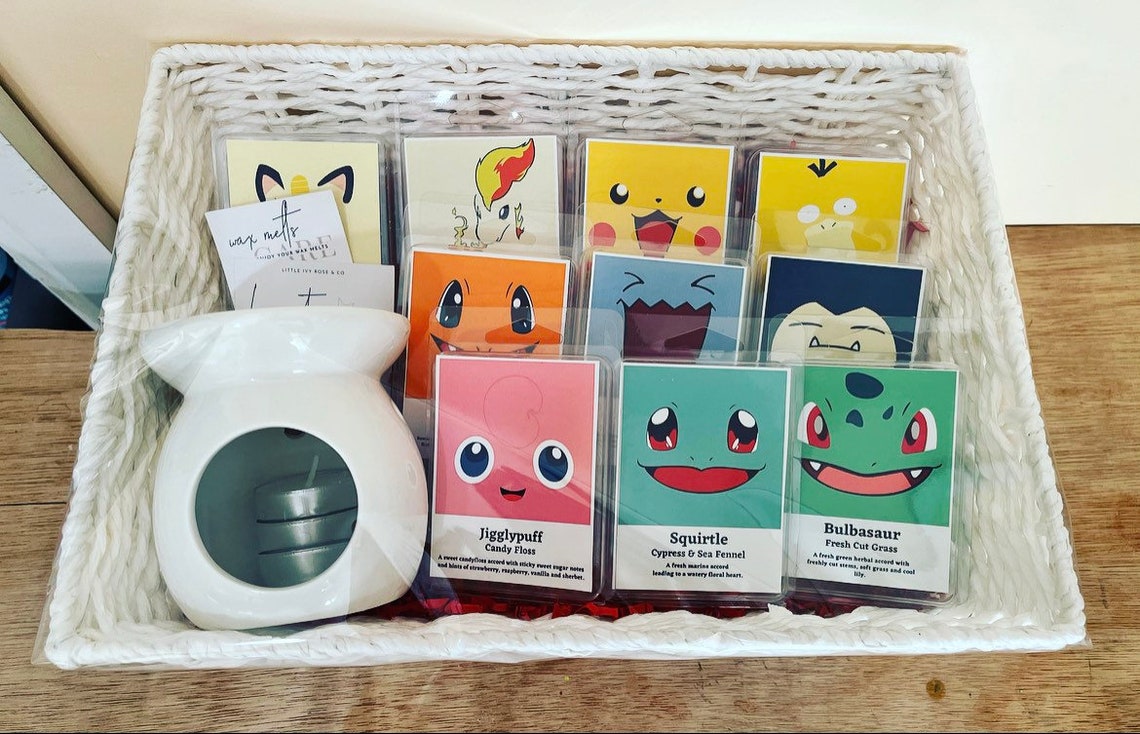 Image taken from Little Ivy Rose & Co
As all the wax melts I will be sharing today are Pokemon themed, I wanted to share all the Pokemon scents so far below (ones in bold are what I'm talking about today).
Pikachu (Lemon Sherbet), Bulbasaur (Fresh Cut Grass), Charmander (Woodsmoke & Leather), Jigglypuff (Candy Floss), Snorlax (Lavender), Meowth (Dark Opium), Wobbuffet (Midnight Jasmine), Squirtle (Cypress & Sea Fennell), Psyduck (Seychelles), Ponyta (Amber Orange), Slowpoke (Birthday Cake) and Eevee (Chocolate Orange).
Enough chatter, let me share with you these gorgeous scented, kawaii wax melts!
Pokemon Pikachu Lemon Sherbet Wax Melt* – £4.00 (link)
Juicy lemon and lime and a splash of sweet orange and hints of red fruits, strawberry and raspberry followed by a fizzy tongue twisting sherbet.
This wax tart is so delicious and I'm sad it didn't last me very long the first time owning it, as I just couldn't stop burning it! This Pikachu wax tart smells of lemons, but refresher sweeties type lemon which is sharp but still sweet smelling. The throw of this is amazing and can leave a room smelling amazing for hours, it's definitely one I recommend if you want to try something with lemon in and especially great to gift to someone who loves Pikachu. Due to the wax tart being lemon scented, as well as Pikachu inspired the wax melt is of course yellow.
I'm sure I speak for many when I say one of the reasons I love wax melts and candles is due to some scents giving you nostalgic and happy memories (as well as some cringe worthy ones you'd rather forget!) when you smell them, which is definitely something this wax melt does for me! I remember as a child/early teenager me and my dad would go to arcades to play on the 2p pusher machines and they usually had prizes them in such as keyrings and sweets. We always tried to win both of them but one day I remember we both came home with a small bag of lemon refreshers that lasted us ages! This is exactly what this reminds me of. It'll be one I'd burn throughout the summer, as this was usually when we visited said arcades.
Pokemon Jigglypuff Candy Floss Wax Melt* – £4.00 (link)
A sweet candy floss accord with sticky sweet sugar notes and hints of strawberry, raspberry, vanilla and sherbet.
I'll be honest straight away when I say out of the three wax melts here, the candy floss Jigglypuff scent isn't the strongest of the bunch when smelling it in the packaging. That being said, this isn't a bad thing as I know a lot of people who dislike strong wax melts and candles as they find they get headaches from them. Plus it doesn't necessarily mean it will be the same once it is burnt in my wax burner, which it honestly wasn't! The throw of this one was so creamy and sweet and one that Dane really loved! It reminded us both of Bonfire Night in 2017 when we bought candy floss to eat whilst we watched the bonfire. As Dane loves this scent so much, it's definitely one I'll burn when we're both at home together!
Pokemon Snorlax Birthday Cake Wax Melt* – £4.00 (link)
A mouth watering birthday cake depicted here by a blend of fresh fluffy sponge encasing whipped double cream and fruity strawberry jam.
Not going to lie, this is my favourite scent out of them all and one I've been really excited to try since Tasha announced it on her Instagram around the end of January/beginning of February. About a month ago me and Dane went to Homesense (because, why not…) and I took to having a nose at the candles, as you do. I bought one for my mom but left without one myself, which I was a tad gutted about as they had the most AMAZING birthday cake scented candles! So, when Tasha announced the Slowpoke birthday cake wax melt, I KNEW I had to get one! This smells like everything I imagined it to and because of that, I am in love!
As it states on the description, it sounds like a strawberry vanilla cheesecake type cake and it definitely reminds me of that! In the packaging the wax melt is very strong scented and even more so when I burnt it in my wax burner! The throw lasted hours and really did perk me up on a miserable, stormy day! It reminds me of the summer and having ice cream and sweet treats whilst exploring a countryside town. I already know I'll be buying some more of these for myself, as well as other for their birthday's!
So those are all the wax melts I was sent and have tried from Little Ivy Rose & Co to date! There are so many I want to try though at the moment including Ravenclaw Blueberry & Vanilla and Disney Meeko Biscuits (which I inspired Tasha to create!).
If you really like the sound of what Little Ivy Rose & Co are offering but don't know where to begin when it comes to burning wax melts, don't panic, Tasha got your covered!
So, what do you guys think about Little Ivy Rose & Co? I personally love them! If anything it's really encouraged me to use more of my wax melts now I've gone through a big chunk of my stash.
Although I've popped the Little Ivy Rose & Co store and Instagram page throughout the post, I'll pop them below too:
I want to say a massive thank you to Tasha for being so lovely to me the past couple of months since we started talking on Instagram. Our love of candles and raccoons has really flourished and I'm so happy I got the chance to write about her on my blog today!
Any scents or themes you like the sound of more so than others? Make sure to let me know in the comments!
Until next time guys, have an amazing weekend and stay safe and well. 🙂