This is a series I really wanted to start this year… Well two in fact! I LOVE LOVE LOVE anime and manga so I'm finally going to writing more about it on my blog as and when I can. I know my blog started off with mainly beauty and fashion but the older I'm getting, the less arsed I am about both of them. They will always factor into my blog (beauty more than fashion at least!) but I just want to start writing more about the things I enjoy and wish to talk about, instead of the stuff I hope my audience will want to read. Sounds selfish, but it's my blog! 😛
As well as starting off talking more about anime, I am also going to be trying to do more blog posts with Dane, aka his and hers posts. I have loads of ideas for posts us two can write together and give both a male and females opinion on.
ANYWAY enough of stalling, on with the post!
Winter anime for 2018 is pretty amazing right now and if you're a part of the loop you'll either be incredibly pleased about the new and returning series that are on show right now, or disappointed. There may be some happy medium… 😛
I wanted to share some of the winter anime series that I've been watching and my thoughts about them. Dane has been watching some of them more than myself and vice versa, which is why I wanted him to join me in writing this post.
I have My Anime List up as a guide as to what is on at the moment for winter. I'm not going in any particular order. Of course I will list where you can watch these series if you're interested!
Violet Evergarden – Available to watch on Netflix (dubbed).
Synopsis (source: Anime Expo) – There are words Violet heard on the battlefield, which she cannot forget. These words were given to her by someone she holds dear, more than anyone else. She does not yet know their meaning. A certain point in time, in the continent of Telesis. The great war which divided the continent into North and South has ended after four years, and the people are welcoming a new generation. Violet Evergarden, a young girl formerly known as "the weapon," has left the battlefield to start a new life at CH Postal Service. There, she is deeply moved by the work of "Auto Memories Dolls," who carry people's thoughts and convert them into words.
Nat's thoughts – This is a series that Dane got me to watch a couple of episodes in after it was added to Netflix recently. I've only watched a couple of episodes of this to be honest and it's not that I dislike it, nor do I love it. It's a series you seem to need to stick with or you won't continue watching it, like myself. I just feel like the story is very slow and you're just seeing the impact Violet has on other people whilst she's trying to piece together the puzzle of what happened to her during her time in the army/fighting in the war. I may give it another go however as it does seem like a gorgeous story. The art style itself is also gorgeous and without sounding daft, is aesthetically pleasing. 😛
Dane's thoughts – I started watching this after seeing a GIF on Reddit and thought, "Wow, that looks pretty!" After watching it I now think it's one of, if not, the most beautiful anime I have seen to date. The hair… Damn… The hair just looks so good. Not surprising from the animation studio that brought us K-ON!, A Silent Voice and so much more. Kyoto Animation are really one of my favourite studios.
The story, whilst slow but so pretty, kept me pretty engaged. I want to know what happened pretty much in the war, who the pretty major is, and how pretty Violet will eventually learn to understand her emotions, that are pretty. Even if Nat is no longer interested I will continue to watch it as it is released as a simuldub (an anime dub that is shown simultaneously with the Japanese release). It is definitely a must watch for me.
Did I mention how pretty it was? 😉 😛
Citrus – Available to watch on Crunchyroll (subbed).
Synopsis (Source: Yuri Project) – Fashionable Yuzu imagined the first day at her new school she transferred to after her mother's remarriage a bit differently; she didn't know it'd be an ultra-strict and conservative girls' school. So instead of a sweet high-school romance, she butts heads with the stern student council president Mei—who turns out to be her new stepsister. And she has to learn that hate and attraction are often not that far apart.
Nat's thoughts – Bloody hell this is an anime series that is taking the anime world by storm right now! I don't think I've heard anyone say a bad thing about it other than how odd and meh (look at Dane's thoughts for what I mean by meh…) it is. It's basically about two step sisters who enter into a relationship. I've only watched a couple of episodes at the moment and it really does throw you into this young lesbian romance that the two girls enter into. Even the titles are very kiss heavy, like full on tongue and making out. Me and Dane aren't really into shoujo ai (non-explicit lesbian relationships anime) but we watched it due to everyone talking about it right now, Dane more so than me! We did this with Yuri On Ice!!! and we're so pleased that we did as we loved it! However, Citrus is different. I think the reason people are going crazy for it right now is because it's sexual. People go mad for that sort of shit to be honest and considering the type of sexual relationship the two girls have… I'm surprised they're showing it overseas. I do love Yuzu so much though, she's adorable and moves away with her mom for their new "life" so she hopes to fall in love etc etc. She's also kawaii with her fashion sense and quirks. It's not a series I dislike nor like at the moment but like Violet Evergarden I do want to start watching it from the beginning to give it a fair chance (even though deep down I don't think the sexual scenes are right considering how rapey they look…). Dane however has been watching more of it than I have! 😛
Dane's thoughts – Anime is trash and so am I.
Lesbianism and sexual assault is the name of the game here. It is about Yuzu (the protagonist) and Mei, her new stepsister, getting freaky with each other and their shenanigans at school. Whilst it does develop into a consensual "thing" they have going on (as of episode 5 I would not call it a relationship just yet), it starts off really fucking rapey. Yuzu, being a confident and outgoing person in everyday life becomes very uncertain and scared once something vaguely sexual occurs. Even when it's not even sexual it gets awkward fast, she's like a teenage boy getting a boner at the slightest thing. Then Mei gets involved and you're like, "Hell yeah!"… If you're into that sort of thing… Then it gets rapey. Straight after everyone goes on their day like, "I was just groped, had my clothes torn off me… But I like it so it's okay."
The story has left me wanting to know what the deal with the dad is, why Mei behaves like a piece of cardboard, what other ways you can make lesbianism awkward and why Japanese girl-only schools make them so "horny". Each episode is a roller coaster of emotion that leaves me feeling much like Fry from Futurama being sentenced to death by snu-snu.
But…
… That shit is hot yo.
All jokes aside, our reaction to this anime is just like Donald Glover (above) and does once again remind us of how trashy anime can be. If it was a bit more tasteful we could give it a proper recommendation but it's just on the edge of being a bit too rapey. It's definitely not for everyone.
Poputepipikku/Pop Team Epic – Available on Crunchyroll (subbed) and Funimation (dubbed).
Synopsis (Source: MAL) – Two high school girls, the short and exceptionally quick to anger Popuko, and the tall and much more calm Pipimi, do insane things and swear like sailors in this absurdist comedy filled with references and meta humor.
Nat's thoughts – Pop Team Epic is a manga I have known about for a couple of years now so when it came out as an anime series I was excited and intrigued to see what they had done with it! The manga is actually more of a comic and shows strips of different scenes of what the girls get up to. It was extremely funny, random and odd all at the same time! I loved it though, but what I don't love right now is the hype. I get the hype, I really do but at the same time I REALLY hope it doesn't get too hyped for it's own good. I've only watched a couple of episodes as urgh I don't know. I think I've been more interested in other anime series right now to really want to focus my time and energy watching this one. I will however watch it from the beginning again because I can. 😛 It does have some really funny moments in it however, but I do feel like it worked better as a manga/comic strip.
Dane's thoughts – Hmm. Don't let the cute aesthetic fool you, it is not cute. It's bat-shit crazy. It has its moments where they elicit a chuckle and the occasional, "HA!" but I haven't wanted to carry on watching it to be honest, or at least not felt the urge to continue. It feels more like a chore to have my TV vomit memes into my eyes at such a blistering pace. We watched it subbed originally, I am a fast reader and enjoy subbed anime but I was more laughing at the visuals rather than the jokes themselves. We tried the dub but I don't think it had the same impact, whilst the voice actors are good it just didn't work for me. I guess it would be like trying to dub Konosuba.
I just have the feeling most people are watching this to try and show how weird and quirky they are.
Junji Ito: Collection – Available on Crunchyroll (subbed) and Funimation (dubbed).
Synopsis (Source: My Anime List) – A collection of animated horror stories based on the works of Japanese artist Junji Ito.
Nat's thoughts – This is definitely one of my favourites from winter 2018 so far and I love it so much! Dane has read a selection of the manga by Ito Junji and we actually own Uzumaki which is one big story and probably won't feature on the anime. Dane loves Junji Ito's work and I've always found it to be creepy when he's shown me the manga. However when we saw that there was an anime series online based off of his stories, Dane had to give it a go. I really enjoyed the first episode and to be honest I couldn't wait for the next time! There will be 2-3 horror stories per episode which are either one off shorts or part of a longer series/story. The stories are a mixture of creepy and unnerving, as well as funny at times and somewhat lighthearted. It depends on the story really. As my Friday work day comes closer to 5pm I think of how excited I am to get home and continue watching this with Dane. I really do love this series and if you love horror you will definitely enjoy this.
Dane's thoughts – I actually had no idea this was coming out until I saw that Funimation had the simuldub out. I have no idea how I missed this in the run up to it being shown.
As Nat has mentioned I have read a fair bit of Junji Ito's work already online and currently only own Uzumaki (I am hoping for that to change though soon). The stories he writes are so unique and he is the king of the full page spread, the detail and horror in these images are grotesquely mesmerising. Every week the anime shows two short stories (or in some cases part of the greater story) from his collection. It's great because you get something new each week, made so much better by the unique ending credits each week too which shows the characters from said stories. Something I have never seen before.
The problem with this is that it just does'nt carry over well in the medium of anime. The horror is not quite there in what the anime portrays. The horror comes from the thoughts of the story themselves and thinking after, "What if that were to really happen?" The animation is okay and sometimes the single shots have good detail in them but it just doesn't have the same impact of turning the page of the manga.
I will continue to watch this one out of respect for the creator. I also want to see how they tackle the Tomie stories which they have not yet covered as of writing this.
Miira no Kaikata/How To Keep A Mummy – Available on Crunchroll (subbed).
Synopsis (Source: Crunchyroll) – When high school student Sora Kashiwagi finds himself staring down a mysterious oversized package sent to him by his self-proclaimed "adventurer" father, the last thing he expects is for it to be opened from the inside… by a little mummy so small it can fit in the palm of his hand!
Nat's thoughts – Oh man if there is an anime series I have thoroughly enjoyed and been pretty obsessed with since Miss Kobayashi's Dragon Maid and Your Lie In April, it has to be How To Keep A Mummy. I discovered this anime through Crunchyroll's Facebook page when they posted a video showing off the show for winter 2018. It's so damn adorable and if you don't find the little mummy Mii Kun adorable then you clearly have no heart or soul. The series is just so adorable and constantly pulls on my heart strings. It's based off of a manga that I really want to read at some point. I always look forward to watching this on a Friday evening or Saturday morning. I can already tell it'll be one of my favourite things of 2018.
Dane's thoughts – Erm… It's kinda cute. Nat likes it so I guess that counts for something… Right?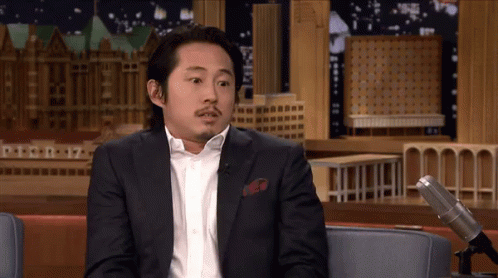 From Giphy
If you like miniature decaying (Nat – HE ISN'T DECAYING!!! HE'S FUCKING ADORABLE!!!) corpses being reanimated and behaving like a retarded pet (HEY HEY HEY!!! HE'S FUCKING ADORABLE. DON'T MAKE ME SAY THAT AGAIN!!!) then this is the anime for you. You may think I am joking but that basically is the premise. Young boy, who's name I cannot be bothered to learn, gets sent a mummy by his dad who is currently in Egypt travelling and it proceeds to become attached to the boy and becomes his pet. There is even a retarded rip-off Dragonite and some weird bellybutton motherfucker in it too.
Here is an actual scene:
If you haven't guessed, this anime is not my cup of tea. It is cute but I found it boring and there wasn't much going on. I can see its appeal though and by no means do I hate it.
If you do hate it though … Fuck you (Thank Dane ;P).
Back to me now (Nat of course. :P)!
Although we are also currently watching some other anime(s) too these don't count with the anime that is out during winter 2018. We'll definitely do another post on those though in the near future as we really want to!
So that is the list of anime that we're watching (well sort of… :P) at the moment from the new winter releases for this year. If you enjoy watching anime like we do, what have you been watching recently? Anything that we've watched or if you haven't had we intrigued you to? Make sure to let us know in the comments down below!
I just want to say a massive thanks to Dane for having a go on this blog post with me today. Bless him he's been learning how to add pictures to posts etc etc. It was quite sweet really!
I'm off now anyhoo to enjoy the rest of my Sunday. I hope you guys have had an awesome week! Until next time, take care all.