I cannot believe it's September now, my favourite month of the year. September is a month I'm really excited for, but also very anxious and a little sad about too.
August is a month I couldn't wait to see the back of as it wasn't exactly great, especially for my mental health, but at the same time I had a really lovey time running up to the end of it. Me and my best friend went out for one of the days over bank holiday and it was so lovely. I'll be talking about it more later on in the favourites.
September though… It's always been my favourite month of the year due to feeling of a fresh start (due to education), as well as my favourite season of autumn starting. However, since last year September also carries some sadness I don't want to discuss on my blog, as well as some big anxieties in the weeks leading up.
This all being said, me and Dane will be off holiday from work together and we're planning to just chill out together and have lots of cuddles and chilled days. I honestly cannot wait for some time off of work to just do nothing and relax.
I'm sorry to start off this months favourites with a bit of a miserable topic, but I just wanted to be honest here. I'm incredibly worn out, even after bank holiday. xD
Favourite Beauty Product  – Boots Extracts Marshmallow & Peppermint Body Butter.
Not going to lie, this is actually an old product from many years ago that I only recently opened. I'd bought it as part of a gift set I bought back in 2016 and decided to finally crack open the body butter to use as a hand and foot butter. On my hands this just did not agree with my dermatitis due to the scent and ingredients, however, used as a foot butter it's been a dream to use. I put a very generous amount on before socks in the morning which results in my feet looking and feeling lovely and smooth by the end of the day. It also has a gorgeous creamy peppermint scent too, which I adore. I'll be honest, I don't know if you're supposed to use products past their sell by date… I think with beauty products it's from when they're opened you have the use by date. Of course, if you aren't sure it might always be best to throw the product away.
Favourite Film – Us.
This is a film I've been wanting to watch since it came out in 2019, but we just never managed to. We planned to go to the cinema to watch it but never did and I'm really glad we didn't. Don't get me wrong, I really enjoyed the film but without saying too much, I guessed the twist of the film around thirty minutes in, which was a little disappointing. That being said, the overall plot of the film is really good and you're definitely on the edge of your seat wondering what's going to happen next.
Favourite TV Show – Centaurworld.

This is a new Netflix series that came out to the UK at the end of July. Dane thought it looked batshit crazy so he decided to pop it on for us to watch. We LOVED it and binge watched it in a few days. We follow Horse as she finds herself transported to Centaurworld during a battle with her owner. Horse discovers a group of centaur friends, who soon help Horse to try and find her way home. There's singing involved too, as this is a musical show. It reminds me of Adventure Time crossed with Disney films. Give it a watch if you haven't done so already!
Favourite Music – Unprocessed – "Candyland"

Unprocessed are a progressive metal band that Dane introduced me to recently with "Deadrose". As I really love this song, Dane played me one of their newer songs to see what I thought of it. "Candyland" has fast turned into one of my favourite songs to listen to lately. Their music style seems to have changed a little when you hear "Deadrose" before or after "Candyland". I really love them and I'm going to be checking out more of their stuff in September!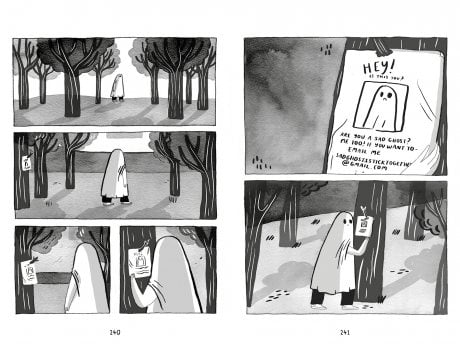 Image taken from Waterstones.
Favourite Book – The Sad Ghost Club.

Yes guys, I read a book this month! Don't act too shocked, please. 😛 I bought The Sad Ghost Club back in January this year and I thought I'd read it, instead I placed it in our office and… Never touched it. As I found out a second book is due to come out in January 2022 (I've already pre ordered it too…) I decided it was time to finally dig the book out and give it a read! It's actually a comic more so than a book, where we follow Sad Ghost and their struggles with their mental health, including social anxiety, worries about education and even going to a party. The comic itself is really sad at times, but at the same time makes you feel less alone. My mental health hasn't been very good the past couple of months and reading The Sad Ghost Club really did help me feel less lonely.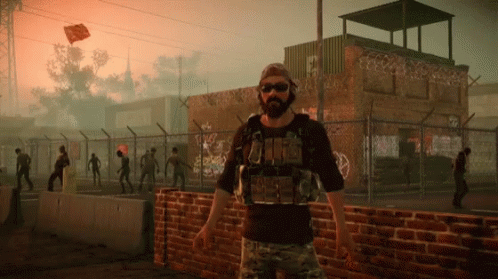 Image taken from Tenor.
Favourite Game – State of Decay 2.
Recently Dane has really gotten back into State of Decay 2 again and as some of friends have also wanted to play it, I thought I'd jump on and play it too. State of Decay 2 is a zombie game where you need to build up your base, all whilst gathering resources, getting people to come and join your base, as well as killing zombies. It's a really simple game to play and really nice and chilled to play with friends! I highly recommend it, I really do love it and the zombies don't come across as too scary either, which is always good! 🙂
Just a few of my favourite things…
Loungefly bags, old and new!
I didn't quite realise I received two new Loungefly bags in August, as well as decided to finally cut the tags off of one I bought at the start of 2021! The Pikachu wallet chain bag and the Baymax backpack are my new bags, whilst Meeko is one I bought via a Facebook group (and now one of my Instagram friends!) in January.
I was after a new shoulder bag so decided to pick up the Pikachu bag, however the images that Loungefly have out there are so fucking misleading and make the bag look bigger than it actually is. This being said, it's the perfect bag for quickly going out to run errands as well as nights out. I've used it quite a few times throughout August and it's a really good bag for if you don't need to carry much, but still do need a bag.
Alongside that I also decided to purchase the Baymax backpack very last minute. The day the Baymax cosplay backpack and wallet went on sale on the Funko Europe website, I just fell in love with it and had to buy it. I didn't need it, but I have ZERO REGRETS. I used it over the bank holiday and it's such an adorable bag! I felt so cute using it around town during mine and my best friends mini bar/pub crawl and I honestly cannot wait to start using it more. I regret not getting the matching wallet for it, so I'll be keeping my eyes peeled on trying to get it at a decent price in the future.
Finally my Meeko backpack. This is a bag I was after for MONTHS before I finally snagged it via a Loungefly Facebook group. I also got the matching purse, but this is something I'm yet to use. Little story behind how I "missed out" on this bag. I was told by a Forbidden Planet store when the bag was due to come out that they would take my details and pop a bag to one side for me. They didn't want any money for the bag to be put down as a pre order just in case they never got the bag in stock. This being said, they assured me they WERE going to get the bag in stock. Alas they never and they didn't even bother to reach out to me to let me know. It was kind of obvious I wouldn't be getting it and I was gutted. This being said, I have it now and I do really love it! I used it for the first time whilst out for my best friends 30th birthday and it is so comfortable and cute! It feels soft and isn't a sturdy bag due to this, but this being said, I really love this aspect of the backpack.
I'm hoping to write a post all about my Loungefly collection in the future. If this is something you're interested in, please let me know! I'd also love to do a YouTube video showing off my collection too, but I'm so anxious about doing YouTube… :')
Some of my favourite gel nails.
As many of my readers will know, I do love getting my nails done and it's actually been a really positive change in my life in regards to my anxiety. Before I started getting my nails done I would cute them so short they would bleed. They're not incredibly healthy, grow quickly, don't break and it's stopped me from cutting them short, as well as chewing them when nervous.
My reason for especially posting my nails this month as this set has been one of my favourites to date. The colour shares its name with my gran and is such a beautiful colour to boot. I'm actually getting my gels redone tomorrow and I'm a little sad as I honestly love this set. They've lasted so well and they just make me happy to look at. I don't have a bloody clue what new set I'm going to get yet. xD
Dog sitting again.
Me and Dane dog sat Eddie again for a couple of days and we loved it. If you read my favourites from July, you will have seen that me and Dane had Eddie at ours for a week and we loved every moment of it! We didn't have him for as long but it was nice to have him around for cuddles, fuss, playtime and walks were lovely to do with him too. I wanted to share this adorable photo of him that I took during my lunch break. He was having a lovely snooze and I felt so guilty when I had to return back to my desk and wake him up.
Claire Likes To Doodle's Bernard takes over Birmingham Cass Art!
First of all I want to say how fucking proud I am of Claire, she has come so far in such a short period of time with her art and it's just growing more and more as the years go by. Over the bank holiday (Saturday) Claire posted on her Instagram page how she was doing something exciting in the Cass Art in Birmingham city centre. I kept my eye on her Instagram stories and she revealed she was actually drawing one of her Bernard's on the window of Cass Art! I watched the process of it throughout the morning and as me and my best friend would be in town that day, we made sure to take a diversion over to Cass Art to go and take a look, as well as take some photos!
I wanted to show this off and share with you guys, as well as say if you're in Birmingham and see Claire's Bernard in the window of Cass Art, make sure to take a photo, post on your Instagram stories and tag Claire's Instagram page (linked above under the photo) as I know for a fact she would love that! 😀
There we have it then guys, those are my favourites from August! August was a very strange month for me and I feel like September is going to be a nice month, but a very anxious one too.
What were your favourites from August? Also, what are you looking forward to about September? Make sure to let me know in the comments below.
Until next time guys, I hope you've had a great start to September and here's to spooky season finally beginning! 😛