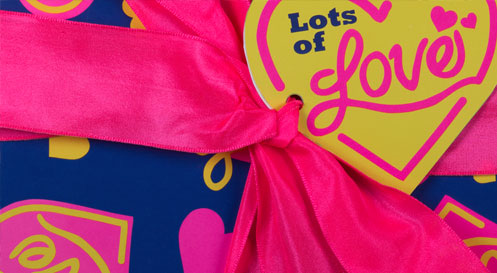 Wow look at me making a post about Valentine's Day!
As you know in a months time Valentine's Day will be upon us in a months time and whilst it feels like we have all the time in the world… Realistically we don't and before we know it those days will whoosh past us in the blink of an eye and our loved ones will be wondering if/what we will have bought for them.
I remember this time last year HATING Valentine's day, for the  obvious reasons… I was bitter and single and hating on all couple and love related matters.
However this year whilst in some aspects I'm still a little bitter, I'm not single and although we won't go the whole hog, Valentine's Day gives my boyfriend and I a good reason to go out and eat yummy food until we cannot eat anymore.
I will be doing a couple of Valentine's Day related posts and ta-da! Say hello to the first post for it!
I love Lush, as regular readers will know and after spending a fair bit of money on Christmas, I intend to do the same sort of thing for Valentine's Day and I for one am excited about what products Lush have in store for us this year.
So come with me as I talk about the products Lush have to offer and the ones I'll be buying myself this year. Like myself you could always buy yourself something nice, or someone else for that matter.
Prince Charming Shower Gel sounds so yummy and something I would enjoy using during spring afternoons! Personally I don't think I will be buying a bottle of this until after trying a sampler, as I'm allergic to quite a lot of Lush soaps, so I always try before I buy if I can. On Lush's website they had this little bit of description for it:
Originally inspired by the Adam and the Ants classic, 'Prince Charming', this shower gel has transformed along the way and now it reminds us of the kind of Prince Charming you'd find in a fairy tale…it's bold and courageous, absolutely gorgeous, and it smells incredible.
It sounds really yummy and the ingredients remind me of The Comforter Bubble Bar and Mmmelting Marshmallow Moment Luxury Bath Melt which I am still yet to try both  of! This will smell delicious and I can't wait to get a sample pot to try of it!
Like all the Lush Shower Gel's Prince Charming comes in three sizes; 100g at £4.65, 250g at £9.25 and 500g at £15.95. This shower gel isn't cheap, which is a shame to be honest but either way I'm sure it smells delicious!
I've never been a huge fan of the massage bars by Lush as they feel really greasy on the skin and in the past whenever I've been given some as samples to try out they've always gone straight into my bath tub to use as a bath melt instead. I have seen a couple of massage bars in the past that I have wanted to try but never got around to getting them. However as mt boyfriend and I give each other massages on occasions I thought this would be nice to buy for Valentine's Day, as well as for when I start my snowboarding lessons. The name of this bar reminds me of The Cure's song Close To Me, which I love! He gives loving back massages and this would be a nice think to use during them. On Lush's website there's a bit of a description for Close To You:
Made with a luxurious blend of butters and oils, including cupuaçu butter, shea butter and olive oil, this rich bar is also made with cornflour to leave your skin silky smooth. It shares the same delicious vanilla fragrance as Rock Star soap and Creamy Candy bubble bar – guaranteed to bring your lover Close to You!
On Lush's website it states how other Lush products like this one are infact some of my favourite ones, including Rock Star Soap and Creamy Candy Bubble Bar. They contain yummy vanilla and other ingredients to give them their yummy sweetie type scent and I know I would love using Close To You as a treat!
This only comes in one size and for that it isn't exactly cheap at £5.50 for a small 45g bar, this being said it would be worth the money as I wouldn't use this much, once every two weeks or so. If I don't pick this up, I wouldn't be at a loss as I would pick up one of Lush's permanent massage bars.
I actually heard about Lush bringing out their Valentine's Day range recently thanks to Lush Birmingham posting about this Love Locket Bath Bomb on their Instagram page. They showed a demonstration of how this works and it looks truly gorgeous and as well as looking gorgeous, it sounds as if it will smell wonderful! This is a massive bath bomb that you split in half to reveal a little heart inside. As well as a little heart inside this huge bath bomb there is also plenty of shimmer as well as a little hearts. The image of the inside looks absolutely gorgeous!
When you break open your Locket you will also find a smaller heart-shaped bath bomb hidden within, that's filled with agar hearts to create a romantic spectacle in the bath. Love Locket is made with a blend of uplifting and sensual oils to create a luxurious, indulgent Valentine's Day treat. Create the perfect romantic bath for two and immerse yourselves in a cascade of hearts!
On Lush's website they state how Love Locket is similar to Vanilla Puff Dusting Powder and Soft Coeur Massage Bar, which I have wanted to try for years! I would be more than willing to pick up both Love Locket and Soft Coeur to use for a romantic evening in with my boyfriend as Soft Coeur smells of yummy chocolate, so I can only imagine that Love Locket smells of a yummy cake chocolate smell!
This bath bomb just shouts Valentine's Day and is something that would be lovely to give to someone you like as it's such a lovely gift that packs a punch in many ways. This isn't a cheap bath bomb and will cost you a whopping £6.95! A lot of money but I think I would splurge on it as if you can 3 uses out of it anyway I'm bound to get at least 6 or 8 uses out of it! I'd make sure it would last me for quite a while, seeing as it's so expensive!
Personally I wouldn't buy this as I have enough lip products to last me a life time! However this would be great for friends to buy one another, as well as for men to buy their loved one for Valentine's Day, as men hate when women cover them in lipstick marks…. Well mine does anyway!
The Kiss Lip Gloss is yet another limited edition lip product and Lush do a great job with their lip products, I'm pretty sure this was out last year but I'm not 100% sure about that. Either way this lip gloss looks gorgeous and although I won't buy it myself, I would buy this for someone if this was a permanent lip product.
This contains the same ingredients as Lush's massage bars, which makes this lip gloss super moisturising as well as looking gorgeous in various ways. As well as containing plenty of moisturising ingredients it will also make your lips a light glossy pink sheen with slight shimmer inside, as well as containing mandarin so it'll taste and smell yummy too!
We've created a light balm using the same aerating technique we use for our massage bars. It will moisturise and protect the lips, whilst giving them a subtle pink glossy sheen. It contains delicious organic agave syrup to leave your lips deliciously sweet.

Organic mandarin and almond essential oils give a delicious taste and fragrance, making every kiss unforgettable. We also added guarana seed powder (a natural skin plumper) to make your lips irresistible.
For £5.75 your lips will be feeling soft, looking pink and shimmery and tasting yummy! What more could you want from a lip gloss eh? This will be a nice one to buy for teenage girls!
There are some more products to choose from such as Neon Love Soap and Tender is the Night Massage Bar. Alongside all these products Lush have also brought out three gift sets full of yummy products for a loved one to use over Valentine's Day, these are Lots of Love, Neon Love and Toucan Love.
I love Lush's limited edition collections, but as the years have gone by their Valentine's Day products seem to have gone downhill, however I do really love the look of Love Locket, which for nearly£7.00 I think I'll be picking up in the near future, maybe two as I think that would last me well up until the summertime!
Before I buy anything of course I shall be giving all the products a sniff in store next weekend when I go into town with my boyfriend, fun times!
So, what do you think of Lush's Valentine's Day collection, do you love it or hate it? If you love it which products are catching your eye? Let me know in a comment down below!
Until next time, take care all and I hope your week has started off well.