I don't want to be a broken record, but honestly 2022 is flying by! I can't believe it's April, but I'm definitely excited for this month! Not only is it Dane's birthday, but it'd also Easter, which is one of my favourite events of the year. Alongside those two factors, me and Dane have some holiday today… Aka a long weekend for his birthday and Easter, so I'm really looking forward to that.
Currently the only thing I don't like about April is how skint I'm going to be from spoiling Dane for his birthday, but it could be worse. 😛
March was okay for me, I had some rocky moments but nothing to write home about. I did good with money again, which is always good, but with Dane's birthday coming I might be a little skint this month. 😛
Not going to lie, March felt like my blog was boring and didn't have much content. I just had brain fog and couldn't think of anything decent to write, unfortunately. However, April is going to be full of amazing content and I'm so excited for it! I won't mention anything, let it be a surprise! 😉
Anyhoo, enough of me waffling, down to the favourites!
Favourite Beauty Product – Sol De Janeiro Coco Cabana Gift Set.
If there is something I have really been loving this month it's been the two Sol De Janeiro gift sets I picked up! I bought both Bum Bum and Coco Cabana, with the latter being the one I started to use first. Both gift sets contain the body cream, body cream-cleanser and hair and body fragrance mist, as well as a reusable pouch. I snagged these gift sets with my mom from Look Fantastic, as they had an amazing deal at the time to snag these gift sets really cheap, so we bought one each! However, I ended up with two Coco Cabana gift sets as my mom wasn't keen on the scent, which definitely isn't the case for me. The Coco Cabana scent reminds me of my teenage years where I constantly used The Body Shop's coconut body milk, as well as coconut scented beauty products in Fuerteventura too. The body cream-cleanser is really thick and moisturising, but one gripe I have is that I don't feel like a little goes a long way. I put this down to the moisturising factors behind it. The body cream is for dry skin, but that being said it isn't heavy and thick, but sort of like a thicker gel texture. It definitely leaves my skin feeling soft and moisturised after use, even my hands!. Finally the fragrance spray, this is GORGEOUS and I have to remind myself not to go mad on it when using, as my little gift set bottles are only 30ml! I'm already planning on buying all of the products in their full sizes when I've used the gift set sizes up! My skin has really thanked me for taking care of it a little more the past month. My arms were starting to become really tight feeling due to how dry and tight they were, and the backs of my knees were suffering with eczema/dermatitis too. Thankfully I've fast turned that around and I'm so much happier for it. 🙂
Would you guys like to see a review of both the gift sets/ranges? Let me know in the comments! I'm toying with it, as they are really lovely products that deserve shouting out about!
Favourite Film – Turning Red.
I HAVE BEEN SO EXCITED FOR THIS FILM! Literally the Friday evening it came out (11th March) I cooked me and Dane one of our favourite meals (macaroni cheese) and we sat down to watch the film. I'd tried to guess from the trailers and clips what was going to happen somewhat in the movie and I never guessed it to be fair. For those who are yet to watch it, Turning Red is about Mei Lee, a thirteen year old who loves boy bands (4-Town), doing her bit for the planet, and especially her best friends! Unfortunately for Mei, she's also trying to be a good daughter, which conflicts with her loves at the best of times. One morning Mei finds herself waking up and she's turned into a red panda! I said it on last weeks blog post about My Dress-Up Darling (which you can read here) but I LOVE slice of life and coming of age shows, films, etc. They tend to bring me so many nostalgic memories and feels which overall just make me feel so happy. This is exactly what Turning Red did for me. It's based in 2002, when I was twelve years old and just about to become a teenager! I listened to all sorts of music, but definitely loved Daft Punk and Avril Lavigne. It was also an age I'd really started to discover the things I would love now, including Hello Kitty , Cinnamoroll, Pompompurin, Mashimaro and more! The one thing I especially love about Turning Red is how it's the first Pixar film to be led by women, this is big and I cannot wait to see more female led films in the future. I'm just so sad for everyone who worked on this film, who never got the chance to see their film make it to the cinema, especially with how much love and praise it has received.
Favourite TV Show – Euphoria.
I have been wanting to watch this TV show since it came out in 2019, but due to where it was being shown and the fact I don't have it, I've just never been able to… Until now. With season two recently coming to a close, I was desperate to watch and thankfully for me, I knew someone who was able to let me watch it! I've so far watched season one and I'm almost at the end of season two. I've really fallen in love with it, as I'm a sucker for slice of life (as I've seemingly spoken about a lot lately on my blog!), as well as teen drama. I fell in love with it from a very young age (want to say when I was ten?) so it's something I've always enjoyed ever since, even writing my own teen novel(s) and scripts from time to time. Euphoria is about Rue and some of her classmates/friends at her high school. Rue is the narrator of the show and therefore the main character, and tells us as the viewer about herself and the people around her. The topics in the show range from love, drugs, alcohol, sex and general "issues" teenagers tend to deal with at one point or another. Someone once said to me, "If you like Skins, you'll love this!". Now, I fucking hate Skins. The show has always felt very trashy to me, so I've never enjoyed it. I watched the first episode in college and was immediately put off, however, Euphoria ticks all the boxes for me! If you're able to watch it and are okay with all the topics mentioned, definitely give it a go as and when you can.
Favourite Song – Architects – Dead Butterflies.
This is a song that started playing in Dane's car the one day we were on a trip somewhere and I made sure to add to my playlist, as I enjoyed it so much! Since then I haven't stopped listening to it, nor the album ("For Those That Wish to Exist") that it's off of. Architects isn't really a band I've listened to before, although I do know of them. I really do like this song though and just had to share!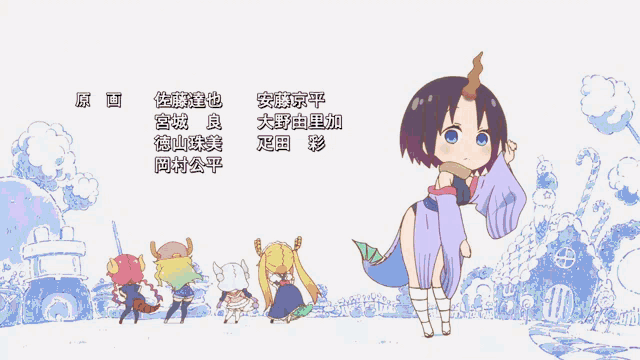 Gif taken from Tenor.
Favourite Book – Miss Kobayashi's Dragon Maid Elma's Office Lady Diary.
I recently picked up volume four of Elma's Office Lady Diary (as I was missing it), so over lunches and the odd weekend I've been catching up on manga. I really miss reading it and have really decided lately to get back on it and catch up on series I need to finish reading, as well as series Dane owns that I want to read as well! Elma's Office Lady Diary is a spin off of Miss Kobayashi's Dragon Maid, which is one of my favourite anime series, and quite possibly the longest manga series I own! Elma in turn is my favourite dragon character as I feel like I can really relate to her. She's sweet, always wanting to do the right thing, but most of all wanting to eat all the yummy food! Plus, as an office lady myself, this manga spin off for Elma just makes me smile from ear to ear. I'm glad I finally started to read this series! I'm so excited for volume five to come out in the next month or so!
Image taken from Eurogamer.
Favourite Game – Pokemon Shining Pearl.
This is a game I've been coming back and forth to since its release towards the end of 2021 and it's one I absolutely love! I think it's because it's really simple, yet nostalgic at the same time. Since I completed the story, I've been going back on every now and then to try and 100% complete the Pokedex! I've been exploring the underground mostly to try and accomplish this by catching lots of new Pokemon, as well as lots of breeding and egg hatching, and even digging the walls in the underground for plenty of rare items! It's just been really relaxing and nice! I'm yet to complete the story for Pokemon: Legends Arceus, but I'm still not 100% in love with that game… I'll finish it one day. Me and Dane were only on about it last weekend how we need to pick it back up, but he's been obsessed with Elden Ring and now we're both obsessed with Tiny Tina's Wonderland… Spoiler for next months favourites. 😉
Just a few of my favourite things…
Pokemon Nendoroid figures.
As many of you know, me and Dane collect Nendoroid figures from Good Smile Company and have done since late 2014. I decided during Covid to start collecting series that I needed, with Star Wars being successfully completed. I then moved onto Pokemon, which has been bloody hard and heart breaking to boot. A lot of the figures are harder to find due to them coming out a long time ago and due to this, the prices are really high. I managed to snag quite a few in 2021 for good prices, which I was really happy about, but finding Cynthia, N and Champion Red has proven to be a challenge due to fakes and prices. I did however recently snag Cynthia and N from a UK seller on eBay for a great price! Now all I need is Champion Red… Which unfortunately won't be as simple, especially as there's currently one on eBay for over £300! I'm keeping my eyes peeled, but yeah. 😛
Dr. Martens x Lazy Oaf Buckle Boot.
I'd be fibbing if I said I'd been after these Docs for a long time, but I feel like on and off over the past year I've definitely liked the look of them! Someone I follow on Instagram has a pair of the Lazy Oaf Heart Buckle Docs and due to her, I decided that I'd really like a pair to wear with my Black Milk Clothing dresses and more! After scouring the internet for a few months, I finally found a pair for sale for £150, which I didn't think was too bad for an almost new (tried on and maybe worn once from memory) pair of Docs, especially as these are also limited edition. They came out originally in 2019, but I missed out on snagging a pair at the time as I was saving up for my Japan trip. Now I finally have them though and I adore them… But I'm yet to actually wear them out and about. I haven't yet as I just haven't had the chance to, even though I've owned them a month. I'm anxious of my feet getting destroyed, but at the same time I do want to wear them! I think I'll go for a walk in them around the local area with my ankle protectors on (Amazon link) to break them in more! I was toying about reviewing these on my blog, as well as some handy Docs tips that I know of, would you guys like to see that in the future?
Turning Red, Mei Lee Red Panda plushie.
I briefly wanted to show off this massive fluffy cutie that arrived at the start of March, my huge Disney Store Mei Lee red panda form plushie! I couldn't resist ordering this as I'm a massive sucker for red pandas and plus I've been super excited for Turning Red to come out, as I mentioned earlier. This plushie has been living on my office chair and has proven to be an amazing cuddle buddy whilst I'm working (both work and personal stuff), as well as whilst I play games. This plushie wasn't cheap at £40, but totally worth it!
My Dress-Up Darling… Annnnnd future content to look forward to!
Finally I want to give you all a reminder how much I've really fallen in love with My Dress-Up Darling! The first season of the anime finished at the end of March and since then I've been taking my time to read the manga, so I can make Marin and Gojo last as long as I can! If you really loved this manga/anime, or would like to discover a new series to read/watch, make sure to go and check out last weeks blog post all about My Dress-Up Darling. Since writing it I have since been inspired to write more posts about manga/anime series I love, including Nana, Elfen Lied and Bee & PuppyCat.
So there we have it, my favourites from March! March really did fly by and I don't feel like I did a fat lot to be honest with you… I think my favourite thing we did in March was visit my best friend and her boyfriend in Nottingham! Nottingham is a city I've wanted to visit for a while and with my bestie living near the city centre, it was so much fun to finally visit it with her!
In March I really did reflect on what content I would like to bring to my blog in the future and I've come away with so many ideas, that I cannot wait to write and share with you all in the coming months!
What were you favourite things in March? Also, is there any specific you would like to see, or at least see more of on my blog? Make sure to let me know in the comments!
Until next time, take care all and have a lovely weekend!