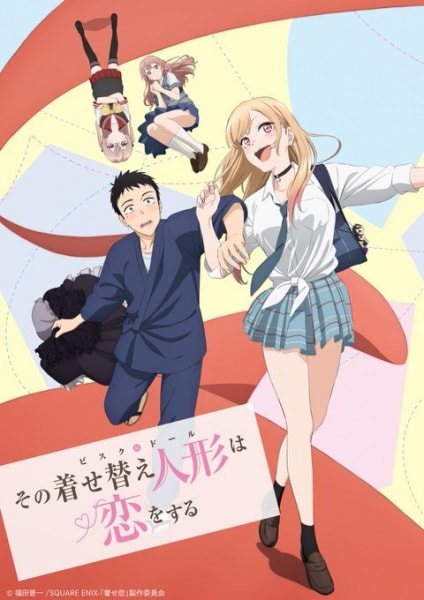 Image taken from My Anime List
I don't know if I've ever written a blog post purely dedicated to a manga/anime series before, but no time like the present, eh?
I really wanted to write about My Dress-Up Darling (Sono Bisque Doll wa Koi wo Suru, which translates to The Bisque Doll That Fell in Love) today as it's a manga/anime series I've really fallen in love with and it's definitely fast become one of my favourites, which is crazy to think about. I know a lot of people have fallen head over heels for My Dress-Up Darling too and especially Marin the main female protagonist, some falling for her a little harder than others.
I know today's post is a little different but I wanted to share my thoughts about this series as I know so many people love it and season one is now completed, so I'd like to share what I thought of it in that aspect too.
Don't worry, there won't be any spoilers shared here, I'm not about that life. I will however share the basic information about what the anime is all about and more.
I'm just going to get straight into it, I honestly hope you enjoy reading this post as much as I enjoyed writing it.
I think the last time I was into an anime so much I had to pick up the manga to read was A Silent Voice (2017). Me and Dane had been to watch it at The Electric Cinema in Birmingham, as I'd been recommended to watch it by adverts and they were damn right to tell me about it! Forbidden Planet/Worlds Apart is literally a stone throw away from the cinema so we ventured there prior to have a nose at geeky goodness, including manga. Dane walked out with Berserk (which was standard back in the day) and I left with the first three volumes of A Silent Voice. I binge read all the volumes in a week!
The same has happened with My Dress-Up Darling where I've binge read volumes one to three (still not started four) of the manga after watching the anime, although I'm holding off reading volumes five to eight online until they actually come out for us in the UK. I don't know about you guys, but I much prefer holding a manga to read instead of just scrolling pages on my phone or laptop.
The anime is based off of the manga also known as Sono Bisque Doll, which released in Japan with its first volume in January 2018, with there currently being eight volumes of the manga, with volume nine on the way! In the UK there are currently six volumes, with five and six being pre-orders. The manga released to us in the UK in April 2020. With the release of the anime and its quick popularity with anime fans alike, the manga has sold out like hot cakes, with many manga stockists apologising and popping people on wish lists. There has also been a lot of scalpers on selling websites trying to sell volumes one and three (which are the hardest to get right now) for stupid prices!
At the time of writing this post volumes two and four are the main ones you'll find available to purchase at the moment, with five and six being pre orders for the near future. I've found Amazon, Forbidden Planet and Wordery have been some of the best places to find volumes for sale.
I was able to snag volumes one and two from Forbidden Planet, as well as four on Amazon. Last week I was able to finally snag volume three through a lovely seller on Depop! She didn't scalp or put the price up at all, especially with the volume being brand new.
With that out of the way, I'm going to talk about the anime first, just because that's what I watched prior to reading the manga. It would be weird to talk about it the other way around when that isn't how it happened for me. There are twelve episodes in season one with the season beginning on 9th January and concluding on 27th March 2022.
My Dress-Up Darling is about Gojo, a trainee Hinamatsuri (Hina for short) doll creator who has just started his first year of high school. One day during school Gojo is in the craft room at school making some costumes for his Hina dolls when Marin sees him. Marin wants to cosplay, but isn't very good at making costumes, so once seeing Gojo's talent, approaches him about whether or not he can help her create her cosplay costume for a character she adores. Whilst Gojo has no experience of this, he helps Marin regardless but one cosplay turns from one to more as the story progresses.
It's a romantic comedy, slice of life manga/anime and my perfect style of anime/manga! In all honesty I'm a sucker for slice of life, no matter what, even drama you'd find on Channel 4!
Each week I'm a sucker for how Gojo and Marin's friendship progresses, as well as finding out more about each of the characters and what cosplay Marin will work on next.
I don't feel like this will be a spoiler at this point, but the opening credits for the anime shows what cosplay outfits Gojo and Marin are working on together, even in the order they do them as well. The covers for the manga volumes have the same images of Marin in her cosplay too. I'm so excited to see more in the future! My favourite so far as definitely been her first.
Dane is the one who introduced me to My Dress-Up Darling. I can't remember how it came about exactly, as we were sick for the first few weeks of January, which is of course when the anime came out. I remember he was watching it and mentioned, "Everyone is going mad for this anime online and how good the animation is. Especially compared to Berserk!" For anyone that isn't aware (I can't remember if I've mentioned it before or not…), Dane is a massive Berserk fan and like many, was disappointed with the animation style for Berserk 2016.
What got Dane into My Dress-Up Darling was, "I had seen a gif on Reddit of Marin dancing in her bikini (taken from episode two) and without sounding perverted, I really liked the animation style and character's design. I was immediately enamoured with Marin and wanted to know more about her… Besides her bikini choices."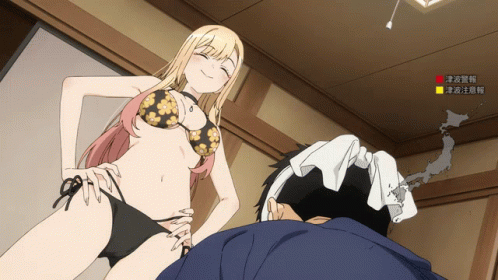 The GIF in question, more frames than Berserk 2016. Image taken from Tenor
I think Dane had watched a couple of episodes before I decided to give it a go, which he was more than happy about. I watched the first episode and craved more! We've been happily watching each new episode every Saturday morning ever since. It's always been something to look forward to throughout the past couple of months, especially coming up to the weekends. Since the start of the year we've been having regular anime weekends where we sit and binge watch any that have new episodes or ones we've discovered and have started to watch together.
There is a huge elephant in the room when it comes to My Dress-Up Darling and it's the amount of fan service, or arguably… Perverse shots that are in the show. It's a topic that has blown up all over the internet, which I can understand. I don't get some of the scenes in question that they chose to animate, and whilst I never feel uncomfortable, I do question it. I know a lot of people have also stated after seeing the "lewd" animated scenes, they stopped watching it, as they no longer wished to support the anime. I personally think its a shame that this happens as it affects everyone who has worked on the anime in question (not just speaking about My Dress-Up Darling here!). As I said, it doesn't personally bother me, but I do question some stuff. The animators of the show (who may have also worked on the manga too) were probably given a clear vision to be like the manga, so, they have.
As I always do, when I really fall in love with something I always like to try and get some merchandise of it, official or fan made merch at that. I've seen one piece of official merchandise I'd love to pick up (key chain) but I'd also love a t-shirt with Marin on, especially pulling one of her many happy faces that she's pulling during the opening credits of the anime.
Marin is very much loved in the community right now for both her personality, as well as for how pretty and "perfect" she is. I guess it's because we can all relate to her one way or another as anime, manga and game lovers who just want to show off how much we love characters we watch, read and play as. I've personally only cosplayed twice, my first time as Lucy from Elfen Lied and my second time as Cartman's The Coon from South Park. Both times were so much fun, especially the latter as so many people were telling me and Dane (he dressed up as Kenny's Mysterion persona) how amazing we looked.
I'd love to cosplay as so many characters and people but I just don't think I have it in me. I'd be so self conscious the whole day in case anyone judged, if I did the character wrong and more.
So, watching My Dress-Up Darling is a nice way of seeing how people DO get their cosplays together, how happy it makes them feel, the learning processes behind it all and more. Plus the friendships Gojo and Marin make together and with others is really lovely to see. OH and to add, it's so cool to see how they drew parts of Tokyo. Me and Dane are especially missing Japan so far this year and are craving going back, especially when watching anime where it's set in areas we stayed/ventured to.
Now I've spoken a little about My Dress-Up Darling's anime, I want to touch upon the manga a little, which I've been speed reading the past week since I got volume three! I won't talk too much about it, as I've already spoken a lot about the anime as it is.
The manga (from what I've read so far) is pretty much identical to the anime. I can't say as I've noticed any massive differences so far, which I like. The manga style is gorgeous to boot by the way and is very similar again to the anime. I know some manga styles differ to the style when you watch the anime (Miss Kobayashi's Dragon Maid being a good example of this…) but thankfully this didn't do that.
At the time of writing this, season one of My Dress-Up Darling has come to a close and what a close it was to a show so many of us adored! I won't say too much of what happens in the episode itself due to spoilers, etc, but for anyone who is watching (from January, or if you decide to watch it after reading this post), please make sure to continue watching episode twelve after the credits begin… There's a bit at the end that really rounds up the season perfectly.
Overall I've fallen head over heels for My Dress-Up Darling, which is also bad news because now not only do I want as much merchandise from it as I can get my mitts on, but I'm also sad that the anime's first season is coming to a close this weekend.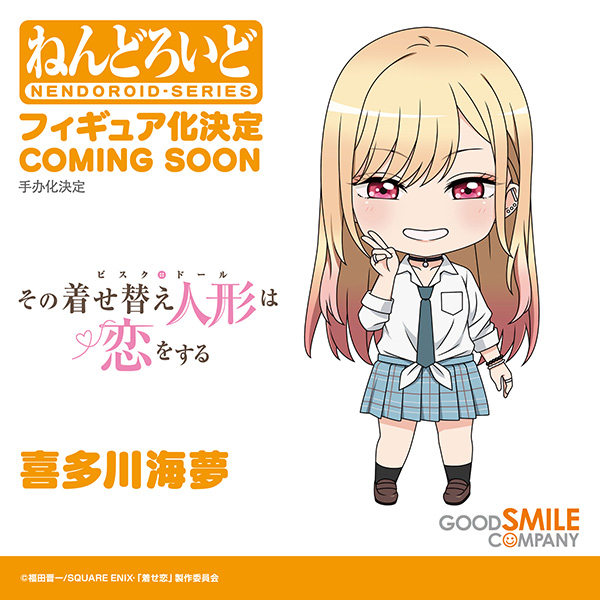 Image taken from Good Smile Company US Twitter
I'm already planning on watching the dub version, just so I can enjoy it all over again, as well as ordering the Marin Nendoroid when it releases too! Me and Dane have been talking about whether a DX version will release too, where Marin will have all her cosplay outfits to dress up in too! Otherwise, an additional set of outfits for this would be great. Good Smile Company would miss a trick not doing that!
If you'd like to watch My Dress-Up Darling yourself, you can find it on both Funimation and Crunchyroll!
So, have you been watching My Dress-Up Darling? If so, what do you think of it? Have you been watching the dub, or the sub? Of course, have you also read the manga? Maybe you hadn't heard of it until now, has my post inspired you to watch? Make sure to let me know all your thoughts in the comments below!
Until next time guys, have an amazing weekend and I'll see you in April! 🙂